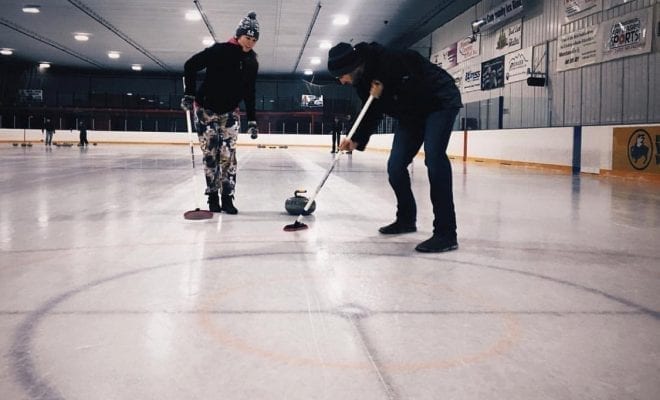 Lifestyle
Learn How to Curl in San Diego
By
|
When it comes to Olympic sports, curling takes the cake for being the strangest of the bunch. Curling is a fairly big sport in countries like Canada and Norway, but to most Americans, it is rather baffling to watch. Curling is played in the United States, and even in our very own San Diego. If you've ever wanted to try out curling, then Curl San Diego has you covered. This facility is the premiere location in San Diego to get your curling fix, and they are welcoming to players of all skill levels.
At Curl San Diego, there are multiple leagues that people can play in. They also have several curl clinics, where they will teach you the ins and outs of the sport, and get you out on the ice in no time curling like a champ. Want to catch a pick-up game? They got those too. Just because we enjoy balmy 70 degree weather doesn't mean you can't cool off on the ice by sliding rocks and sweeping like a madman.
At Curl San Diego, they aim to be an open place for all who are interested in learning more about the sport. Their objectives are to "promote and support curling in San Diego, to establish and maintain regular play, and to have a lot of fun at all times." At their learn to curl class, you join a small session of people and learn how to play the game like the Olympians. They will provide all the gear, all you need to do is dress warm and come ready to learn! The class will consist of 30 minutes of office instruction and coaching, 30 minutes of on ice instruction from a Curl San Diego instructor, 2-4 person scrimmage between the other new curlers, then an off ice wrap up Q&A.
Curl San Diego has their upcoming Spring mini-league for 2018 starting on April 7 and running through May 12. If you're new to curling, don't worry, as the teams are comprised of mixed experience levels, in order to give everyone a chance to learn. To play in the Spring League, entrance fees will run you $175, but you can snag a discount of $15 if you register before March 15. If you're a brand new curler, then you'll receive a $30 discount no matter what.
Currently, Curl San Diego is holding a fundraiser through Custom Ink by selling custom made shirts. The fundraiser is underway to raise money for Curl San Diego, which is a registered 501(c)(3) non-profit organization. The community of California curlers are faced with unprecedented hardships in the pursuit of competing in curling, mostly related to the weather being subpar for curling. Despite this, Curl San Diego has consistently run out of spots for their competitive leagues, and has even had to open up new spots to allow for the heavy influx of people wanting to experience this unique sport. If this is something you think you'd like to try out, then head over to Curl San Diego's website and sign up for a class or try to grab a spot on their competitive league.