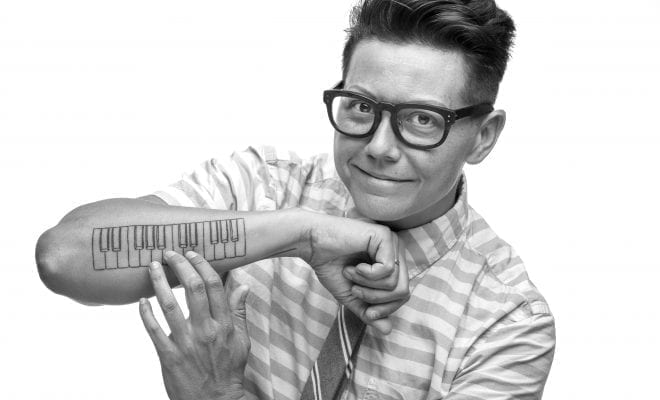 Lifestyle
Veronica May Addresses Political Climate and Mental Illness Through Song
By
|
San Diego musician and mental health advocate Veronica May uses her music to spread the message of compassion, understanding and hope. May advocates for mental illness by sharing her own battle with Bipolar 1 Disorder—she was diagnosed in 2008 and has had three manic episodes resulting in hospitalizations since. Expressing her experiences through song, May understands firsthand music's therapeutic qualities.
In January 2018, May is releasing two new music videos—one a new single called "Rise." "Rise" is a political song, sung in a positive perspective. It provokes thought among listeners about the current political state of the nation and encourages to rise up in a peaceful and strong way. The song begins soft and acoustic and crescendos with electric guitar and drums. Likewise, the choreography in the music video builds. Katie Scofield with Ballet Theatre San Luis Obispo choreographed the routine to reflect the movement of the music and lyrics.
May's other new music video is called "Tides", which is from her 2017-released solo album "Awakened" with Jason Mraz on background vocals. "Tides" communicates the message of stepping into your power, learning to be kind to yourself and accepting life's nature of ebbing and flowing between the positives and the negatives. The music video is choreographed by one of May's high school music students at the school where she teaches, and was filmed there as well.
"Awakened" is May's second solo album, introspectively reflecting the aspects of mania and depression. The album emulates May's experiences with polar opposites—half of the album has acoustic personal songs and the other is powerful rock and blues. The album cover is meaningful, as it was shot in the same parking lot where May was found by paramedics during her first manic episode in 2008.
"I'm using music as a tool to smash the stigma of mental illness and break down the fear that often comes with it," said May. "My songs are not just for those dealing with mental illness, but for anyone who is looking for hope. My mission is about connecting with others and touching lives."
May completed her first solo tour in September and you can now find her performing throughout San Diego at spots like The Casbah and Soda Bar. She has been a Music Therapist, public speaker, and a volunteer for organizations like Rock n' Roll Camp for Girls San Diego. She was previously a member of the duo The Lovebirds.
May's purpose is to spread her messages of compassion, understanding, hope, triumph and the importance of trial. She has been playing music since 1985, living with Bipolar 1 Disorder since 2008 and traveling to educate on mental illness. Her music and illustrations depicting mental illness awaken the mind, stir the heart, and open the eyes to the wild world of thought and perception.
May will host a double music video release party for "Rise" and "Tides" on Friday, January 26 at 7 p.m. on the pool rooftop of Alexan ALX, a new living experience that merges home, city, culture, sky and bay in a defining downtown location.
The "Awakened" album is available for purchase on iTunes and Spotify. To learn more about May's upcoming performances, visit www.veronicamay.com.