Lifestyle
San Diego: Your Personal Outdoor Gym
By
|
In the past you have may have put fitness aside because you don't consider yourself a "gym rat" or you get intimidated by all of the fitness models on social media. The San Diego sunshine can help break you of these mindsets, meaning that exercising or getting your "beach body" doesn't have to be done inside a gym. A simple run around the block in the warm sunlight or a quick game of beach volleyball are just a few ideas on how to make your workout enjoyable, and it's time to put the excuses aside to create a workout environment that you look forward to exploring.
SUP Yoga
Whether you're an advanced yogi or just getting started, this traditional yoga comes with a twist that includes stand up paddle boarding and the fresh salty sea-air. SUP Yoga welcomes all levels of fitness capabilities and is fun way to switch up your usual yoga routine. Try out your first class with your local friends and paddle out for some serious relaxation. Classes are $35 a session and are the perfect way to start any day, learning to reach full relaxation while trying something new.
 Outdoor Boot Camps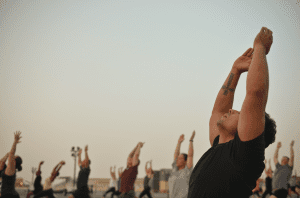 Fitness boot camps usually consist of HIT (High-Intensity Training) workouts, causing you to burn more calories in a short amount of time. Boot camps are a creative way to get your friends together for a morning workout and exercise in the fast-paced environment. Places like San Diego Core Fitness are great programs for anyone looking for new workout routines or want to spice up their exercise routine. These science-based workouts are designed to help you burn an enormous amount of calories with just one workout and can help you achieve your fitness goals.
 Surfs Up
San Diego isn't known for the sunny weather and perfect beaches for nothing. Learning to surf and making this a new hobby is something that will bring overall strength to your shoulders, back, legs, and core. Whether you're going to La Jolla Shores or Moonlight State Beach, San Diego is filled with tons of spots to begin your surfing journey.
Spin and Go
Workout classes may be your choice for your fitness routine, and finding new places that incorporate what you want is all a part of the fun. Spin and Go takes the usual boring spin class outside to indulge in the fresh air. Grab a friend and get $1 off your first class to this unique outdoor experience.
 Morley Field Fitness Parcourse
The perfect place to compete with a fitness buddy is on a course of endearment. The Morely Filed Fitness Parcourse is hidden on the South side of Balboa Park. This 2.5-mile course includes 18 different workout stations, that incorporate cardio while strengthening your upper body. Challenge your friends to this fun course while surrounding yourself with the all beautiful greenery the park has to offer.