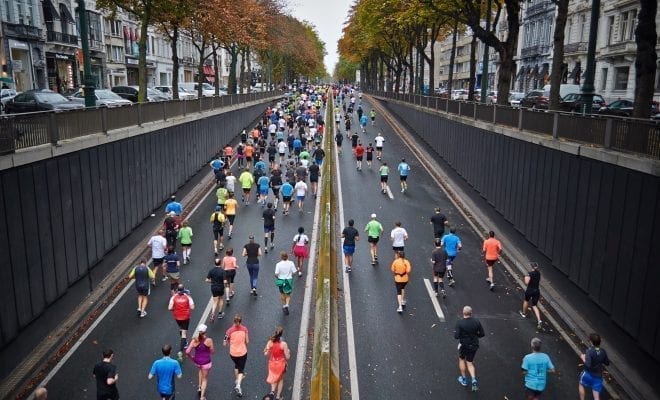 Lifestyle
Run A 5K this Spring & Support a Local Cause
By
|
You don't have to be a disciplined runner to participate in a 5K. The 3.1 mile race is a great entry point for those just starting to build endurance, and walkers are almost always encouraged to join these types of races as well. Throughout April and May there are dozens of 5Ks in San Diego that support causes, encourage exercise, and are just plain fun.
Consider finding an organization that hits home and signing up with a group of friends. Use the cool, beautiful days of spring as a training time to slowly build up to the 3-mile length. A few of the races also have options to sign-up for half and full marathons, so if you are signing up with another runner, figure out which endurance level works best for you.
Here's a short list of what 5Ks you can expect to see this spring.
This groovy race is for runners and walkers of all skill levels. Choose from a half-miler, 10K, or 5K and come dressed in your best hippie wear. Consider signing up for the post-race yoga sesh, and practice your vinyasa flow in your 60's attire. All participants will receive a groovy medal to take home with them upon completion of the race. Transfer your mind, body, and spirit back to the days of Woodstock, and celebrate with other hippie-loving friends.
When: April 1st
Where: Mission Bay
Miles for Maji, or water in Swahili, is a race to provide clean water for those in need. The race has been orchestrated by Poway High School senior, Maggie Cornwall, who saw an opportunity to make a difference in the lives of a village in Tanzania. Miles for Maji is partnering with Save the Rain to help use collected rainwater to bring sustainability to this African town. Join the race for $30 and let your day of exercise make a long-term impact on those across the world!
When: April 22nd
Where: Poway Lake
Have you ever dreamed of a race at night? Well, today your dreams have come true. This Celebration Run travels through the dark streets of Downtown, under the light of the stars. Spend a night running with friends while contributing to the Headstrong Project, an organization that provides veterans of Iraq and Afghanistan with effective mental health care. Come with a mind full of things to celebrate, and join in the pre-party with fellow San Diegans and 'one of the hottest DJ's in the country.'
When: April 29th
Where: Downtown
The mission of WeSupportU is "to revive, renew and restore confidence, empowerment and self-esteem in every individual facing a cancer diagnosis." The run-walk is centered around bringing cancer awareness, and participants will be greeted by El Xolo mayor and the Xolos cheerleaders.
When: April 29th
Where: Chula Vista Bayside Park
Participate in "Del Mar's only trail race" at this second annual event. This flat race is the perfect starting place for anyone who is just getting started as a runner, or those who are practicing for a future marathon. Expect a flat dirt trail for this 'sprint course' race.
When: May 6th
Where: San Dieguito River Park
Come dressed in your favorite Hawaiian attire, for the 3rd annual Santee Aloha run. Bring your kids along and support the students of the Santee School District by contributing to their Arts, Technology, and Science programs. The event ends with a community fair, coffee, food, and merchandise. If your child goes to school in the Santee School District, you won't want to miss this community-centered event!
When: May 13th
Where: Town Center Community Park in Santee