Lifestyle
California Dreaming: Road Trip from San Diego to Los Angeles
By
|
One thing about working in aviation, it's really hard to plan anything within a day or two of you taking off or touching down. Delays are frequent, and when you work out of one of the biggest hubs in the world, it's to be expected.
I left for Houston, Texas the other week for a quick one-night stop. I had planned on flying to San Diego when I landed back in London, however, the craziest thunder storms I have ever seen almost had us diverting to a different airport. I mean, I really love Austin but this would mean a delay coming home and effectively missing a day of my holiday. Thankfully we landed safe and sound (sitting on the bus and watching the sky light up on both sides was something else). The lightning was fork-like but travelling horizontally across the night sky, something I'd never even seen in movies. I couldn't help but think this might affect our departure the next day. Thankfully blue skies and a ten hour flight later, I touched down in London. Once I had collected my bag, I ran straight to get changed, met my friend Alys upstairs and we raced to check in. Only this time I was travelling as a passenger…and it's true what they say, "What's seldom is wonderful."
After trekking through the terminal we reached our gate, and of course the screen read "delayed." So I sat myself down, Prosecco in one hand, Snap-chatting with the other. Delayed or not I was officially on holidays and bound for Southern California.
We landed in San Diego late that evening, very tired but we honestly didn't care. It was Memorial Day weekend and we were so excited to be back in the U S of A. We got a taxi from the airport to our hotel, the Quality Suites Mission Valley. For us it was in a great location, not far from the airport and only an Uber ride to the Gaslamp district, Pacific Beach, Old Town and of course a stones throw from Fashion Valley. We used booking.com to find a hotel that suited us best and were very pleased with this one.
Our first night out in San Diego we decided to head to where we knew best, The Gaslamp district and straight for BarleyMash. Unfortunately we were late in, so didn't get too long there. We took a rickshaw ride to a hookah bar up the road which stayed open later. It was so busy and so much fun, we got to meet loads of locals and people like us who had traveled there for the weekend.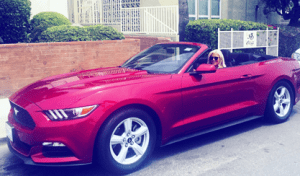 It's safe to say the second morning we weren't fit for much other than eating junk food and lazing about, a typical hangover day. So instead we decided to go and collect our convertible Mustang. We rented the Mustang from Dollar Rental at the airport and we had the choice of a silver or red one. Of course we chose the stereotypical red, well, more it chose us.  We drive on the complete opposite side of the road at home in Ireland so it was quite an experience finding our way back to the hotel.
We made our way up the coast early the next morning, and for the third time in my life I was headed for the bright lights of Los Angeles. The only thing I have to complain about from our road trip was the weather. June gloom definitely put a swerve on it, but nevertheless we made the most of it. We drove up along the stunning coast and made our way to San Clemente. For me this was without a doubt one of So-Cal's hidden gems. It was stunning, our sat nav brought us up a steep hill, to bring us back down with some of the most amazing views along the way.  I tried to go pro as much as I could, but I'm new to the go-pro'ing so it took me a few goes, but soon I will be video blogging as well as writing.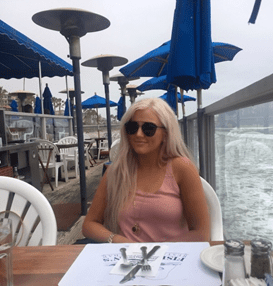 When we pulled down to the beach the palm trees were everywhere, getting out, we walked along the picturesque pier and stopped for some lunch at The Fisherman's Restaurant and Bar. Coming from a small seaside town on the South-East coast of Ireland, It was only natural I was really excited to try this restaurant. I had my favorite garlic prawns and they were definitely some of the nicest I've had.
If I'm being honest, I wasn't feeling the healthiest after the Memorial weekend sessions. My friend Alys couldn't listen to me complaining about my hangover any longer so we made a joint decision to night stop in Laguna Beach. We made a last minute booking into Seaside Laguna Inn & Suites. Really cute rooms with a seaside view from our balcony and free parking for our Mustang.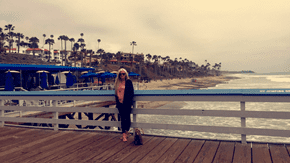 We decided to take it easy that night and just go for some dinner. We took an Uber into the centre and stumbled across a beautiful little restaurant, Nick's Laguna Beach. The food was great and staff couldn't do enough for us.
Anytime I come to America, people find it hard to understand what I'm saying at times. Some might say I have a bit of a strong Irish accent, others will say that's an understatement. At Nick's we had the sweetest waiter; he was running around after us and at one stage I asked him for a full fat coke, and he looked at me like I had 10 heads. My friend Alys jumped in with "she means a regular Coke". His face changed and he returned a few minutes later with my Coke. Then he as asked me again what it was I'd been calling it. So I said it a few more times "full fat coke" trying to say it slower than I was. Turns out the way I'd said it, (fast and very Irish) it sounded like I was saying crack….I Think we laughed for the rest of the time we were there at the thought of him thinking we were asking for Crack. He must have been like who the heck are these crazy girls.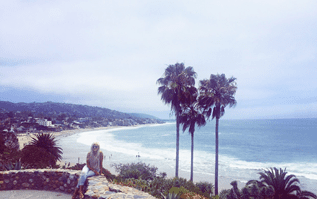 That night back at our hotel I had the best sleep I'd had in weeks, as May had been a really busy flying month for me. The next morning we were up bright and early and most importantly I wasn't going to be a "hungover pain in the arse". We headed for the beach area, and oh my God, Laguna, especially in the light of day was something else. It might have helped that the sun was starting to break through the clouds. We headed for some of the best views and the best Mexican food in town.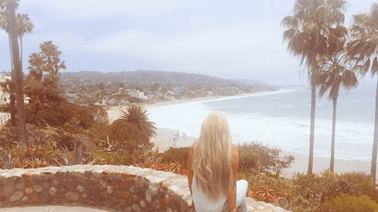 Las Brisas is situated high above Laguna Beach and it literally had it all. Great views, amazing Mexican food, friendly staff and most importantly the best guacamole I've ever tasted. Being in Laguna beach was especially exciting for me as I was a huge fan of MTV's "Laguna Beach, The Real Orange County." Actually anything OC related I watched, from The OC to Laguna Beach, to Newport Harbor, I loved them all.
As cheesy as it sounds, I always dreamed that someday I'd leave my small home town in Ireland and get to see these places for myself. Places that seemed so far out of my reach, yet here I was sat looking over Laguna Beach. It was so nice eating out all the time during our time in "The Golden State". The guys and girls taking our orders and delivering our food were always so warm and friendly. When they would hear that I was Irish and Alys is English they would get so excited. Most of the time they couldn't understand me but nevertheless loved it anyway. They wanted to genuinely chat and made you feel like they wanted to get to know you. Most would start telling me about their Irish ancestry and about plans to visit the beautiful island of Ireland, somewhere I get to call home. I really love it how excited people get when I tell them I'm Irish, most will say "oh me too" but when I tell them that I actually live there, they find it so fascinating like we are these rare mythical creatures.
When we left Las Brisas, the sun had really started to come through and it was time to put the roof down on our convertible and head along up the coast to the next beach on our list Newport. The weather wasn't great the further up we went so we didn't get to spend as much time as we'd liked in Newport.
Again though,without sounding like I'm repeating myself, it was another beautiful stop on our Southern California road-trip. We got out and walked along the pier and it was nice to see that even though the sun wasn't out, the people definitely were. The beach was full and the promenade too. I could only imagine what its like on a typical sunny day. Newport…I'll be seeing you again very soon.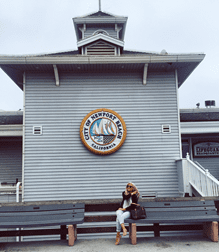 We didn't have as much time as we'd liked for our trip, so we had to get as much done as we could in very little time. So again we were headed up the coast in our Mustang one more time before we reached Los Angeles. This time though, our next stop was Santa Monica.
The first time I visited America was the beginning of summer back in 2009. I was in my final year of University in Ireland and moved to the USA on a student J1 Visa. We landed at LAX and made our way to Santa Monica to begin what was to be one of the best summers of our lives. It had been almost seven yeas since the first and only time I'd been to Santa Monica, so as you can imagine I was so excited to get back there.
Stay tuned for more of our adventures. This story, for now is to be continued…
You can follow Vanessa as she travels on any of her "Blonde Wandering" social media sites:
Instagram: https://www.instagram.com/blondewandering/
Snapchat: Vaanp
Facebook: https://www.facebook.com/Blonde-Wandering-1459736137685164/