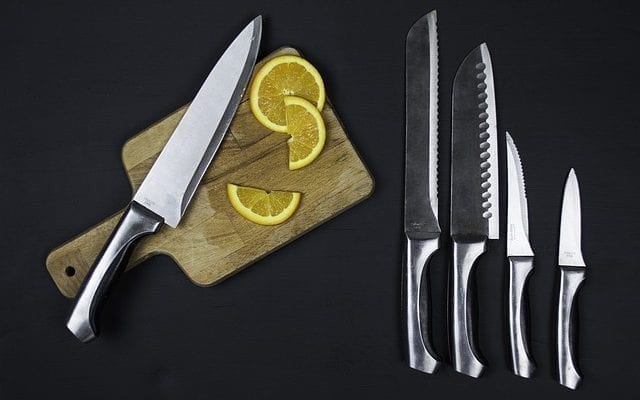 Lifestyle
Kitchen Gadgets Everyone Should Own
By
|
We spend a large amount of time in the kitchen, so it only makes sense that having quality kitchen gadgets will not only make your life easier but also improve the overall quality of your food. So, splurge a bit, and pick up these essential kitchen gadgets that will improve your cooking skills and actually have you looking forward to whipping up dinner for the first time.
A must-have for any serious bakers, these silicone baking mats are perfect for avoiding the messes that are so common when using traditional wax paper. They are nonstick, extremely durable, and capable of withstanding extreme temperatures and even heat transfer. Anything from delicate cookies to flaky pastries will come off without tearing or leaving any residue behind, and cleaning them couldn't be easier.
For when you need some serious mixing done, this KitchenAid Mixer should be your go-to gadget. The five-quart bowl is plenty big enough for any recipe, and you can even get optional attachments that do anything from grind meat to juice citrus fruits.
If you're into wine, then you need the latest technology; this nifty little gadget is by far the easiest and most efficient way to open a bottle of wine. Sure, it's a little expensive for a wine opener, but is it worth it? You betcha.

This neat contraption ensures that your greens are cleaned quickly and easily. Rinse and dry your salad greens, ensuring you never have soggy salads ever again.

This budget-friendly item packs the biggest punch; the outside of this slow cooker doubles as a chalkboard, which can be used to write down recipes, allergy concerns, or marking what's inside for potlucks.
Breakfast burritos make the world go round, and you can have one ready to go in five minutes using the Hamilton Beach Breakfast Burrito Maker. Making the cooking simple, the hardest issue you'll be faced with is deciding which ingredients to use, and the fact that you'll be the envy of all of your friends for having a piping hot breakfast ready every morning.
Want to try out veggie spaghetti without but don't quite know how to get cut it all up into perfect spirals? This spiral veggie slicer is the kitchen gadget you need. The best part is that it requires no batteries or electricity and is made of durable ceramic.
Calling all avocado toast connoisseurs, this is the kitchen gadget you've been looking for. It allows for cutting through the skin of the avocado, easy removal of the seed, and will cut it into perfectly proportioned slices. Just imagine the sweet avocado toast Instagram posts you could have using this practical tool.