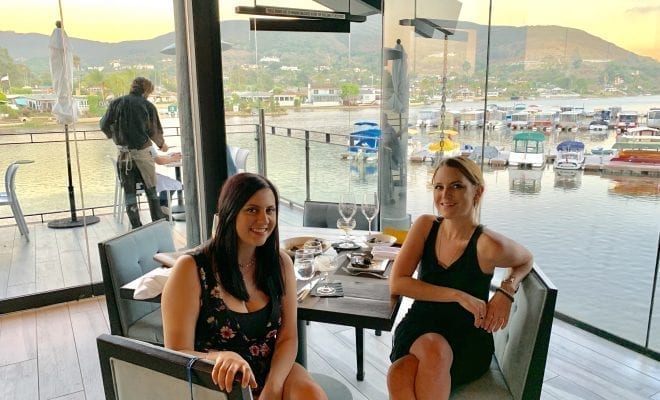 Lifestyle
Dock at Lakehouse Resort for a Weekend Escape
By
|
San Marcos. Never really thought of this area as a destination for a little 'R&R,' but it absolutely is. Just a short trek from downtown, this central North County location has an urban look with a small-town feel. I'm a sucker for anything "lakeview," so it made sense to check out the well-reviewed Lakehouse Hotel & Resort.
Located on the lake, you feel like you're back at summer camp when you pull up to the resort. Paddleboats, kayaks and canoes are situated around the marina and guest rooms overlook the calm water and golf courses. After my pal and I checked in, we were sent up to our nautical-themed rooms with s'mores kits in tow. We poured a glass of wine and enjoyed the beginning of a beautiful sunset from the balcony. The water glistened under the sun and a flock of birds soared across the sky. Perfect.
An earshot from Decoy, the property's on-site restaurant, you can faintly hear buzz from the diners enjoying an evening meal on the deck. Time for dinner. A quick 10-minute jaunt along the marina and you're there. The space is open with floor-to-ceiling windows offering panoramic views of the lake. Big blue velvet couches welcome guests and beckon you to take a load off. Soft blues and greens, wooden panels and an epic wine wall invite you in; the aroma coming from the kitchen entices you to stay.
With a cocktail in hand, we peruse the menu. Steaks, seafood, veggies – you have it all. Our server, Mandy, recommends the steamed mussels. Thank you, Mandy. The mussel arrangement was beautifully laid out and topped with juicy cubes of chorizo, all bathing in a white wine and garlic-herb butter sauce. Soak up all the sauces with the grilled garlic bread. When the bread comes out crisp yet doughy – you know you're in for a treat. Amen to this dish.
For the mains we go for the 12 oz. prime New York strip. This sexy steak was begging for our knives to slice into it once it hit the table. Charred perfectly and seared to a beautiful medium-rare, each bite was juicy and tender. Served on a bed of buttery potatoes and a root veggie medley of rutabaga, parsnips, carrots and beets, it was a five-star dish. We also ordered the seared scallops, served with pork belly, shaved Brussels, purple sweet potato purée, and a beurre blanc sauce. A little surf 'n turf action, if you will. Paired with a 2015 Cloudy Bay Pinot Noir, a beautiful sunset and good company – it was the perfect meal.
We headed back to our room once the moon was out and had one more nightcap on our balcony before lights out. Goodnight moon, goodnight lake…
The Lakehouse Resort is a tranquil escape from life's daily stresses. Guests can enjoy championship golf, a full-service marina, several restaurant options, and two sparkling pools. Pack the family in the car and head out for your next getaway. Lakeside Resort is located at 1025 La Bonita Drive, San Marcos, CA 92078.