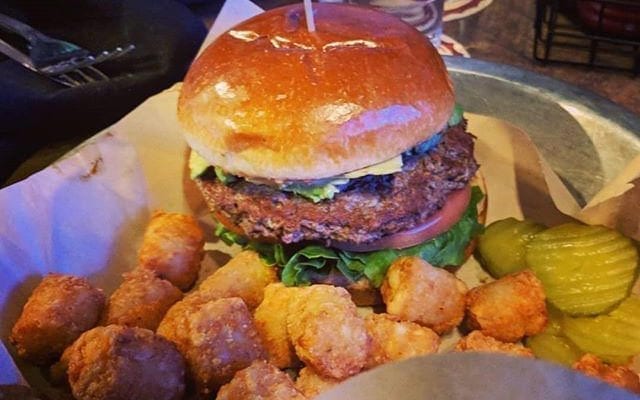 Dining
Where to Get the Impossible Burger in San Diego
By
|
The Impossible Burger is a meatless burger with a twist – it looks, tastes, smells, and even "bleeds" like a normal burger. The burger is made from all-natural ingredients like wheat, coconut oil, and potatoes. What sets the Impossible Burger apart from other meatless patties is that it uses a unique ingredient called heme. Heme is a basic building block of life, and is found in plants and meat alike. This ingredient is what sets the Impossible Burger apart from other meatless patties, making it hard to believe you're eating an all-plant burger.

Aside from its delicious taste, the Impossible Burger can also brag about being a incredibly environmentally responsibly created food source. Beef cattle in the United States require about 11,000 gallons of water each year, and heavily contribute to greenhouse gases in our atmosphere. With the Impossible Burger, we get the satisfaction of a juicy burger without any of the environmental concerns. Impossible, the company behind the Impossible Burger, has received over $250 million in investments, and have attracted the likes of wealthy investors like Bill Gates. The burger has been featured in highly rated restaurants around the country, and now we San Diegans can try out this unique burger for ourselves.
This renowned brewery offers their Stone's Impossible Burger on their all-day menu for you to enjoy. This iteration of the burger brings the heat, with sweety drop Peruvian peppers and a healthy topping of hellfire cheese. Smashed avocado is spread all over a brioche bun along with crispy sunchoke straws. The meal is served with crushed baby gold potatoes drizzled with garlic and ancho aioli. This Impossible Burger is available for $17 and is available at both locations.
Located at the Manchester Grand Hyatt, Brew30 California Taps sells the Impossible Burger. The burger perfectly balances sweet and spicy, with a jalapeno tomato jam, smashed avocados, and greens all on a brioche bun. This Impossible Burger is available for $14.
This award-winning burger joint in San Diego serves up their own version of the Impossible Burger. The Impossible x Pure burger comes with 5 oz. of Impossible Burger, and is served up with all the classic fixings, like mixed greens, tomato, pickles, avocado, and ketchup, all for a reasonable $13. 
The Miramar location sells the Impossible Burger, complete with lettuce, tomato, pickled red onion, cheddar, and house-made remoulade, all on a brioche bun. Complete with a side of truffles fries, this burger is a steal for $17.
For a complete list of San Diego restaurants that carry the Impossible Burger, head over to Impossible's website for more information regarding this culinary innovation.