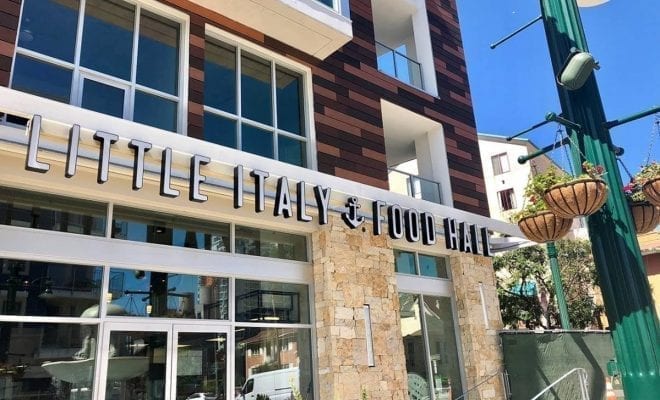 Dining
What's Cooking? Tour the Little Italy Food Hall with Sam "The Cooking Guy"
By
|
As part of our newest video segment, "What's Cooking?", we are kicking off our series with the highly anticipated Little Italy Food Hall and its 6 delicious food stations. The Little Italy Food Hall is located right in the heart of the popular neighborhood and has something for everyone, including a bar that boasts San Diego's best brews, craft cocktails, and wonderful wines to pair with your made to order eats.
The Little Italy Food Hall opened earlier this month in the heart of Little Italy on the corner of Columbia & W. Date St. The modern dining hall has selected its food vendors with authenticity in mind, and carefully curated a lineup including Ambrogio15, a gourmet pizzeria that has imported a traditional pizza oven from Italy, along with a crew to install it, to replicate the Milan-style pizzas made popular at its flagship location in Pacific Beach; Mein St. Asian Kitchen, a new concept offering Asian comfort foods such as dumplings, wings and boba teas; Roast Meat & Sandwich Shop, who will introduce build-your-own Superfood Salads alongside their artisanal sandwiches, whole roast chickens and beloved meatballs; Single Fin Kitchen by Chef Antonio Quindere, who has worked with celebrity chef Nobu Matsuhisa and will share his take on traditional Japanese Donburi; Wicked Maine Lobster conveying its New England heritage through Maine Lobster Rolls, Lobster Mac & Cheese, Clam Bake and Shrimp Baskets, Chowder and more; and Not Not Tacos by Sam the Cooking Guy offering an eclectic mix of "tacos" filled with unique ingredients. Expect the unexpected at Not Not Tacos.
As explained by Zien, "The last thing San Diego needs is another Mexican taco shop, especially from a Canadian Jew like me. We will serve tacos in the sense that the food will be served in a tortilla, but they're certainly not the Mexican tacos you're thinking of." Comprising the eclectic menu will be a collection of eleven genre-bending tacos, with ingredients ranging from curried egg salad to Korean short rib. A project close to Zien's heart, several tacos will be named after family members, including "Izzy's Pastrami", "Kelly's Shrimp" and even "Sam's Meatloaf".
Check out Sam give us a tour of the highly anticipated Little Italy Food Hall below
At its center, discover The Little Italy Food Hall Bar, a welcome addition to Little Italy's nightlife and cocktail scene that includes local draughts, lager, and ales alongside an assortment of wines, including an exclusive selection of organic Italian varietals. The bar menu also includes local spirits, bitters, and liqueurs used to create craft cocktails designed around the food hall's cuisines.
Aesthetically, the Little Italy Food Hall pays homage to Little Italy's maritime past and the families who founded the neighborhood through an interior design featuring clean lines, a modern coastal color palette and an assortment of historical photos. Authentic nautical materials, textures, patterns and architectural details will provide a further nod to the area's storied history. Outside, a breezy patio features a mobile outdoor chefs' area with pop-up cooking demonstrations and opportunities for guests to come, be entertained and learn. The first demo is slated to take place in early August as Sam "The Cooking Guy" and The Little Italy Food Hall Bar team up to inspire guests and passers-by to make the most of the season by demonstrating how to cook up summer appetizers and craft refreshing cocktails.
Check back soon for more in SD Entertainer's newest video series "What's Cooking?"!