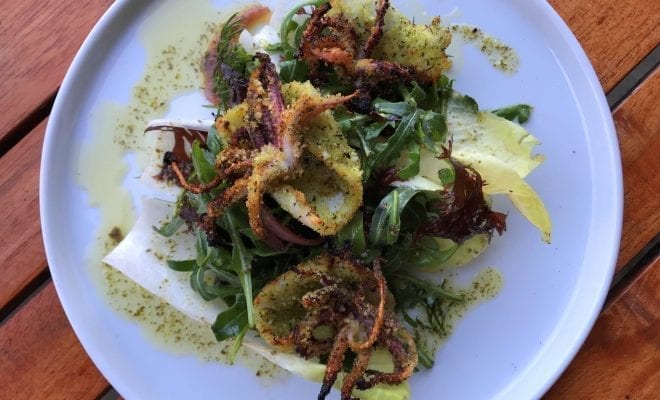 Dining
Solare Ristorante's Wine Vault Dinner is a Feast for Your Senses
By
|
If your idea of a good time is drinking and eating in a wine vault for three hours, Solare Ristorante should be at the top of the list. Our group was willingly sucked into a red wine vortex with no reference of time and no care to know. And oh God, was it good.
A trifecta of perfection, Solare was recently named Best Italian Restaurant in San Diego, Best Chef in San Diego and Best Wine List. Executive Chef Accursio Lotà and owner Randy Smerik know what the hell they're doing, and they're doing it right.
Located in the middle of the dining area, the wine vault houses a table for four and enough wine for four hundred. Heaven. Chef Lotà created a special chef's tasting menu for us, which offered five fantastic courses. He kicked off the experience with calamari, grilled to perfection and dressed in mint ammoglio, paired with capers, endives, black olives and arugula, which offered a hint of bitterness. Clean and refreshing, this one was gold. I love a good tiny octopus tentacle or two. Who doesn't?
Second course and another glass of wine in, we are gifted sexy slices of Venison loin carpaccio. This dish looks like what love might look like if plated. Popping with deep reds, vibrant greens and floral petals. The Carpaccio di Cervo is topped with farmer's market radish, Grana Padano (cheese) foam, balsamic vinegar pearls and pulled beef tendon. If you haven't had venison carpaccio, you need to have venison carpaccio. To boot, it made the four of us feel sexier after eating it. Or maybe that was the wine?
Third course served was a risotto with three beautiful wild scallops. The risotto was made with vialone nano rice – soft, buttery and comforting. If scallops and risotto aren't already decedent as sin, Chef upped the level by topping it with Italian black truffle confit, lobster roe and Grana Padano, which is a slow-ripened, semi-fat Italian cheese.
Can't stop, won't stop – the angus beef cap of rib-eye was next. Tender and seared to a perfect rare to med-rare, this juicy boy was paired with a coffee and cauliflower puree, mustard and brown sugar rub, cipollinis, roasted radicchio, and glazed with sweet but savory marsala and fig reduction. Mmmm.
What goes better with dessert than a little more wine? Enter the final course. A perfect array of sweet, tart and creamy goodness, we had it all between the mousse al limone, which was served with a lovely Madagascar vanilla ice cream and white chocolate mousse, and the salame al cioccolato. The latter being my preferred of two due to the dark chocolate element.
Hands down, one of my favorite meals in San Diego. We emerged from our vault and entered back into the world feeling happy, full and slightly drunk. I slept like a baby that night, all snug in my bed, while visions of Solare danced in my head.
Solare Ristorante is located at 2820 Roosevelt Road, Liberty Station, Point Loma, San Diego, CA 92106