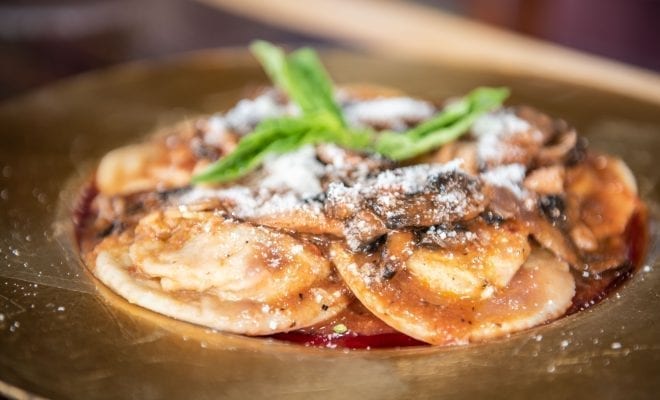 Dining
Experience Fine Italian Dining at Osteria Panevino
By
|
Osteria Panevino is widely considered one of the finest dining establishments in San Diego, operating as a leader in Italian cuisine. Located in San Diego's Gaslamp District, Osteria Panevino is the oldest Italian restaurant in the area, featuring a wide variety of authentic Italian dishes, including what many would say is the best pasta in the city. 
Gold Winner of both the Best Family Restaurant Award and Best Italian Cuisine Award, Osteria Panevino prides itself on letting their dishes and homemade pasta speak for itself. Executive chef and owner Vincenzo Lo Verso was born and raised in Sicily with a love for food, and his 25 years of cooking experience is brought to the table with each exquisite plate. 
Upon walking in, you are met with a tasteful rustic interior complimented by a beautiful patio making Osteria Panevino a perfect choice for a romantic night out, family gathering, or an elegant dinner among friends. Chef Vincenzo takes pride in ensuring all patrons are welcomed and treated as if they were family, creating a comfortable and relaxing atmosphere. 
The menu features both lunch and dinner offerings, along with Happy Hour specials and a menu for the kiddos. The extensive dinner menu features a variety of flatbread pizzas, meats, and pasta. If there's one thing that reigns supreme here, it is the housemade pasta made fresh daily. 
Start your meal off with the Bufala Caprese, a light offering with imported buffalo mozzarella, sliced tomatoes, fresh basil, and a healthy drizzle of e.v.o.o. Moving onto the entree, you can't go wrong with the Paccheri Alla Carbonara, a homemade tube pasta cooked with onions, pancetta, egg yolk cream, & Parmigiano. For a lighter fare, the Ravioli Al Carciofi is also a good choice, served with homemade ravioli stuffed with artichokes, roasted tomato sauce, black olives, and a touch of fresh mint. 
Of course, Osteria Panevino offers an excellent selection of meats. The Filetto Di Manzo is a perfectly grilled filet mignon with chianti reduction, spinach, and mashed potatoes. Seafood lovers will enjoy the Salmone Veneziano, a pan-seared fish filet of salmon with a pistachio crust, chardonnay mustard sauce, and steamed spinach. But perhaps their most exquisite dish is their signature Paccheri Carbonara. With this dish, simplicity is key, as it is made with only the freshest ingredients that perfectly complement each other. The professionals over at Osteria Panevino even shared their family recipe for those who want to recreate this dish at home.
Of course, no Italian meal is complete without a glass of wine, and luckily they offer an excellent list of reds, whites, and sparkling varietals. There is a nice assortment of wines by the glass, but their bottle selection is truly something to marvel at. With sections encompassing a diverse range of flavor palettes, you will have plenty of autonomy over your choice of wine.
Osteria Panevino is open Sunday – Thursday from 11:30 a.m. – 10:30 p.m. and Friday – Saturday from 11:30 a.m. to 11:30 p.m. Happy Hour is daily from 4:00 – 6:00 p.m. on the patio and bar only. All reservations can be made online here.