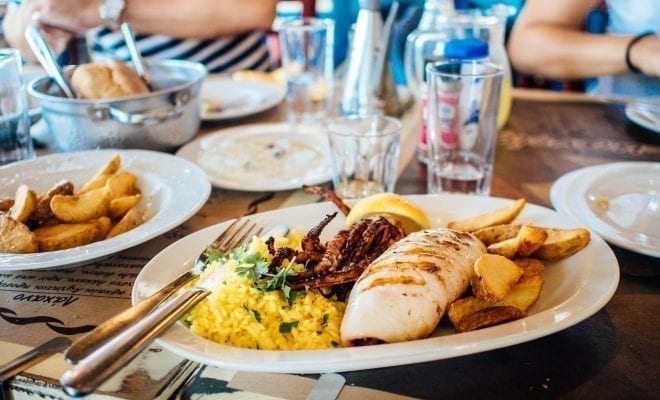 Dining
Cool Restaurant Spotlight : Inland Tavern
By
|
For those looking to check out a new restaurant this coming weekend, then make your way over to North County in San Marcos to check out Inland Tavern. A newer addition on San Marcos Boulevard, which is known for its infamous restaurant row, Inland Tavern is a great place to come enjoy the company of your friends with amazing food and drinks. Newly remodeled and reopened in 2014, Inland Tavern has become a go-to spot in San Marcos. The restaurant is modeled with a soft industrial look to it, with reclaimed wood and beach decorations adorning the walls. The outdoor patio offers a large space for your party to enjoy the beautiful San Marcos weather, which is a customer favorite during the Spring.
The menu has been created to reflect an emphasis on international flavors that are strengthened by a wide selection of craft beer and cocktails. All different kinds of palettes will be satisfied at Inland Tavern, with their menu offering a wide range of flavor choices. Their chicken wings are offered in six different flavors, including chili-lime, spicy sriracha buffalo and even garlic Parmesan. If you prefer your wings with a dry-rub, Inland Tavern has you covered. Prices include 5 for $7, 10 for $13, and 15 for $15, there are plenty of choices for even the hungriest wing lovers. Pair it with one of the 20+ craft beers on tap, and you'll have yourself the perfect meal to enjoy while watching one of the football games playing on the massive TV's on Sunday. Seafood lovers will find the fish tacos, featuring the fresh catch of the day, a perfect choice for lunch for only $10. Each plate will also come with house made kettle chips and a coleslaw. Those looking for vegetarian friendly options will find the avocado brie torta a perfect selection, with the creaminess of the avocado and brie complementing each other perfectly. Also for $10, it leaves you plenty of room in your wallet if you want to order another drink. 
If you count yourself as a brunch connoisseur, then Sunday's at Inland Tavern will be heaven for you. With the best bottomless mimosas deal in San Marcos, you'll be hard pressed to resist spending a late Sunday morning on the Inland Tavern patio with your friends. AJ Vega, a San Marcos local who enjoys going to bottomless mimosas on Sunday at Inland Tavern, told me, "The staff at Inland are always the best when my friends and I come. The food is great, the atmosphere is fun, and we love having the choice of switching up the juices for our mimosas". You read that right, mimosas are meant to be enjoyed with more than just orange juice, and you haven't lived until you tried a little pineapple juice in your mimosa.
If you're looking to enjoy the bar side of Inland Tavern, then you're going to want to see the phenomenal list of craft beers they have on tap. Being a San Diego resident, we are privileged to live in one of the best craft beer capitals of the world. Inland Tavern does not let its customers down when it comes to their beer selection. Featuring lighter beers for those who enjoy a refreshing drink with their meal, Avery's White Rascal and Mother Earth's Cali Creamin' are great choices. Their IPA selection is just as strong, featuring favorites like the Mission IPA and Bear Republic's Racer 5 IPA. If you want to checkout a live draft list of their beers on tap, visit their Facebook page for more information.