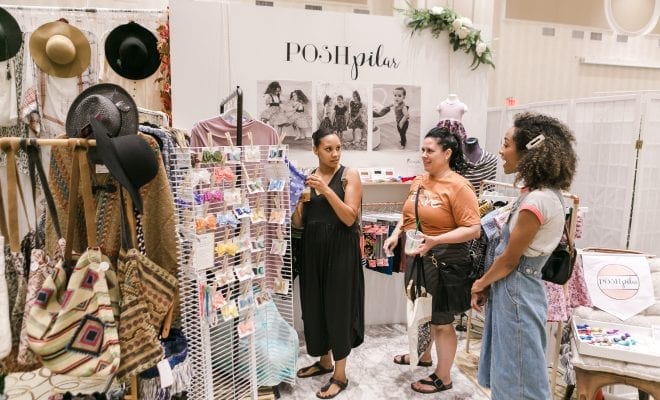 Arts
Queen Bee Market Returns to Del Mar Just In Time for Holiday Shopping
By
|
"Etsy Coming To Life!" Get Unique, One of a kind Handcrafted Goods December 7 & 8 at the Del Mar Fairgrounds
Handcrafted goods are becoming increasingly popular, as society becomes more conscious of supporting small businesses. Plus, uniquely crafted one of a kind items make great gifts with much more character than department store items. For those who love to purchase handcrafted items, you won't want to miss the Queen Bee Market, just in time for the holiday season. Described as "Etsy coming to life", the Queen Bee Market features over 100 vendors of handmade items at Del Mar Fairgrounds Saturday, December 7 and Sunday, December 8. Proceeds will go towards the Jacobs & Cushman San Diego Food Bank, to support people who suffer from hunger and to educate the public about hunger-related issues. Shoppers who donate a non-perishable food item or monetary donation will receive a Queen Bee Market shopping card for 10% off their purchase at the expo.
What To Expect
For a $3 entry fee, prepare to set food into a highly curated handmade and vintage goods market. Over 100 skillful artisans will be showing off their handmade goods to sell! Kids 12 and under and military servicemen and women will receive free entrance. Items for sale include; home decor, paper arts, accessories, vintage items, clothing, furniture and much more. All vendors are located in San Diego, including; Elisa Shin Designs, Cage & Lantern, San Diego Honey Company, local raw honey, and lip care products; and more.
Workshops
During the Queen Bee Market, a series of workshops will be held so attendees can learn how to craft their own unique items. Prices vary per workshop, be sure to check the schedule for times and pricing of each class. Admission to the market itself is not included in the ticket price. Workshops include:
Succulent Wreath Making – Each person will have the opportunity to create their own living succulent wreath. These wreaths will last between 6-8 months before growing out and can also be replanted. This class is offered on Saturday, December 7th from 12-1 pm. The price is $35 per person.
Chalk Couture – This class will give individuals the opportunity to make make a cute new chalk couture pilar sign. This class is on Saturday from 1:30-2:30 pm. The cost is $30 per person.
Leather Work – On both Saturday Sunday, there will be a leather making workshop where guests will have the opportunity to learn how to carve, stamp, dye, and paint leather. Saturday from 3-4 pm Marissa from Cage and Lantern will teach guests how to make their own leather clutch purse for $50. On Sunday, Marissa will lead you through making two leather cuff bracelets for $35 from 12:30-1:30 pm.
Blessed Little Bird Jewelry Making – Whether you are a beginner at hand stamping or have prior experience, there will be two classes offered during the expo to teach all skill levels of jewelry making. The beginner class will take place on Saturday, December 7th from 4:30 to-5:30 pm, where guests will learn how to stamp jewelry. Guests will have the choice of making a silk wrap bracelet or a necklace. Sunday, December 8th from 11-12 pm will be an intermediate level class for stampers with prior jewelry-making experience. Guests attending the Sunday class will receive a Christmas ornament or bookmark. Both classes are $40 per person.
Holiday Succulent Terrarium – Learn how to create a beautiful terrarium masterpiece by using various succulents and natural elements. This class will include a modern glass vessel, soil, reindeer moss, rock for top dressing and hand-picked succulents. All materials are included for the purchase of a $35 ticket. The class will take place from 2-3 pm.
Location
Del Mar Fairgrounds – Bing Crosby Hall, 92014, the Parking fee is $15 per vehicle.