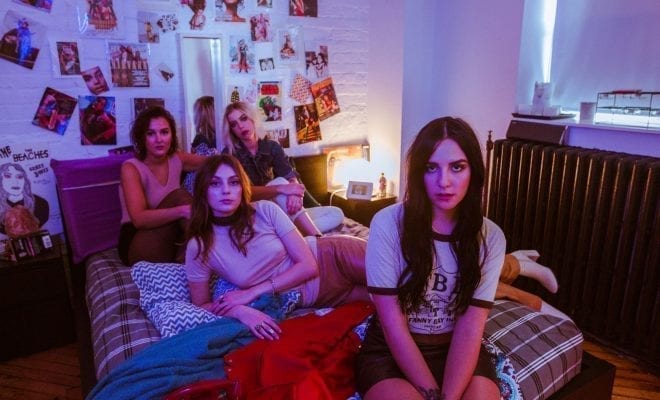 Music
All-girl band, The Beaches are bringing a kick-a** vibe to Rock n' Roll
By
|
Jordan Miller (bass guitar and vocals), Kylie Miller (guitar), Eliza Enman-McDaniel (drums), and Leandra Earl (keys) form the Canadian rock band, The Beaches, who recently performed at The Observatory in North Park opening for Passion Pit on their "Manners" 10th Anniversary Tour. Warning: Watching these girls perform will result in purchasing a second-hand acoustic (and some band Ts) and spending your entire Sunday watching "Guitar for Beginners" tutorials. Their 70s – inspired style and female-empowering lyrics are what make this band totally and effortlessly cool. We had a chat with lead singer, Jordan Miller to discuss the meaning behind the music, and what it's like to be an all-girl rock band in 2019.
SDE: What was the inspiration behind the "Snake Tongue" music video?
Jordan Miller: The song and the video are about the unwanted male attention we've received as both a band and as young women, and how we've decided to confront that attention, but rejecting it and by poking fun at it.
SDE: What was your most memorable show? Why?
JM: We played Osheaga last year, and it was a real stand out gig for us. It was one of the biggest audiences that was there just for us, and it was filled with young people that knew all of our lyrics. It just felt incredible to be there.
SDE: Do you have any pre (or post) show rituals that you do as a band?
JM: We like to listen to "My Humps" by the Black Eyed Peas before we go on and
SDE: Were there times in your career as a band where you felt you were treated differently because of your gender?
JM: At the beginning of our career that was more of a thing. People would sometimes have prejudgements about our ability to play our instruments because of our genders. Dudes will also come up to us after the show and be super creepy, but on a more positive note – because of the presence of more and more females in our industry those incidents are coming about less and less often.
SDE: As an all-girl rock band in a male-dominated genre, what artist(s) most shaped your music style?
JM: We're really inspired by seventies rock and roll. The Pretenders, David Bowie, The Rolling Stones, Television and Blondie are all artists who inspire us.
SDE: A lot of your songs and videos portray messages of female empowerment, who are some of your role models?
JM: There are too many bad ass chicks to name. Emily Haines and Leah Fey are two female rock musicians who we've played and recorded with who both really stand out as role models for us. We also love Annie Lennox, Patti Smith and Debbie Harry.
SDE: What is the main message you want to express to your fans?
JM: Come out to our shows – you'll see what we're about.
---
For The Beaches tour dates and more click here.