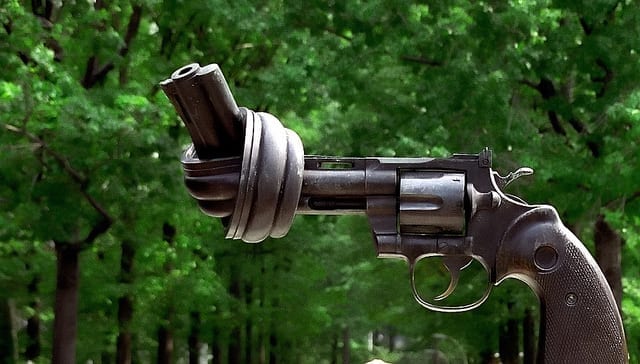 News
White House announces support to strengthen gun background checks
By
|
President Trump has announced his support for joining in on the discussion to implement stronger background checks when purchasing firearms. After the horrific events that took place during a mass shooting that left 17 dead, there has been a national outcry to have greater gun control. President Trump has said he is open to improvements in federal background checks for people looking to buy a gun. While the White House has not announced their support for any specific legislation, Trump has since spoken to Senator John Cornyn of Texas in order to revamp an already existing that the Senator introduced last fall.
Sarah Huckabee Sanders, the White House Press Secretary, gave a statement saying, "While discussions are ongoing and revisions are being considered. The president is supportive of efforts to improve the federal background check system." The legislation that is introduced by Senator Cornyn, along with three other Republicans and four Democrats in the Senate.
This legislation would become significant changes to the national instant criminal background check system that prospective gun buyers must undergo. The legislation would transfer accountability to federal agencies, and would establish a process for agencies to monitor gun buyers who have records of domestic abuse. It has gotten a stamp of approval for the National Rifle Association, but many argue that the bill would have done little to stop the shooting that happened at Marjory Stoneman Douglas High School.
Nikolas Cruz was able to legally purchase several rifles over the years, amassing at least seven guns total. He had no criminal record, which was why he was able to so easily purchase these firearms. Students from the high school have since organized protests to make a statement to the White House and politicians that something must be done. Over 100 people gathered at the front of the White House in order to rally for stricter gun control. 17 students laid on the ground, representing the 17 that were killed in the shooting. They stood out in the cold while chanting
"Enough is enough!"
Maya Galanti, a 12-year old who attended the rally, told reporters, "I've been afraid to go to school since the shooting in Florida. Those students thought they were having a normal day, and we have the same chances of getting shot as they did."
Another student wrote, "Seventeen innocent people were brutally murdered at my school, a place where they should have felt safe. Their lives were gone in an instant. You are the President of the United states, and you have the audacity to put this on Russia as an excuse."
The proposed bill has a solid chance of getting passed in the Republican controlled House and Senate, but it is being criticised as being such a small step that won't foster the necessary change. Chris Murphy, a Democrat of Connecticut, has said that the bill alone won't do enough to stop what called an "epidemic" of violence.
Trump has been historically opposed to gun control, but has been on-record of saying that "I support a slightly longer waiting period to purchase a gun."