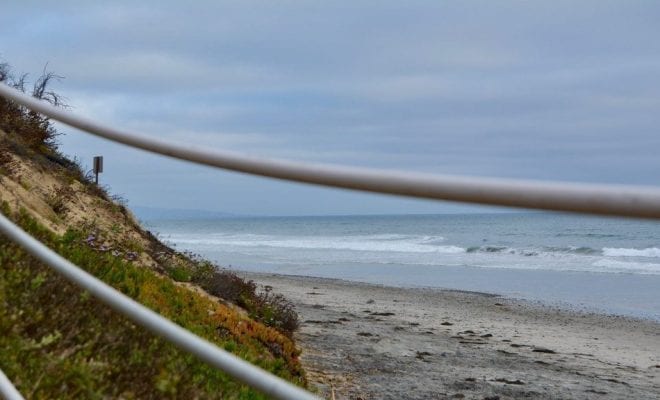 Beacon's Beach by Jason Rosenberg via CC 2.0
News
Senator Supports Call for Government-Funded Stabilization of North County Coastal Cliffs
By
|
In the wake of the terrible tragedy that killed three women when a cliff collapsed on a beach in Leucadia, a California senator is calling upon state and federal agencies to help pay for the stabilization of the bluffs in North County. Republican Senator Patricia Bates announced her support of the efforts of Senators Dianne Feinstein and Kamala Harris and U.S. Representative Mike Levin. The US officials are calling on the White House budget office to approve funding that will reinforce the Encinitas and Solana Beach bluffs.
The deadly incident occurred on a normal summer day, just feet from a lifeguard tower. As the terrain on the bluffs dislodged, several people were suddenly trapped underneath, killing three and injuring two others. The victims were all members of the same family: Annie Clave, 35; Julie Davis, 65; and Elizabeth Cox, 63. 
At an Encinitas City Council meeting, Dr. Pat Davis, Clave's father and husband to Julie Davis, stated his desire to "prioritize protecting human lives on our beaches." He, along with many local citizens implored officials for answers as to why this incident occurred, and what was being done to prevent further collapses.
Encinitas council member Tony Kranz conveyed the path to repairing the bluffs will be a long one, but support from other California Senators and Representatives indicates a great start in accomplishing this task. Congressman Levin penned a letter to the federal government asking for $700,000 in funding to help improve bluff conditions, which was subsequently signed by Feinstein and Harris. 
Another letter written by Bates stated, "it is imperative that the local, state, and federal governments work together to prevent future tragedies on our coast." Bates added, "Every option to protect the coast and private properties should be on the table." 
In the aftermath of the collapse, experts warn that the North County bluffs will continue to erode, presenting a constant risk of collapse similar to which we have seen.