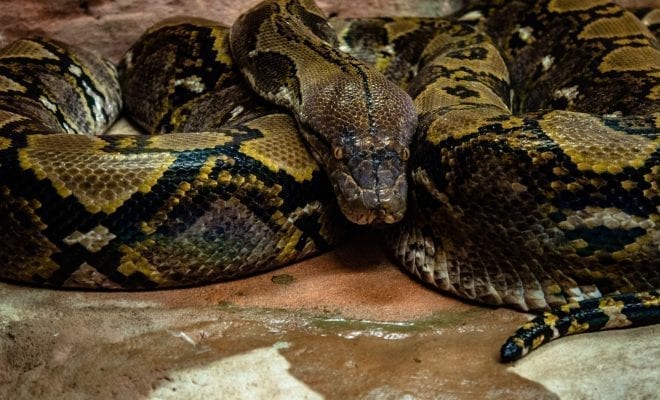 News
Scientists Find Record 17-Foot Long Python in Florida
By
|
Snakes have traditionally been among the creatures of the Earth that are found to be positively terrifying, but nature has really outdone herself with this one. Recently, scientists captured an absolutely colossal 17-foot Burmese python from the Big Cypress National Preserve in Florida. Consequently, those with ophidiophobia, or fear of snakes, have had their worst nightmares come true.

This monster-sized python was a female found in the Florida Everglades, weighing in at 140 pounds and containing 73 developing eggs. According to a statement released by the preserves Facebook page, the python is the biggest ever removed from the lands.

The snake was so large, it took four scientists just to hold up, as shown in the shocking post above. Pythons have often been found in the Everglades, but they typically measure 6-10 feet long. The scientists used a new, intuitive form of tracking along with new technology to make this astounding find. By attaching tracking devices to male pythons, they were able to locate others on during their quests to find a female mate.

"Using male pythons with radio transmitters allows the team to track the male to locate breeding females," their statement says. "The team not only removes the invasive snakes, but collects data for research, develops new removal tools and learns how the pythons are using the Preserve."

The Burmese python is considered to be an invasive species in the Everglades, wreaking havoc on native small mammals. A 2012 study showed that since 1997, populations of native raccoons dropped 99.3%, opossums 98.9%, and bobcats 87.5%. Other species such as rabbits, cottontail rabbits, and foxes have all but disappeared from the Everglades due to a thriving python population.

State wildlife officials say there are an estimated 100,000 wild Burmese pythons in the Everglades. To control the population, Florida has an open call for hunters to come out and remove as many as possible from the area.

Wild Burmese pythons were first found in the Everglades in the late 1980's, most likely due to pet owners abandoning them as they began to grow too large. In 1992, Hurricane Andrew destroyed a breeding facility for these snakes, likely releasing thousands out into the wild. Without any natural predators, Burmese pythons have been allowed to become a seriously damaging invasive species in an otherwise delicate ecosystem.