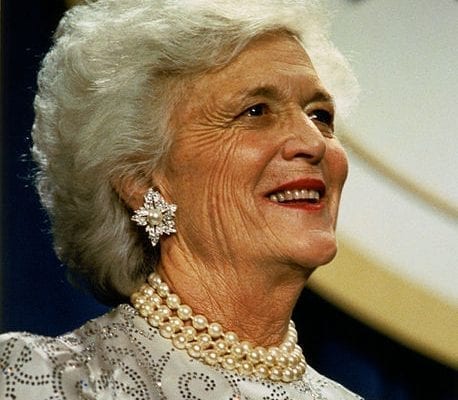 News
Former first lady Barbara Bush passes away at age 92
By
|
Former United States first lady Barbara Bush has passed away at the age of 92. For the past few months, Bush had been in increasingly failing health while suffering from chronic obstructive pulmonary disease and congestive heart failure. A few days ago, Jim McGrath, a family spokesman, announced "Following a recent series of hospitalizations, and after consulting her family and doctors, Mrs. Bush has decided not to seek additional medical treatment and will instead focus on comfort care."
Jeb and George W. Bush, two of her most prominent sons, expressed tribute to the passing of their mother. "To us, she was so much more. Mom kept us on our toes and kept us laughing until the end," said former presidential candidate Jeb Bush. He continued "I'm exceptionally privileged to be the son of George Bush and the exceptionally gracious, gregarious, fun, funny, loving, tough, smart, graceful woman who was the force of nature known as Barbara Bush."
Former president George W. Bush, spoke about the passing of his mother as well, saying "Our souls are settled because we know hers was," adding she was "a woman unlike any other who brought levity, love, and literacy to millions." He said his mother "did not fear death" while in her final moments, as she was accompanied by her husband.
Jean Becker, former chief of staff for George H. W. Bush, wrote the former president is "brokenhearted to lose his beloved Barbara, his wife of 73 years. He held her hand all day today and was at her side when [she] left this good earth."
Barbara Bush was born in New York in 1925, and married George H. W. Bush in 1945; together they have six their children. Her daughter Robin died at the age of three in 1953.  After her son Neil was diagnosed with dyslexia, she became a staunch advocate for literacy in the America. By embarking on a mission to provide education resources, she created the Barbara Bush Foundation for Family Literacy, which aimed to eliminate generational illiteracy by allowing parents and children to learn together."I chose literacy because I honestly believe that if more people could read, write, and comprehend, we would be that much closer to solving so many of the problems that plague our nation and our society," she said. 
Her published works include an autobiography, a book about her life after the White House, and a children's book about their dog, Millie, which went on to become a bestseller.
Barbara Bush was only one of two woman in American history to have a son who followed his father in becoming president of the United States. She is survived by her husband, sons George W., Neil, Marvin, and Jeb; her daughter, Dorothy, and her 17 grandchildren.