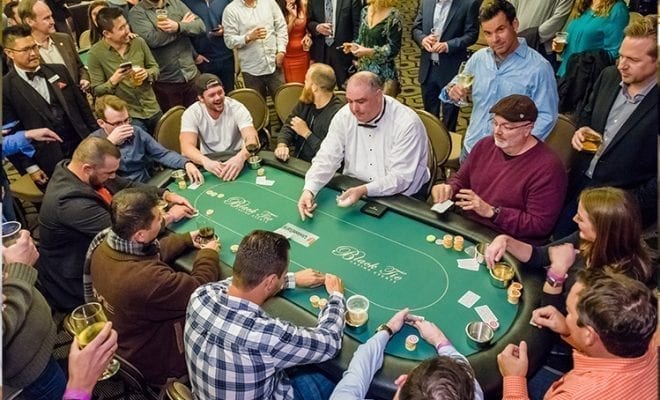 News
Big Brothers Big Sisters of San Diego Casino Royale Fundraiser a Success
By
|
A few weeks ago we wrote about a fundraiser that was going to be held on Friday, January 26th to support Big Brother/Big Sisters of San Diego County. The format was a 'hold-em' poker tournament, and any of you who have participated in them can attest they can be a bit contentious. Well, having attended the event, I can personally attest that the spirit in the room was friendly and fantastic, the perfect combination of good food (and drink), good-natured competition, and most of all the satisfaction of supporting a great cause.
The second annual event grossed $40,000. The proceeds will support over 20 matches for an entire year, where adults mentor at-risk kids. Michelle Stansbury, event committee member and one of the premier public relations gurus in the area (she won't tell you that, but I will), told me, "Big Brothers Big Sisters provides children facing adversity with strong and enduring, professionally supported one-to-one relationships that change their lives for the better. The Casino Royale Poker Tournament raised enough money to change children's lives here in San Diego. Through our generous sponsors, volunteers, and attendees, we were able to help support an incredibly important cause."
Also in attendance was Markus Gonsalves. Markus is currently a Big Brother in the program, and was a Little Brother growing up. Now a professional poker player (and also on the committee for Casino Royale), Markus shared a little about what the Big Brothers Big Sisters program meant to him to the 130-plus in attendance at a short break in the action. His testimony was very moving as he shared how much the mentorship and friendship changed his life and helped him get on the right path.
It was a good feeling as we left the event, having enjoyed the friendly competition and knowing we'd had a small part in maybe helping change the lived of some kids. I heartily urge you to check out Big Brothers Big Sisters of San Diego.