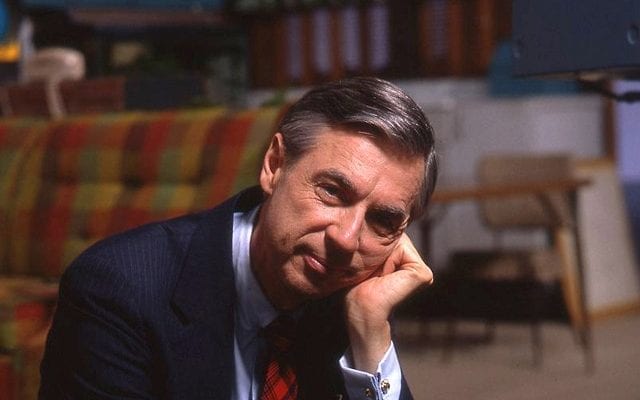 Credit: Jim Judkis / Focus Features
Movies
Movie Review: Won't you Be My Neighbor
By
|
The battle of good versus evil has been the corpus of life, religion, literature, paintings, and of course, movies. These fantastical movies bombard us with their ethereal charm over and over again. Common examples include the force vs the dark side in "Star Wars", Dorthy vs the Wicked Witch in "The Wizard of Oz", or even the Avengers vs whatever indestructible villain the writers at Disney conjure up to sell the most tickets a few times that year. But what if I told you someone actually fought the good fight on and off screen? That man is Fred Rogers. Though he may not wear a cape (not all heroes wear capes as the meme goes), he does wear a sweater, an inviting smile, and most of all, he has the power of love.
A young, delightfully lovely, Mr. Rogers was on the verge of connecting with a seminary until he came across his first TV, and it was here that he found another sort of calling. When he saw a man (presumably the silent movie star "Broncho Billy" who practically invented the "pie joke") throw a pie at another man's face–a joke that would soon become as American as apple pie–he was exasperated. Determined to cast out the violence on television, he switched the cloth for cardigans, and meditation for the sermon on the individualism in youth.
And so the paramount PBS television show that inspired my youth (and many others) was born, "Mr Rogers' Neighborhood". A fitting name for a show about a man whose affectionate care and honesty made his presence felt as a friendly neighbor. And though no one could un-code Mr. Roger's selfless ethics, it was evident that no one since the son of man could preach "love thy neighbor as thyself" in such a genuine and convincing manner.
Hence the title of the show and this deeply touching documentary by Morgan Neville (director of the harmonious "Twenty Feet from Stardom"). The movie attempts to not only honor and remind audiences of Rogers' impact, but also harken the chivalrous magic of his show that portrayed a grown man tackling the philosophies of life and modern politics in a way a five year old could understand. The result of this film: a triumphant success, leaving a grin from ear to ear, while at the same leaving the viewer wiping away tear after tear.
"Won't You Be My Neighbor" certainly isn't as mystifying or profound as the pictures it accompanies in the long line of masterworks in today's "golden age" of documentaries. But it does fulfill fans with the pleasure of knowing Mr. Rogers acted the same on and off screen. While it doesn't delve into his personal life per say, that isn't to say this is not a personal film. Through intimately composed interviews with friends, family, and colleagues we come to understand his worldview by discovering his bullied adolescents (his nickname in elementary school was "Fat Freddy"), making his love for children all the more remarkable. Early on he remarks "children have very deep feelings, just the way everybody does".
The term "feelings" hardly hints at the way this film overwhelmed me. Take the scene where Mr. Rogers' sings "It's You I Like" with a charming handicapped Jeff Erlanger, the briskness and meaningful harmony flowing from Roger's cheery grin… it's you Mr Roger's, who we love just the way you are. And it's Mr. Rogers that makes this film so great.
Where most documentaries center conflict, "Wont You Be My Neighbor" centers arguably the least conflicted and confused man ever on TV, who starred in a show with abstinence in conflagration, with a star with no shortage of confidence or conformity. For a movie that never goes nuclear, this does certainly have an explosive impact.
At a Q & A prior to the film's opening at the Sundance Film Festival, Neville described the experience as "therapy, but now for adults", and not just because we take a pantone red neighborhood trolley–as seen on TV– into tranquil "make-believe-land", where puppets embodied and resembled timely political figures that were anything but make believe. It also isn't because of Mr. Rogers' wildly soothing voice–which ironically does happen to bear a striking resemblance to one of a therapist, or as some woefully wrong skeptics have theorized, one of a rapist. Rather, it is because of the heart that is nestled behind the man's brilliant imagination and calming voice. A heart fit for a king, with the keen eye of a tiger. Fittingly he spoke through the puppets Daniel, a tiger, and King Friday XIII, to which he was able to explore tough topics along the lines of divorce and death in a way the kids on the show or watching at home could comprehend.
Comprehension is one of the many take-aways from this breath of fresh air. Not just for those like myself with pre-existing sentiment to a former role model/mentor, but to the myriad of adults who couldn't understand Mr. Rogers, who couldn't hop on the trolley and take a ride through the mysterious tunnel into the "make believe land" and see not only his care for the viewer, but the bigger picture. And now you can — through Neville's brisk and tender style, accompanied by an equally wistful melodic score that plays with the heartstrings in a way few films do. So much so, that by the time the credits started to role, not a single critic at my screening left their seat.
As I sat there, it became all the more evident we need a Mr. Rogers now more than ever. A man who will break down the walls of segregation, not build them. Someone who can trump even the darkest of times with their delightful spirit and lasting advice. At one point in the picture, he questions in an interview "am I a sheep or a goat?". The simple answer is both. He of course is a sheep, but also as the acronym suggests, a goat (Greatest Of All Time).
5/5