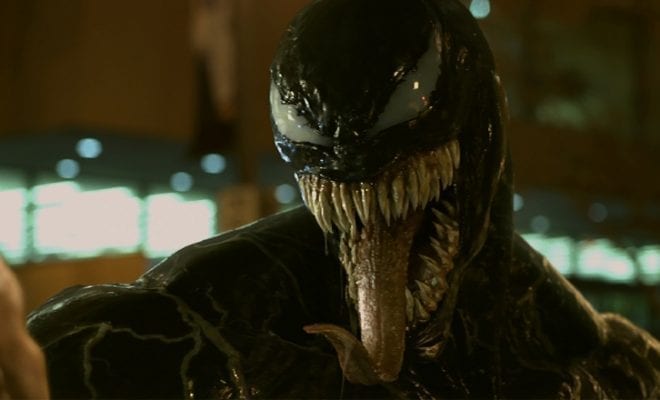 © 2018 CTMG, Inc. All Rights Reserved.
Movies
Movie Review: Venom
By
|
Everyone's favorite unfriendly neighborhood symbiote finally gets his chance to shine, after being the third wheel in Spider-Man 3 and only a nod in The Amazing Spider-Man 2, with Venom now playing in theaters.
Journalist Eddie Brock (Tom Hardy) is trying to take down Carlton Drake (Riz Ahmed), the notorious and brilliant founder of the Life Foundation. While investigating one of Drake's experiments, Eddie's body merges with the alien Venom — leaving him with superhuman strength and power. Twisted, dark and fueled by rage, Venom tries to control the new and dangerous abilities that Eddie finds so intoxicating.
Venom could be considered to be a buddy comedy within a superhero universe, and that is mostly due to the relationship between Eddie and Venom which one of the best things about the film. The script does a great job at fleshing out the dynamic between Eddie and Venom, while also adding some cheap jokes that do get a laugh. The film recognizes the outright wild aspect of the comic book character and dives into the weirdness enough to have some real fun.
This version of Venom benefits a lot from the movie being focused on the character, instead of introducing him in a Spider-Man film, like what they did in Sam Raimi's Spider-Man 3. Sadly, Venom doesn't get into the R-rated violence as most fans had desired, but there was plenty of action to make fans happy. There are some pretty cool moments throughout the action scenes in which Director Ruben Fleischer showcase's Venom's abilities, particularly when Venom and Eddie are first bonding.
Overall, Venom is a good, fast-paced superhero movie that will undoubtedly become a "cult" favorite in the future. Whether or not it will be good enough for Sony to continue with plans for their Spider-Man spinoff franchise is anyone,s guess, but Venom should be a step in the right direction and will also be an entertaining time at the theater.