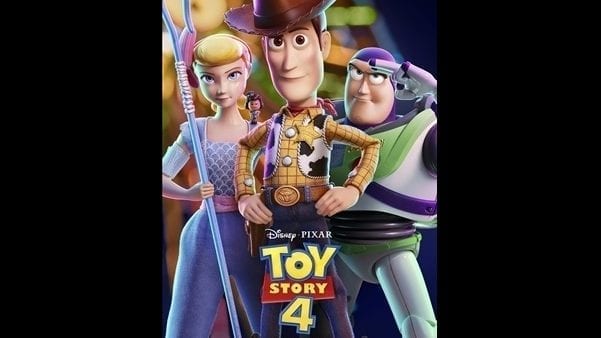 Movies
Toy Story 4 Takes Audiences On An Emotional Journey
By
|
Woody and Buzz are back in a brand new adventure that will have you laughing and crying all over again.
Woody (Tom Hanks), Buzz Lightyear (Tim Allen) and the rest of the gang embark on a road trip with Bonnie and a new toy named Forky (Tony Hale). The adventurous journey turns into an unexpected reunion as Woody's slight detour leads him to his long-lost friend Bo Peep (Annie Potts). As Woody and Bo discuss the old days, they soon start to realize that they're worlds apart when it comes to what they want from life as a toy.
In the beginning, Toy Story 4 seemed like a bad idea. After Woody, Buzz and the gang got a proper send-off in the third film, even the idea of doing a fourth almost a decade after that gut-wrenching and heartfelt finale felt like it would tarnish the legacy of an amazing trilogy. But, despite the odds against it, Toy Story 4 is practically perfect and is every bit as magical as its predecessors. With a story that's even more interesting and emotional than the first three films, it's amazing how Pixar successfully created another emotional story again after the closing events of the last film. Toy Story 4 is still full of the same joy, imagination, and charm that we all love and expect from the Toy Story franchise.
I wouldn't go as far as to say its the funniest film in the franchise, but it does have its moments by new characters like Keanu Reeves' motorcycle stuntman Duke Caboom and Keegan-Michael Key and Jordan Peele's wisecracking stuffed toys Ducky and Bunny. But its really Tony Hale's neurotic spork Forky that brings Toy Story 4 some of its most hilarious moments. Watching the frightening utensil deal with the confusing realities of his unusual existence is a pure delight.
And yes, there is a very good possibility this film will make you cry hysterically – I mean if Tim Allen couldn't get through it, we are all doomed. The last movie saw our favorite toys dealing with their own mortality, Toy Story 4 gets a little deeper as they deal with their own true purpose in life is and going beyond the roles they have been given.
The last three movies dealt with growing up and growing apart, this new film makes you see things from a more adult point of view, especially with Woody. Woody has been the leader and sort of a father figure to Andy, but now he is clearly an empty nester and struggling to adapt to how things at Bonnie's. Meanwhile, Buzz has been doing quite nicely in his new routine, but when Woody goes missing again Buzz has to step up but starts doubting his own instincts.
Tom Hanks' performance really speaks to what Woody has gone through over the decades, showing that our favorite sheriff has seen and lost so much. That alone helps anchor the story when playing opposite of Forky's journey throughout the film.
The Toy Story movies have always been superior in animation, and the fourth movie is no exception. From the texture of the landscape to the sparkle of Bo's porcelain, Toy Story 4 is a visual masterpiece that is full of easter eggs and loving callbacks to other Pixar films that will make you want to watch it more than once.
Even though Toy Story 3 was the perfect ending for the franchise, Toy Story 4 acts like an epilogue that is still just as heartfelt as the films before it. We may not have needed a fourth film, but I'm so happy they made it.
Critic Rating: 5/5 stars
What did you think of the movie? Sound off in the comments.