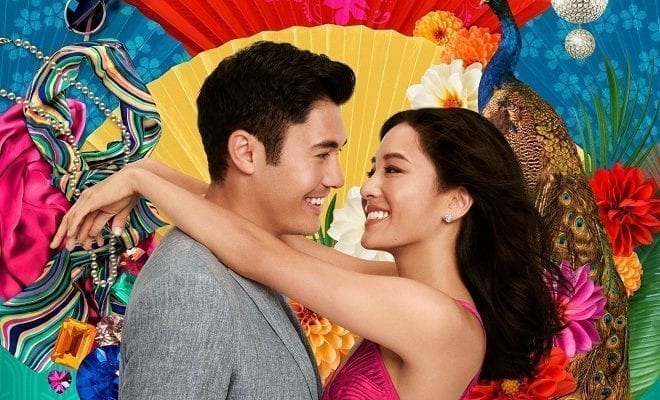 Courtesy of Warner Brothers
Movies
Movie Review: Crazy Rich Asians
By
|
Romcoms are typically cliche. Boy meets girl, throw in some lightweight drama, comedic antics, predictable resolutions, and voila! – all is good with the world. "Crazy Rich Asians," a mainstream Hollywood romcom based on the best-selling book by Kevin Kwan (part of a trilogy) puts a vibrant spin with an all-Asian cast (the first since the "Joy Luck Club" in 1993), Singaporean backdrop, and fantasy-level wealth.
In this 'Meet the Family' story, Nick Young (Henry Golding) brings his girlfriend, Rachel Chu (Constance Wu), a Chinese-American and fellow NYU professor, to his home country Singapore to attend his best friend's wedding. This is where Rachel realizes her boyfriend's true identity as Singapore's most eligible bachelor, the 'Prince Harry of Asia.'
Rachel is thrust into his extended family, old-money, and part of the world's 1%. As expected, the matriarch of the family, Eleanor Young (Michelle Yeoh), doesn't approve of the relationship. She doesn't see how Rachel, a nobody American outsider, would fit into the Asian culture, rich tradition, and privileged lifestyle.
It's easy to get starry-eyed with all the glut and glitter: first-class intercontinental flight, helicopter trips to tropical islands, secluded beaches, over-the-top parties, sumptuous feasts, exclusive shopping spree, opulent mansions, extravagant fashions and lavish jewels.  This fish-out-of-water story has an added dimension of a culture and status clash. Personal passion, self-freedom and the pursuit of happiness are stacked against individual sacrifice, traditional values, and family fortune.
There's also a side story regarding  Nick's cousin, fashion icon, and socialite, Astrid Teo (Gemma Chan), whose marriage is crumbling and not for the reason one may think. Behind the perfect facade, there's a layer to her an arc to her character.
This is a movie with strong women who make their own choices. Eleanor doesn't quite fit into an evil tiger mother or dragon lady mold. She's got her own pathos.  Rachel is not a Cinderella who needs saving. She has the strength to face her fears and makes unlikely decisions. Her old college friend, Peik Lin Goh (Awkwafina, "Ocean 8"), beyond a comedic relief, provides unconditional support.
"Crazy Rich Asians" is a frothy and tiered feast, bursting with culture, glamour, color, humor and heart.
---
Copyright (c) 2018. Nathalia Aryani.
Nathalia Aryani is a film columnist and has a movie blog, The MovieMaven (sdmoviemaven.blogspot.com). Twitter: @the_moviemaven. She can be reached at indotransserv@gmail.com.