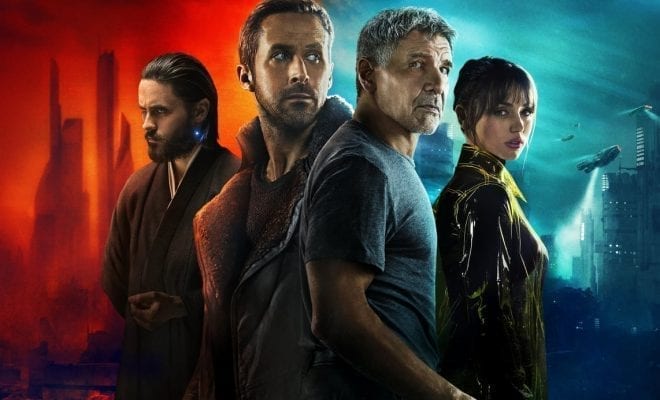 Movies
Movie Review: Blade Runner 2049
By
|
Having never seen the original "Blade Runner" (1982), which became somewhat of a cult-classic over the years, I didn't know what to expect.  With a brief intro narrative, I've found "Blade Runner 2049" works just as well as a standalone film.  Time will tell whether it would follow its predecessor's footstep.
The film picks up 30 years after the events in the first installment.  The previous version of replicants, or bio-engineered beings, have been outlawed due to their rebellions.  While they have been replaced by the next generation, a perfect disposable workforce who obey human commands, some of the older version continue to live.  Government agents, or blade runners, are tasked to hunt for these hidden replicants and retire them, whether or not they are violent.  One of them is a farmer, Sapper Morton (Dave Bautista).  The officer tasked to retire Sapper is simply called 'K' (Ryan Gosling; "La-La Land," "The Ides of March," "Drive").
After Sapper is gone, K discovers a box deeply buried beneath the land surrounding Sapper's home.  This box contains a miraculous secret, a clue that propels him to a dangerous search, and answers that leave him shaken to the core.  His discovery leads to him to track down Rick Deckard (Harrison Ford; "Ender's Game," "The Age of Adaline"), the loner blade runner from 2019.  It also gets him pursued by a replicant manufacturer led by its creepy leader, Niander Wallace (Jared Leto, "Suicide Squad"), accompanied by his faithful right-hand replicant, Luv (Sylvia Hoeks).  A few other players whose interactions with K are significant are his cyber-girlfriend Joi (Ana de Armas), his boss Liutenant Joshi (Robin Wright, "Wonder Woman") and memory-making scientist Dr. Ana Stelline (Carla Juri).
I'm typically intrigued by films with philosophical themes.  In recent memories, Villeneuve's own "Arrival," "Ex-Machina," "Interstellar," "Transcendence," "Cloud Atlas," "Inception."  There's some of that here, about how far is too far for a machine to be indistinguishable from human and what to do with them.  Whether or not the replicants' memories are implanted or programmed to behave a certain way, they feel real to them and they may not know that they are false reality.  Some things here feel shoehorned or grandiloquent though, told instead of shown.
Heavy on cinematography, the film plays on light and shadow and a palette of saturated marigold and cool blue.  After the great ecosystem disaster, people survive on synthetic farming and a weather that's either dusty, misty, rainy or snowy.  The great digital blackout wipes out most data, leaving K to rely on analog devices.  The grimy atmosphere, bathed in cerulean neon lights, dotted by outsized holograms and Asian fusion influence, reminds me of "Ghost in the Shell." Although it becomes kind of monotonous because of the overlong size.
With a running time of nearly 2 hours and 45 minutes, and a slow pace, it doesn't always sustain the suspense, even with a foreboding score.  A full half-hour of drawn out scenes could be cut without shortchanging the story.  The pace mirrors the thought-provoking "Arrival" from last year, directed by the same person, Denis Villeneuve.  However, that film's right under 2 hours.
"Blade Runner 2049" captures the most attention in pieces, during the concealed stage, clue-trailing and reveal.  While it doesn't quite meet the heightened expectations, it's runs on plenty of nostalgia, twists and visuals.