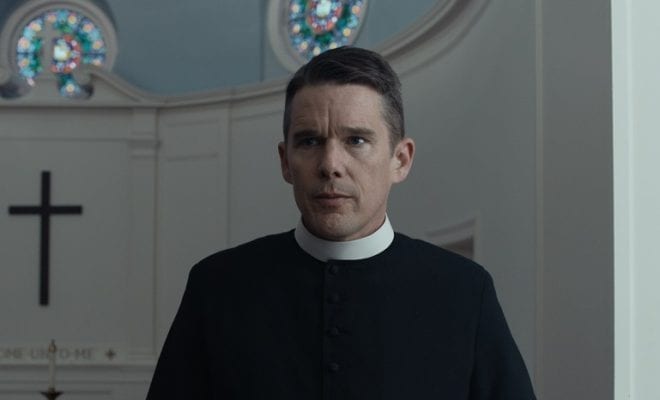 Photo courtesy of A24
Movies
A24, makers of 'Lady Bird,' release new movies 'First Reformed' and 'The Seagull'
By
|
There has been a common question circling the film going community the past few years, "can A24 make a bad film?"
It's a valid question for a studio that seems to distribute knockout after knockout, year after year. Just in the past few years A24 has distributed (to name a few) "Moonlight", "Ex Machina", "The Florida Project", "Room", "Lady Bird", and "The Witch"— all terrific films. What one must keep in mind though, is that A24 is not backing these films in production or even contributing to the creation of these projects, they are merely financing the marketing to promote these pictures.
If you were to scroll through their filmography investigating for a slip up, the common controversial titles—and by controversial I mean there is a possibility that these aren't necessarily good— include "It Comes at Night", "The Bling Ring", and "The Rover", which tend to be most heavily debated. Yet these, although not groundbreaking, are not "bad", they just are not notable.
A24 is releasing two new films (which is odd given their track record). Could Paul Schrader's "First Reformed" or Michael Mayer's "The Seagull" break the streak? Find out below.
First Reformed
Who is a pastor to criticize his piers, just as who am I to criticize the value of this film? There are no unclouded answers, just as there is no vindication for Paul Schrader's protagonist in "First Reformed"–a pastor who meanders through high concept theological dilemmas that repossesses the transcendent atmosphere and ideologies seen in the auteur work of the 50's and 60's renowned yet controversial work of Yasujiro Ozu, Robert Bresson, and Carl Dreyer (fittingly Schrader wrote the book: "Transcendental Style of Ozu, Bresson, and Dryer"), who, like the heroes of past masterpieces, struggles to keep his paths straight.
Though there are more callbacks than there are verses in the bible in "First Reformed"–from a virtuoso and equally sobering "Winter Light" opening act that mulls over the philosophical ethics of Christianity, to an explosive "Beau Trevail" inspired ending– Schrader's greatest influence comes in the ethos and structure of "Taxi Driver"(which Schrader penned as his most celebrated contribution to the medium in 1976 as a breakout for the screenwriter). Here, albeit Schrader grew up a Calvinist, he flips the prostitution of woman–don't crucify me– for the prostitution of the church, while all the while tackling the churches conservative politics and abnegation of science, in particular global warming. Which, as a believer, who has himself pondered the very same moral inquiries as the characters in this pulpy art house exploration of high brow questions, views this not as a commandment or parable, but as a revelation.
There has been nothing more revelatory in 2018 thus far than Ethan Hawk in his now title role as the chaplain Toller, whose baroque pastoral pastoring techniques mirror the heavenly score and the Dutch Colonial church (which is used more as a gift shop than a place of faith) in which he preaches. And it is faith that coalesces the plot and engulfs the mind of Toller, "can God forgive us for what we have done to this world", which he questions with such sincerity that we too find ourselves reasoning the very same quandaries being presented on screen. The answers, if there are in fact any out there, are not presented here. Rather, Schraeder is more concerned with presenting a hypnotically beautiful picture that mirrors Hawk's at times intimate and always grand performance, to which I must confess, I was at times was more focused on then the constant assault of poetic puzzling dialogue.
You cannot take your eyes off Hawk here, as the struggling — physically and mentally — pastor who loses his way and his mind. Physically he has a destructive cancer that is eating at his insides, and mentally he cannot come to terms with the fact that the local mega-church nearby is a leading source of the town's pollution and is run by a right-wing business man, though the pastor there (Cedric The Entertainer) is as selfless as he is genuine in his motives. Though troubles arise, as well as the doubts, when Toller crosses paths with the angelic Mary (one must note the character's biblical names) who is carrying a baby, but is married to the eco-terrorist Michael who firmly believes their baby shouldn't be born into this godforsaken world. And it is here, where the film crosses over into a hypnotic transcendence that will have film connoisseur's transfixed and the general audiences who lack the faith to commit to the films story checking their watches.
With every study acknowledging the threat of climate change, and the Trump Administration recently denying such threats, this has become a far more timely film than anyone could have predicted. Politics aside, "First Reformed" is an astounding feat in film-making, a visual and visceral spectacle that equates to 2018's "Taxi Driver". But then again, who am I to tell you this is a devilishly powerful and silent think piece that goes out with a bang!
4.5/5
The Seagull
Loosely based on a classic 1898 Chekhov play by the same name, "The Seagull" demonstrates both meanings of the idiom "Chekhov's gun". There is of course the film's killer ending, but also director Michael Mayer's assuredly glaring solecism of killer instinct, in which he believes every aspect of the picture must contribute to the plot (down to the window)–there is only so much window gazing a viewer can take before it becomes a pane. What does capture our attention however, is Mayer's ability to–similar to Chekhov– modify immense eloquent conversations about life and art into a brisk melody.
The instruments to this piece come in the form of its lovely contemporary cast, who swoon for each other just as we swoon for them. The conductor is Annette Bening, who is no stranger of taking on the role of a past time luminary (see "Film Stars Don't Die in Liverpool", 20th Century Women). Here, she brilliantly tackles literature's worst mom (Irina), who in old age, hides her contempt through calculated egocentric put downs, lavish events at her surreal lake house, and makeup that conceals her haunting glare. Though I suppose she is no better off than the rest of the players who wander the campground searching for forbidden love just as the guests did in Renoir's 1939 contemporary masterpiece "The Rules of the Game." Though love, to our dismay, in both parties ends with backfire. With Chekhov at least, one can expect as much.
Other products of lust include the beaming Nina (Saoirse Ronan) whose poignant flowing red hear matches her fiery drive. The love interests (plural) include the established but bland writer Boris (Cory Stoll) and the ambitious and humane but equally lost Konstatin (Billy Howle), who believing he is as great as Constantine, dreams of winning over the world and Nina. The other contributors to the hodgepodge of immaculate performances are Elisabeth Moss, Jon Tenney, and Brian Dennehy.
The film's setting is the countryside of early 1900's Russia at a lavish country estate mid-summer. Within the confines of the grounds it seems like nothing lively is taking place, though really life itself is unfolding. In following the odd yet humane characters attempt to find love, we get a broad understanding of who these characters are verse who they strive to become, who they once were, and who they love verse who they have. That is essentially the premise to "The Seagull", a group of artists and families coalescing in conversations (or gossip) on art, life, and beauty wandering to find these traits in a loved one.
At its best, "The Seagull" is an intimate stage for its valiant performers to shine, which also happens to be its weakness–not in a good way where you can confidently state "my strengths are my weaknesses". No, the problem here is that, like past directors who have attempted to transubstantiate Chekhov's play-scripts, Michael Mayer seems to simply be filming theater. Which refrains the abundance of energy on screen from illuminating the liveliness in film that occasionally transcends its audience into the world on screen. At times as I sat back in my reclining chair at the Landmark Hillcrest, I put the cliches of "studious" drama/comedies and the unbalanced pace–which undoubtedly had to do with the severe trimming to the subject matter (this runs at just over an hour and a half)– behind me, and relished the occasionally gripping and always beautiful images.
At one point Benning proclaims "modern theater is trite and full of cliches":something her film also suffers from. Yet when it does decide to spread its wings, "The Seagull" can be superb theater, and a tough act for future Chekhov adaptations to follow.
3/5