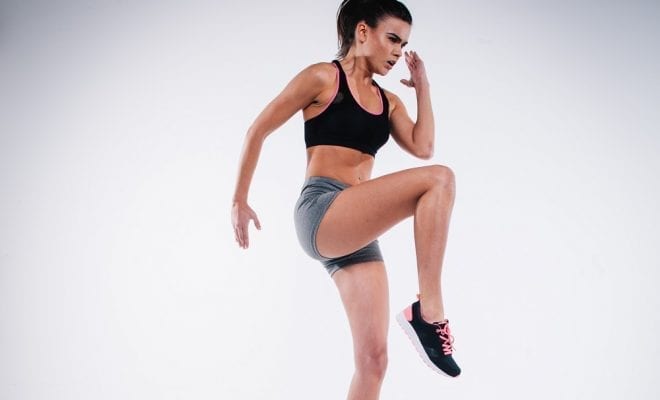 Lifestyle
Too Much HIIT?
By
|
Joella Hopkins is the Vice President of Group Fitness at EōS Fitness, which has 9 high value, low price gyms and counting in Southern California, including San Diego. She has over 20 years of experience in the fitness industry.
A HIT above HIIT – HOW TO TRAIN EFFECTIVELY FOR LONG TERM HEALTH AND FITNESS
THE "BUZZ" ABOUT HIIT – IT'S EVERYWHERE!
It seems that everyone is buzzing about "HIIT" style training lately. Everywhere we look, we see or hear about HIIT (aka "High-Intensity Interval Training") workouts and it seems they are "the thing to do" to get the perfect physique. HIIT classes are pushed to the public in popular health and fitness magazines – we see glamorous fitness models on social media showing these types of workouts and getting thousands of "likes" and followers because of the way they look.
HIIT DOES HAVE BENEFITS – BUT IN MODERATION
HIIT is not the only type of training a person should be doing to get truly fit, although HIIT style training does have many positive benefits. You will scorch calories, improve cardiovascular endurance, burn body fat, and even release those "feel good" endorphins. Because of these benefits, many gyms, boutique studios, etc. have embraced the HIIT philosophy and jumped on the bandwagon offering only high-intensity classes all day, every day on their schedules. Variety is what people need to train safely and focus on other components of fitness that are so vital – muscular strength, muscular endurance, flexibility, agility, balance, and body fat composition to name a few.
NOT CROSS TRAINING EFFECTIVELY IS A RECIPE FOR INJURY
In reality, if you do this type of high-intensity training every day, you will more than likely end up burned out, injured, or your body will reach a plateau and stop getting results. The constant pounding on your joints, ligaments, bones, and tendons will eventually take a toll on most people. Overuse injuries are the most common for the typical "gym-goer". Because these types of workouts are usually designed as "one size fits all", some of the most common injuries you will see are ankle sprains, knee tears, lower back pain, shoulder injuries, tendonitis, and even osteoarthritis over time.
PROGRAMMING VARIETY, INCLUDING STRENGTH AND FLEXIBILITY TRAINING, IS THE KEY TO SUCCESS IN AN EXERCISE REGIME
So how do we still reap the benefits of HIIT style training, but stay healthy for the long run? By giving our bodies recovery days in between these higher intensity workouts and focusing more on strength training and flexibility enhancement, we will be able to decrease the odds of incurring an injury. At EōS Fitness, we have taken that approach with our small group training program "Fitness Unchained". We mix in a variety of programming modalities to ensure our members train safely and still get the results they are looking for. The goal is to keep people working out for a lifetime, not get a debilitating injury that prevents them from being able to continue on their fitness journey.
STRENGTH TRAINING – THE SECRET INGREDIENT WE ALL NEED!
As we age, we start to lose muscle and precious bone density dramatically and it actually starts happening right around the age of 30. The good news is, we can reverse that trend by strength training. By lifting weights, using resistance bands, and incorporating bodyweight exercises, you can ultimately improve your movement, balance, coordination and also prevent injuries.
FLEXIBILITY TRAINING AND STRETCHING SHOULD BE NON-NEGOTIABLE
Flexibility training is one of the most ignored types of training. This should be a non-negotiable in your routine. If you stretch on a regular basis, you will notice less joint pain, improved movement quality, an increased range of motion, reduced soreness, and overall improved physical performance. Participating in yoga or stretch classes are great ways to enhance your flexibility, improve your balance and posture.
THE FINAL WORD
Scheduling your workouts with different types of programming including HIIT, strength training and flexibility training is what will help you, in the long run, be truly fit. All components of fitness are important and should not be overlooked. A good weekly routine would consist of 2 HIIT classes, 2 – 3 days of strength training and ensuring that you stretch for at least 5 – 10 minutes every time you exercise.