Lifestyle
Healthy But Delicious Recipes for January 2017 to Keep You Fit
By
|
Guilty of over indulging in those holiday cookies and cakes last month? Don't feel bad, we all were there with you. But hey it's January, a brand new year with a brand new you! Eating healthy plays a big part in being healthy and maintaining your fitness goals you have set for yourself for 2017.
You want to look good but most importantly FEEL GOOD, it all starts with what you put in your body. Eating well not only makes you strong and healthy but can help with keeping you in line with your fitness.
DON'T SKIP BREAKFAST
A lot of us are in such a rush in the morning we completely cut out our breakfast intake, please STOP doing this as breakfast is the most important meal of the day for your body and energy levels throughout your day. If you plan and prepare beforehand it will help prevent those mid morning "bad food" choices like grabbing a donut or a egg mcmuffin on the go because they are easy or are just sitting on the communal table staring at you.
Instead, opt for a smoothie of your choice, bran muffin, an apple, or some old fashioned oatmeal. Keep in mind that the less processed ingredients the better for you. Below are some new and innovative recipes from Brandon Matzek -Author and Chef of Kitchen Konfidence that are not only absolutely delicious but healthy.
INGREDIENTS
2 tablespoons chia seeds
1 cup orange juice (I used a mix of orange and meyer lemon juice here, but just orange works well too)
Scant 2 cups (8 ounces) peeled and sliced carrots
Juice of 1/2 lemon
1 tablespoon honey
1 tablespoon almond butter
1 teaspoon vanilla extract
1/2 teaspoon ground cinnamon
Small pinch of kosher salt
1 cup (8 ounces) almond milk ice cubes
 INSTRUCTIONS
Place chia seeds and orange juice in a small bowl, whisking to combine. Let sit for 20 minutes, whisking occasionally,
Add the hydrated chia seeds with juice to the container of a blender along with all other ingredients. Blend until smooth. Taste and add more honey or lemon juice as needed.
I like to enjoy one smoothie immediately, and save the other one (in the fridge) for an afternoon snack. Be sure to drink both smoothies within 24 hours. Flavors will get muddy after that.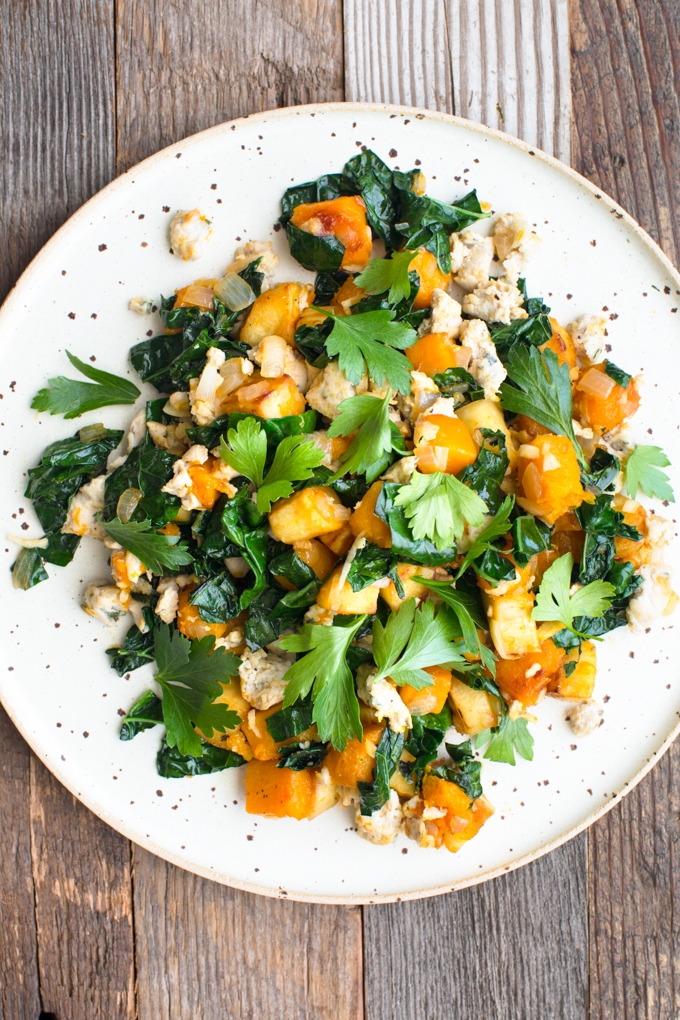 INGREDIENTS
3/4 pound peeled butternut squash, cut into 1/2-inch dice
1/2 pound peeled parsnip, cut into 1/2-inch dice
4 tablespoons olive oil, divided
1/2 pound chicken and apple sausage [This recipe is in the book!]
Sea salt
1/2 small onion, chopped
2 garlic cloves, chopped
Freshly ground black pepper
6 ounces (about 1/2 bunch) kale, stems removed, leaves sliced thin
2 teaspoons apple cider vinegar
Torn parsley leaves, for serving
 INSTRUCTIONS
Place chopped squash and parsnip in an even layer on a microwave safe plate, and cook on high in the microwave until heated through, but still firm to the touch (5 minutes).
Add 1 tablespoon oil to a large cast-iron (or non-stick) skillet, and warm over medium heat. Cook the sausage, stirring occasionally, until browned and fully cooked through (about 5 minutes). Transfer sausage to a plate and set aside. Wipe the skillet clean.
Return the skillet to a medium-high heat, warm 2 tablespoons olive oil and add the squash and parsnips along with a pinch of salt. Cook, stirring occasionally, until golden on most sides (4 to 5 minutes). You'll want to let the veggies cook undisturbed for 1 – 2 minutes, then toss, stir and repeat. Avoid moving the veggies around in the pan.
Add the onion to the skillet, season with salt and pepper, and cook, stirring occasionally, until tender (about 3 minutes). Stir in the garlic and cook until fragrant (30 seconds). Move the veggies to one half of the skillet. Place remaining tablespoon of oil in the other half of the skillet. Let the oil warm for a moment, then add the sliced kale and a small pinch of salt, stirring to combine. Cook, stirring occasionally, until the greens wilt (2 to 3 minutes). Take the skillet off the heat, stir in the vinegar, and season to taste with additional salt and pepper. Stir in the cooked sausage, and let warm for a moment in the hot skillet.
To serve, spoon 1/4 of the hash in a shallow bowl and top with a scattering of torn parsley leaves. Store additional portions covered in the fridge.
LUNCH THAT IS QUICK & YUMMY
Lunch is also another important factor in maintaining a healthy energy level throughout the day. Here are some quick and healthy recipes for your day to day.
INGREDIENTS
1/2 avocado, pit removed and flesh scooped from the skin
Freshly squeezed lime juice
Kosher salt
Freshly ground black pepper
1 thick slice of bread, lightly toasted
Fresh corn kernels (canned would work here too)
Thinly sliced red chile
Thinly sliced scallion (white and light green part)
Torn cilantro leaves
 INSTRUCTIONS
Add avocado to a small bowl with lime juice, kosher salt and black pepper to taste. Coarsely mash, then spread over toasted bread.
Top with corn kernels, sliced chile (to taste) and sliced scallion (to taste). Finish with a squeeze of lime juice, kosher salt, and a scattering of torn cilantro leaves. Enjoy immediately!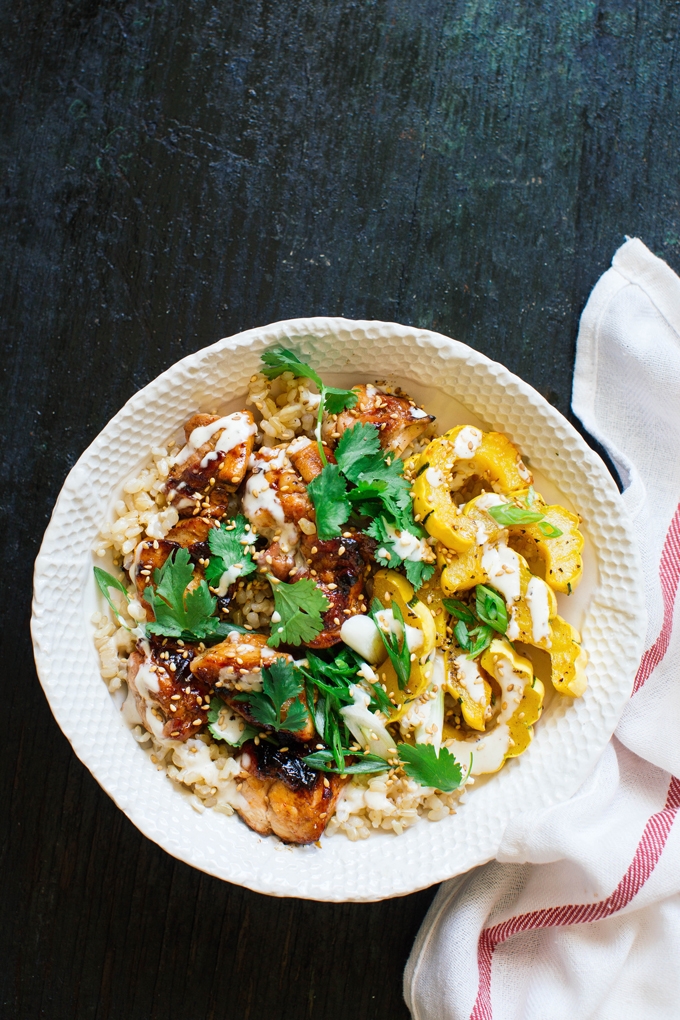 INGREDIENTS
For the dressing
1/2 cup tahini
6 tablespoons water
4 tablespoons freshly squeezed lime juice
1 tablespoon sesame oil
1 clove garlic, grated or minced
1 squeeze of honey
3/4 teaspoon kosher salt, plus more to taste
Freshly ground black pepper
For the bowl
3 cups cooked brown rice
2 cup simple roasted vegetables (delicata squash shown here)
4 skewers of Honey Sriracha Chicken (recipe below)
4 scallion, thinly sliced on the bias
Cilantro leaves
Toasted sesame seeds
 INSTRUCTIONS
To make the dressing, combine tahini, water, lime juice, sesame oil, garlic, honey, kosher salt and several turns of black pepper in a medium bowl, and whisk to combine. Season to taste with additional salt and pepper.
To make the bowls, divide the rice between 4 shallow, wide bowls, and top each with 1/2 cup roasted vegetables and 1 skewers worth of chicken. Top each bowl with 1 sliced scallion, a small handful of cilantro leaves, and a sprinkling of toasted sesame seeds. Drizzle each bowl with Tahini Lime Dressing, and serve with extra dressing on the side.
DINNER IDEAS THAT ARE TASTY YET HEALTHY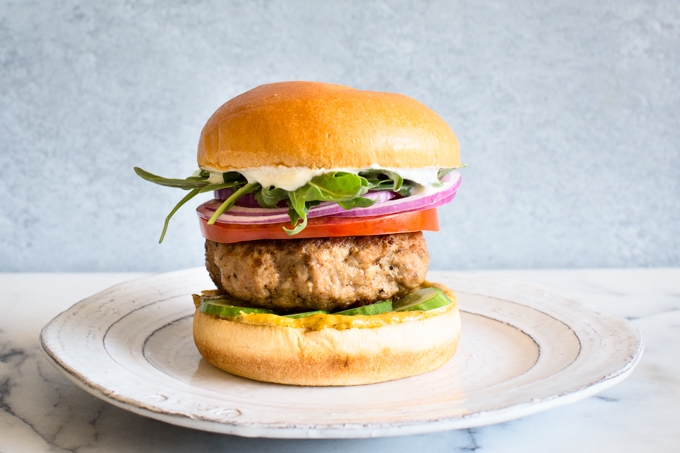 INGREDIENTS
For the wHipped feta:
6 ounces feta, crumbled
2 ounces cream cheese, at room temperature
1/3 cup olive oil
2 tablespoons fresh lemon juice
1/4 teaspoon kosher salt
1/4 teaspoon freshly ground black pepper
For the mayo:
1/2 cup mayonnaise
2 tablespoons sun-dried tomato pesto
For the burgers:
1 1/2 pounds ground turkey (preferably 100% or part dark meat)
2 tablespoons chopped fresh oregano
2 garlic cloves, grated or minced
1 1/2 teaspoons kosher salt
1/2 teaspoon freshly ground black pepper
Canola oil, for grates or skillet
Toasted brioche buns, for serving
Toppings: arugula, sliced tomato, sliced red onion, sliced Persian cucumber
 INSTRUCTIONS
Start by making the sauces. Add feta and cream cheese to a food processor and pulse a few times to combine. Add the olive oil, lemon juice, salt and pepper, then process until smooth. Season to taste with additional salt and pepper. Store wHipped feta in the refrigerator until ready to use. Stir together mayo and pesto in a medium bowl until combined. Store mayo in the refrigerator until ready to use.
Place turkey in a large bowl along with the oregano, garlic, salt and pepper. Using your hands, gently mix the turkey and seasoning until evenly distributed. Don't overwork the turkey here. Divide mixture into 4, and form into burger patties.
Preheat a charcoal grill, gas grill or cast-iron skillet over medium-high heat. Grease grates or skillet with a little canola oil, then cook burgers until golden and charred in spots or the internal temperature reaches 160°F (about 5 minutes per side, 10 minutes total). Let burgers rest for 5 minutes before serving.
To serve, stack up as follows: bottom bun, sun-dried tomato mayo, sliced cucumber, burger patty, tomato, red onion, arugula, whipped feta, top bun. Enjoy immediately!
INGREDIENTS
For the Miso-Lemon Vinaigrette:
2 tablespoons white (shiro) miso
1 tablespoon honey
1 tablespoon sesame oil
2 tablespoons rice wine vinegar
2 tablespoons freshly squeezed lemon juice
3 tablespoons olive oil
Kosher salt
Freshly ground black pepper
For the Kale Salad:
2 bunches lacinato (dino, black) kale, stems discarded and leaves chopped into bite-sized pieces
1/4 cup unsalted, roasted pistachios, chopped
Flaky sea salt
 INSTRUCTIONS
Add miso, honey, sesame oil, vinegar and lemon juice to a medium bowl, whisking to combine. In a slow, steady stream, whisk in olive oil until emulsified. Season to taste with kosher salt and black pepper.
Place chopped kale in a large bowl, and drizzle over some of the vinaigrette. Using your hands, work the vinaigrette throughout the greens, tossing and massaging as needed. The leaves should be glistening with vinaigrette, not swimming in it. Let the salad sit at room temperature for 15 – 20 minutes until the kale leaves are tender. Transfer any unused vinaigrette into a clean container, and store in the fridge.
To serve, divide dressed greens between 4 salad plates, and top with chopped pistachios and a sprinkling of flaky sea salt. Enjoy immediately!
THAT SWEET TOOTH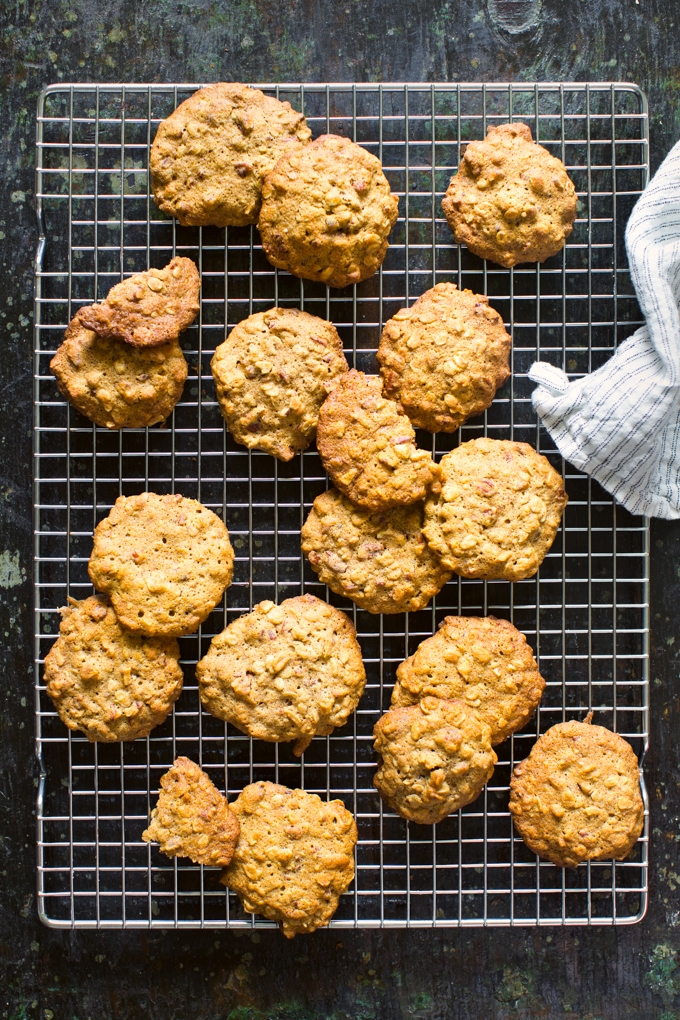 INGREDIENTS
2 cups pecans, toasted and roughly chopped
1/2 cup unsalted butter, room temperature + 2 tablespoons melted unsalted butter
1 cup packed light brown sugar, divided
1/2 teaspoon smoked sea salt
1 1/4 cups all purpose flour
1 teaspoon baking soda
1 teaspoon ground cinnamon
1/2 teaspoon freshly grated nutmeg
1/2 teaspoon fine grain sea salt
Pinch of freshly ground black pepper
1/4 cup shortening
1/4 cup good bourbon
1 teaspoon vanilla extract
2 tablespoons heavy cream
1 egg
1 cup old-fashioned rolled oats
 INSTRUCTIONS
Add chopped pecans (preferably while still warm) to a medium bowl, and toss with 2 tablespoons melted butter, 1 tablespoon brown sugar and smoked sea salt. Set aside. Whisk together flour, baking soda, cinnamon, nutmeg, sea salt and black pepper in a medium bowl, and set aside.
To the bowl of a stand mixer fitted with the paddle attachment, add butter, shortening and remaining light brown sugar, beating on medium until light and fluffy (5 minutes). Scrape down the sides, then mix in bourbon, vanilla and cream until well-incorporated. Add egg and mix just until incorporated. Add the flour mixture in 2 increments. Start the mixer on low speed, then gradually increase to medium, and beat just until the flour is incorporated each time. Using a spatula, scrape down the sides and make sure any flour hiding at the bottom is mixed in. Stir in the oats and pecans. Cover and chill dough in the refrigerator for 30 minutes.
Preheat an oven to 375°F and set a rack in the middle position. Line 2 baking sheets with parchment paper.
Scoop heaping tablespoons of dough onto the prepared baking sheets about 2 inches apart. I baked 8 cookies per sheet. Using a small spatula or your fingers, gently flatten the dough into a disc. These cookies don't spread too much on their own, so you've got to start with a disc rather than a ball to get a flat finished cookie. Bake, one sheet at a time, until the cookies are lightly golden around the edges (11 – 12 minutes). Let cool for 2 minutes on the baking sheet, then transfer to a cooling rack.
INGREDIENTS
1 Golden Watermelon
Simple Syrup (recipe below)
 INSTRUCTIONS
Slice golden watermelon in quarters. Cut the flesh from the skin and rind then transfer to a food processor or blender. Process until smooth.
Pour golden watermelon puree through a fine mesh basket strainer into a large measuring cup (4- or 8-cup), using a spoon to expedite the process. If you don't have a large measuring cup, strain into a large bowl with a pour spout then measure in batches. Take note of how much watermelon juice you have (for me, 1 watermelon produced about 2 1/2 cups of juice) then pour juice into a large bowl.
Measure out an equal amount of simple syrup. The ratio of juice to simple syrup should be about 1 to 1. Pour 3/4 of your simple syrup into the juice, stirring to combine. Taste for sweetness and add more simple syrup if needed (I used all of the simple syrup).
Cover the large bowl and transfer to the refrigerator to chill thoroughly.
Freeze sorbet base in an ice cream maker according to the manufacturer's instructions. Finish by freezing the sorbet until hard or enjoy soft immediately.
To make simple syrup: Warm equal parts white sugar and water over medium heat (you'll need 2 – 3 cups of sugar and 2 – 3 cups of water), stirring until sugar is completely dissolved. Bring mixture to a boil, bubble for 1 minute, then remove from heat. Let cool before using.