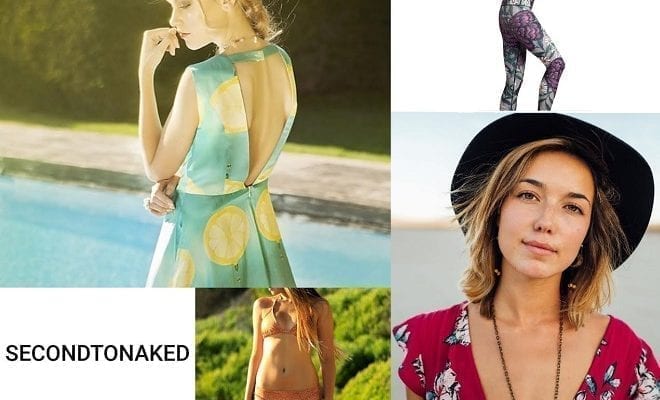 Lifestyle
Activewear for Activists: secondtoNAKED Launches in San Diego
By
|
Ethical shopping platform secondtoNAKED, based here in San Diego, just launched to the delight of eco-conscious women everywhere. On the online platform, you will find beautifully designed women's activewear and yoga wear that aims to defy trends and help eliminate "fast fashion." secondtoNAKED promotes creative brands and designers that are taking on the challenge of creating a path to sustainability and local manufacturing. Brands they promote must fall within at least one of the three pillars of sustainability: social, economic, and environmental. Items are made of either organic, recycled, upcycled, or alternative materials (such as hemp, Tencel, etc.), and/or is manufactured in the United States.
I sat down with secondtoNAKED CEO Bastien Faure, who tells me he created the platform in an effort to promote brands and designers that manufacture locally, and reduce the environmental footprint of the fashion industry, which is currently the second largest polluter on the planet––right after oil. Its mission is to empower the eco-conscious consumer, promote avant-garde fashion design, sustainable manufacturing, and local shopping, and to raise awareness and encourage ethical shopping habits.
"We are thrilled to be the first company to provide an online shopping experience for women that want activewear that is both creatively designed and contribute to conserving our planet. secondtoNAKED aims to be an active part in shaping the way the industry creates, sources, and purchases apparel, with a heightened sense of what is good for the environment and for people."– Bastien Faure.
In February 2018, secondtoNAKED graduated from the San Diego CONNECT Springboard Startup accelerator program. secondtoNAKED is also working on offering a unique online to offline shopping experience in order to support local boutiques, whenever a store option is better for the environment. Faure says, "We believe in promoting innovative, eco-friendly clothes and systems as a whole, and that is why we are also developing partnerships with small local retailers."
The site makes it simple for women to look great while doing good at the same time. "Our job is to provide the tools conscious shoppers need and help them make an impact at every purchase," states Faure. Check out secondtoNaked products here.