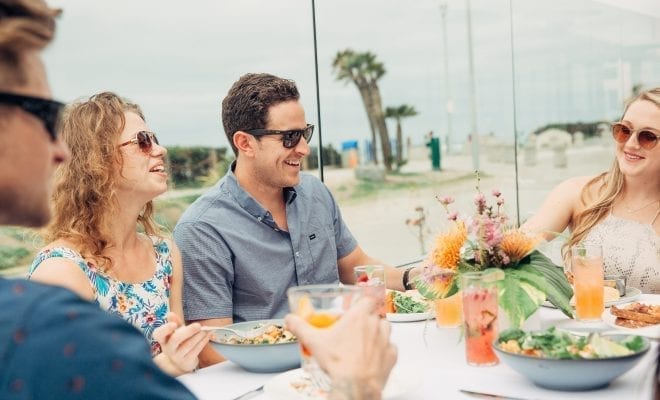 Entertainment & Events
This Weekend in San Diego 9/6 – 9/8
By
|
It's officially September, which is one of the best months in San Diego! In addition to our usual beer-drinking and brunching activities, we welcome a few unique happenings to the weekend roster. Get your stomp on at the 23rd annual Grape Stomp in Julian, or feast your eyes on a Lantern-filled night sky and the City Heights Lantern festival. Labor day has come and gone, but let's be honest, it's always summer in San Diego.
Friday, September 6
Loews Coronado Bay Resort is hosting an event benefiting local education. The fun begins at 6:00 p.m. with a $100 entry fee. Enjoy drinks, delicious bites, live music, and auctions while giving back to the youth. Tickets can be purchased here.
Support your local music performers as they entertain you all night long at Brew Coffee Spot starting at 5:30 p.m. Come out and enjoy delicious brewed coffee and cozy the atmosphere as San Diego local musicians serenade you into the weekend.
Don't miss the San Diego Padres kick off a 3-game series at home against the Colorado Rockies. For those 21+, head over to Petco Park a bit before the game for CocktailFest – a pre-game Happy Hour starting at 4:30 that features drink specials and live music. Tickets to this game start at $18.
This weekend is all about music and relaxing after a busy summer season. Come down to The Crossings at Carlsbad at 5:30 p.m. for some delicious beverages and enjoy local beer tastings as you unwind into your weekend.
Flagship Cruises will feature local brewery, Coronado Brewing Co. for their weekly Friday night event, Hops on the Harbor. Come aboard and coast throughout the San Diego bay while sipping on a variety of the local brews and good eats.
Saturday, September 7
Come down to Saints Constantine and Helen Greek Orthodox Church and enjoy a true and authentic Greek outing. The event features delicious food and cooking lessons so you can recreate the flavorful cuisines at home! This unique 2-day festival costs just $3 to enter.
The 23rd annual Grape Stomp event will take place at Menghini Winery where you can stomp on grapes to make your very own wine. The proceeds will go towards The Inner North Star PTSF Retreat Center. Julians Grape Stomp Festa is a great way to spend a Saturday and this year is shaping up to be one of the best. With local wineries, breweries, and cideries offering sips to sample, a wide variety of food and shopping opportunities, great music and undoubtedly, a little extemporaneous dancing here and there, this will be a party to remember.
This special event will let you get that perfect "Insta-post" as you release lanterns into the sky, symbolizing a new beginning. There will be music, good and hundreds of other locals releasing lanterns into the sky. This event will take place at Vien Dong IV Supermarket starting at 11:30 a.m. and ending at 9:00 p.m.
Sunsets and Saturdays are coming alive with a free afternoon filled with live music, tasty treats, exclusive offers and other surprises throughout La Jolla Village. The event is free; attendees can register here.
Sunday, September 8
Toast to warmer weather and gather beachside at JRDN in Pacific Beach for some bubbly and brunch with a view. Featuring sparkling wine from Roederer Estate and Champagne Roederer, JRDN's wine professionals will pour guests selected bubbly perfectly paired with a three-course brunch prepared by Executive Chef Dave Warner. Tickets for the 21+ event is $59 per person and includes a three-course brunch with wine pairings.
House of Blues Restaurant & Bar Country Brunch Live is a food and music celebration featuring live country music and made-from-scratch, Southern-inspired brunch menu. Held every Saturday and Sunday from 10 a.m. to 2 p.m. Country Brunch Live is a multi-sensory experience of food and music that will kick-start folks' weekend vibes. House of Blues Restaurant & Bar sets the stage, spotlighting a lineup of country artists performing top country favorites
Celebrate your weekend with puppies and other cute little animals that need your help. If you're interested in animals and becoming a veterinarian, this is a great opportunity to see the behind the scenes process of what it takes. The event starts at 2:00 p.m.
You've never seen Avengers like this—Come down to the Manchester Grand Hyatt this Sunday for a beautiful view as you watch your favorite Marvel characters duke it out on the big screen. Enjoy this unique movie experience as you are transported to another world of superheroes.