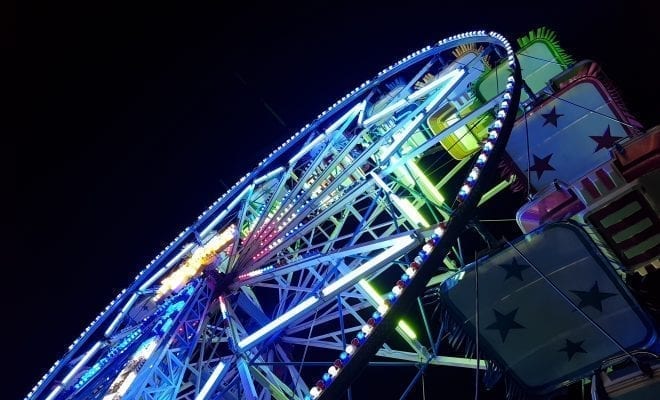 Entertainment & Events
Complete Guide to the 2017 San Diego County Fair
By
|
The San Diego County Fair, formerly the Del Mar Fair, is the highlight of every summer in San Diego. From beer tastings to live music, this year's fair is sure to blow your expectations away. Whether you want to see the adorable farm animals, or indulge in fried foods, there is something here for everyone. From June 2nd-July 4th, you can enjoy the fair and all it has to offer!
Tickets
Tickets can be pricey for a big family, or even for you and your friends. Make sure to check out the Ticket & Deals to ensure that you are getting the best experience that the fair can provide you. There are $5 admission days (June 2, June 3, and June 7, 2017), a College Day, and even an Unemployment Day, so be sure to check to see what kind of deal you could get. Planning on going a lot? You can purchase a $26 pass for the 26-day fair and make the most of your local fair grounds. There are also admission and ride packages that will give you double the fun, but not double the spending.
Concerts
There is an abundance of musical entertainment provided by the fair grounds. The musical talent includes artists such as, Toby Keith, DJ Ukeim and Live Musician, and Swingin Hasslers. With many different genres of music and a variety of shows, there are bound to be concerts that cater to every fair goer's taste. The most popular talent is located on the Heineken Grandstand Stage nightly, which is a part of the Toyota Summer Concert Series.
Animals
What would a fair be without the presence of our furry, little friends? From llama judging, to the charity fair horse show, there are different, fun activities happening with the animals daily. Visit the farm and bring the whole family out to play with the animals.Watch your children grin wide as they come to play with the llamas and sheep, or cuddle up with an adorable bunny.
Competitions
A little competitive fun never hurt anyone. There are numerous competitions going on this summer at the Del Mar Fair. Various brackets are available for adults, professionals, schools, and youth. The competitions range from floral design, to science and technology, to literary publications.
Beer Exhibit
The Craft Beer and Spirit Exhibit is the perfect place to cut lose and get your taste buds dancing. Try different beers from local breweries and loosen up on a warm, summer night. Also, there will be a Beer Festival taking place from June 16th-June 18th. There will be five sessions and over 100 beers. Tickets are currently on sale for both General and VIP admission. General admission starts at $55 and VIP admission starts at $110. There will be over 200 breweries waiting for you to enjoy their delectable brewskies.
The fair is a family-friendly place with exhilarating rides, fried Oreos, and a petting zoo full of friendly animals waiting to be loved. The beer festival caters to all the twenty-somethings who won't admit they really came for the petting zoo. Whether you want to kick back with a cold beer, or simply enjoy the artistic vibe, the fair will feed your cravings. The San Diego County Fair has something to offer to everyone. Enjoy your summer nights at a place where you'll create memories that will last you all year long.