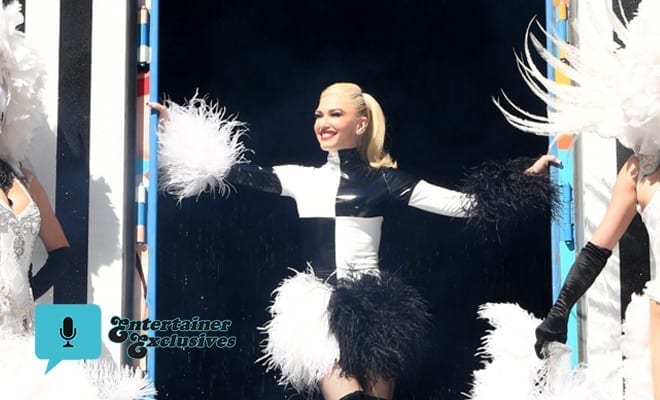 Music
Entertainer Exclusive Part 2: Gwen Stefani is Just A Girl About to Take Over Las Vegas
By
|
If you haven't read part 1 of our exclusive interview with Gwen Stefani and her Las Vegas tour, CLICK HERE.
Gwen Stefani spent her childhood and adolescence in Anaheim, California, a suburban girl living just a stone's throw from Disneyland. It was her older brother, Eric, who founded No Doubt, the hybrid ska/punk/rock band that would help Stefani make her way into the musical limelight with their 1995 breakout album, Tragic Kingdom. The band's unique sound coupled with Stefani's platinum blonde hair, red lips and punk rock fashion sensibility, brought the singer to Rockstar status in the 1990s.
With lyrics torn from the pages of Gwen's personal diary about falling in love, breakups, makeups and mending a broken heart, her music has always drawn in listeners with its raw vulnerability. Her down-to-earth nature and self-deprecating sense of humor helped to seal the deal with fans, making her one of the most successful female recording artists of the past twenty-three years.
Her first solo album, 2004's Love. Angel. Music. Baby. and L.A.M.B. fashion label, catapulted her into the music and style icon stratosphere in the early 2000s. Follow up albums like 2006's The Sweet Escape and No Doubt's 2012 reunion album, Push and Shove capped off two decades of non-stop recording and touring for the Grammy winning artist, as she focused on raising her three sons with then husband, Bush lead singer, Gavin Rossdale.
In the summer of 2015, the California girl experienced a seismic 8.5 earthquake in her personal life when her marriage to Rossdale imploded amidst a cheating scandal. An unexpected romance came in the form of country crooner, and Gwen's The Voice costar, Blake Shelton, whom the Hollaback girl began dating later that same year. Gwen then did what she does best, pouring her emotions into her most personal music to date, with 2016's This Is What the Truth Feels Like album and a subsequent tour.
This summer the hitmaking mom of Kingston, 11, Zuma, 9, and Apollo, 4, is preparing to embark on her Las Vegas Residency at Zappos Theatre at the Planet Hollywood Resort & Casino. It's called, what else? Gwen Stefani: Just A Girl – an homage to her first single to make the Billboard Hot 100 Chart and her own personal anthem that she says still holds true today.  I sat down with Gwen to discuss this new chapter in her life and career.
AK: What are you presenting to the audience, artistically, with your Just A Girl Las Vegas Residency? You're also a fashion designer and you have a strong aesthetic vision. Between the sets and the costumes, how will everything tie together on stage?
GS: I've really tried to put together a show that has a nostalgic feel. The show is full of hit songs that are recognizable and take you back to that time period in your life. And of course, the real reason for doing Vegas is the costumes. I'm working with Rob Zangardi and Mariel Haenn who I've been working with now for, I don't know how many years. They are just incredible. They did Jennifer [Lopez's] show, and they've also worked with Jennifer for years. They really get me. I think there's going to be about five costume changes, which is a lot for me considering that with No Doubt I never did any.
AK: I remember. With No Doubt, it was just you out there with your cut off t-shirts (laughs).
GS: (Laughs) Yeah. But now I'm working with designers to see what they come up with. There are different chapters as far as what I want to look like, and I basically have it all worked out. Now it's just putting it all together.
AK: The title of your Las Vegas show, Just A Girl, is the title of one of your biggest hits, but it has a double meaning for you. You're always saying, "I'm just a girl from Orange County…" Is that your way of keeping yourself grounded?
GS: Honestly, I think if you really knew me or saw my family and how I grew up, I am 100% the same person I have always been. When I wrote that song, Just A Girl, I was twenty-five years old, going to college, still living at my parent's house, and I was very naïve. I had a boyfriend at the time that lived at his parent's house. I was driving one day and I'm thinking, "Wow! I really have a different position in this world, being that I'm a female."
AK: Did something happen that made you stop and think, "I'm going to be treated a certain way because I'm a girl."?
GS: It was just more of a realization that I had. I think we all do as females. I'm walking down the street and some guy just whistled at me? What does that even mean? Suddenly, you're aware of your sexuality and that you're ascribed a certain value because of it. It was when that hit me, that I wrote the song, Just A Girl. Nobody was paying attention at the time. Nobody was ever going to hear the song. I didn't even know how to write a song. It was just so naïve. I guess I wanted to figure out a way to say, "This is my DNA." And really, my DNA is I am just a girl from Anaheim [California]. I'm just me, and I've never been anything else. I know that's what got me to this point, by being honest, real and sharing my story with people. That's all we can do in this life, and I'm nothing more than that. But at the same time, by using my gift, being aware of it, trying to respect it and being confident in it, I've gotten this far. Music is so powerful, and for a song like that to still be relevant twenty years later? In a way, it's even more relevant now. We have so much going on with female empowerment and what's our place? When I read the lyrics of that song I think, "My gosh, that must have been a Godsend," because I know I didn't think that up on my own. I always thought it would go out of fashion, or I'd be too old to say "just a girl" but it still works.
AK: Has Blake had any creative input with this Las Vegas show?
GS: Obviously he's my best friend, so I'm bouncing stuff off him all the time. He's one of those people in my life that's super supportive and gets me motivated. There's a whole bunch of songs about him in the show, so that's fun. Like anybody with their best friend, we share everything together. I'll tell him, "I picked my dancers. There were 500 girls that tried out!" And I'll send him videos. Just things like that.
AK: Did you choose Planet Hollywood as the venue?
GS: I feel like they chose me, and what's really cool about it is that Planet Hollywood is also the Zappos Theatre now, and the Zappos team is just incredible. They're taking over the theatre with their creativity and it has a very futuristic feel. I also give $1 of every single ticket sold to the children's charity, Cure 4 The Kids Foundation. It's going to add up to be a crap load of money! It's something I'm going to be really proud of. You get very motivated about giving and helping, and making a difference, but you really don't think as one person you're ever going to in your life. I feel that to be able to get up there and share my story, and then make that kind of money to give away is amazing. I feel so proud of that.
AK: What's your routine before you step out on stage? Do you pray? Do you meditate? How do you gear up to give your best performance?
GS: I don't meditate. I'm a prayer. I pray, but first I do my makeup (laughs). My makeup is huge for me. I have this song called War Paint. Putting on my makeup and getting ready, there is a kind of meditation in the preparation. Makeup is art, and it's like getting into character when I put it on. I've always done my own makeup for shows. And the praying for me is really important. We do a group prayer circle. In the last few years, and when I toured for the last show, the payer is not just before, but also during [the show]. When I think about how ordinary I've always been, and to think that I've created all these songs, I don't know where they come from. I always think that it's got to be a channeling and it just comes through me. It's a spiritual thing that has been given to me to share. When I'm in the music, the music takes me right back to those moments in my life. And some of those moments are sickening, you know what I mean? Certain memories are upsetting. That's why I say this is not just a show for me, it's my life. It's real for me and I think that's why I'm very anxious about it.
AK: It's going to be a tremendous spiritual, emotional and physical undertaking.
GS: And I'm very lazy (laughs). I like to not have to work out and not have to be committed to something. And I love to be with my children, of course. But it is such an amazing opportunity and they don't just hand them out to everybody. I feel really honored to be able to do it. I'm thrilled to see who's going to show up and it's going to be a lot of fun. I'm going to look back on this and say, "I can't believe I did that!"
---
Gwen Stefani: Just a Girl Las Vegas Residency opens June 27th at Planet Hollywood Resort & Casino's Zappos Theatre.  Ger your tickets here.