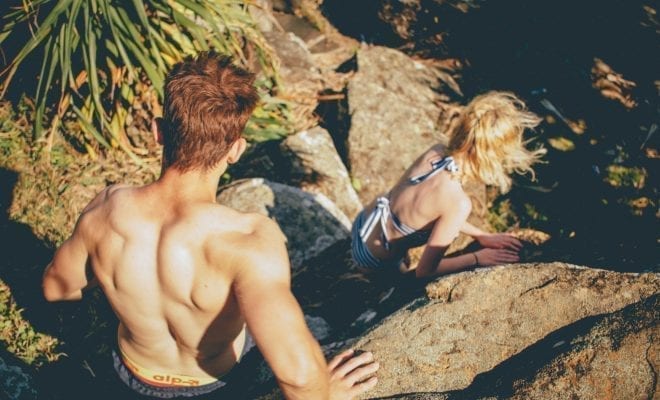 Lifestyle
Fuel Up to Explore San Diego on National Trails Day
By
|
National Trails Day on the first Saturday in June each year, is a day to encourage people to discover local trails, along with raise excitement for the great outdoors. San Diego is a city built for outdoor activities and has quite a few amazing trails for exploring on June 1st. After a morning or afternoon of hiking, you'll surely need to refuel so we've compiled a list of top spots to get your grub on after checking out some of the best trails the city has to offer.
If you haven't yet heard of the Lake Calavera Trails, just east of Carlsbad, you've got to plan a day trip up to check out of this series of trails! Scattered over a dormant volcano, Lake Calavera is just a ten-minute drive from family-friendly Park 101, an ideal place to chow down after a morning of hiking. Park 101 has veggie-packed salads, smoked meat sandwiches and even acai bowls. Opt to refuel with the Power Ponto Bowl, a sweet blend of spinach, kale and peanut butter, topped with seasonal fruit, granola, honey, bee pollen, flax seeds and chia seeds!
Nestled within the ocean-adjacent La Jolla neighborhood, the Ho Chi Minh Trail is a secret surf-trail that leads hikers straight through sandstone walls to Black's Beach. This local hidden gem is only five-miles from some of San Diego most authentic-style street tacos, which can be found at The Taco Stand! Pick from choices like the Carne Asada, with flame grilled angus steak, cilantro, onions guac and salsa, or the Baja – battered fish, cabbage, cilantro, tomato, onions and chipotle sauce – both of which are delicious. The Taco Stand also has locations in North Park, downtown and Encinitas!
The moderate-to-strenuous Annie's Canyon Trail, just northeast of Solana Beach, has hikers trekking through the San Eligo Lagoon Ecological Reserve. After climbing through naturally eroding sandstone walls (which make a great backdrop for photos), venture up to Union Kitchen & Tap Encinitas, a neighborhood-friendly venue just along Highway 101. This lively restaurant, which serves as the perfect place for locals and visitors to unwind, features a coastal classic menu of shared plates, salads, burgers, and sandwiches like the San Diego Blackened Chicken Wrap. The oh-so-popular menu item consists of blackened chicken breast, corn and chorizo hash, lettuce, avocado, cotija cheese, and chipotle-tomato emulsion, all wrapped up in a spinach tortilla and served with house season Kennebec Frites.
Mission Trails Regional Park, a popular San Diego hiking destination, has plenty of ideal spots for exploring. Lake Murray (a 5-mile loop) and Cowles Mountain (2.9 miles) are two of the most well-known trails in the area, both of which require some major refueling afterwards. Head to the City Tacos La Mesa location to load up on delicious and unique bites, such as the Surf & Turf taco. Grilled rib eye steak and garlic sautéed shrimp come prepared over melted Oaxaca cheese, topped with cabbage, tomato and avocado. Pair with a refreshing Pacifico or Corona beer, after all, you deserve it after hiking!
Just North of La Jolla, tucked next to the beach, is the iconic Torrey Pines Nature Reserve. Within the reserve you'll find a trail with one-of-a-kind ocean views, great for hikers with all levels of experience. After making your way along the beach, as you finish your hike, drive down along the coast and check out Sammy's Woodfire Pizza & Grill. You can't visit Sammy's without trying one of their many beloved woodfired pizzas, like the LaDou's Barbecue Chicken topped with smoked gouda, bbq sauce, red onion and cilantro. Another you're sure to devour is the New York Style pizza, made with house-made tomato sauce, mushrooms, all-natural pepperoni, salami, and Italian sausage – yum!