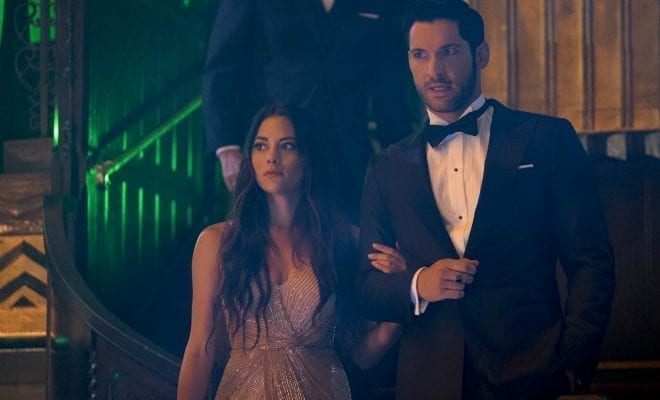 TV
Netflix Review: Lucifer Season 4
By
|
He has risen! Season 4 of Lucifer has finally dropped on Netflix, and the series hasn't lost any momentum in its move to the streaming giant. In fact, the move has made the show better.
Fans of the show were probably thinking that the move to Netflix would lead to major changes for the former FOX series led by Tom Ellis. Consisting of just 10 episodes as opposed to 22, the fourth season looks, sounds, and acts very much like the previous three. It's still, at its core, a supernatural-police procedural with a devilishly fun-filled sense of humor.
Season 4 picks up exactly one month after the huge season 3 cliffhanger and uses a clever way to explain where Lucifer's head is at. Tom Ellis is seen performing a cover of Radiohead's "Creep" on the piano as a sort of musical monologue, which is an effective way to bring the show to Netflix. It works as great catch-up material for those new to the series, a callback for existing ones, and gives fans a great musical number, all in about five minutes.
The main aspect of the season deals with Chloe (Lauen German) and Lucifer trying to figure out how to act around each other now that Chloe knows Lucifer's true identity. The show has a great balance of both drama and comedy, and also spends a good amount of time on the Chloe and Lucifer relationship. What Lucifer always does right and gets even better in the new season is that it focuses more one other dynamics than just one, and props go to showrunner Joe Henderson for servicing everyone and everything a viewer could want.
Lesley-Ann Brant gets juicier material this season and continues to be a scene-stealer as Maze. The brotherly dynamic between Lucifer and Amenadiel got a bit lost last season, mainly because the storyline focused a lot of its attention on the relationship between Chloe and Marcus Pierce (Tom Welling), but is now back and fun to watch.
It's a relief to see that the new Lucifer is still the same old Lucifer. Sometimes, when shows get resurrected or moved to a different network, it can end up missing a key part of what viewers loved about it, especially when moved to a streaming service where they can add more sex, violence or profanity just because they feel like it.
That is not the case with Lucifer's big move to Netflix. Nothing is different then what was already seen on FOX, and the writers just didn't feel like shaking this up a lot. They've just continued doing what they do best- create a unique, engaging and devilishly fun series that has something for everyone.
All episodes of Lucifer are now streaming!
Critic Rating: 5/5 stars
What did you think of the new season of Lucifer? Sound off in the comments!