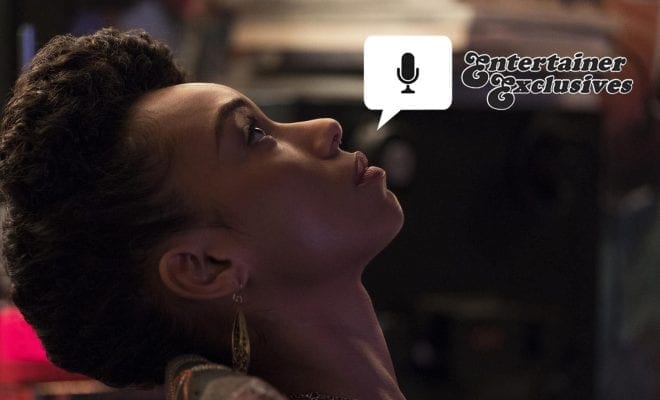 TV
Entertainer Exclusive Part 2: Logan Browning Gets Candid About Netflix Series Dear White People
By
|
If you haven't read Part 1: Logan Browning Gets Candid About Netflix Series Dear White People, click here.
Her beauty is luminescent, her conviction fierce. It's a potent combination and why actress Logan Browning's portrayal of student activist Sam White in the Netflix hit series Dear White People has struck a chord with younger audiences. The series, based off the 2014 movie of the same name, also created by Justin Simien, seems custom made to address the uproarious intersection where President Donald Trump's politics and Black Lives Matter collide. More importantly, beyond its pop culture relevance, is the show's ability to humanize a people and their collective point-of-view to a larger population of viewers.
Logan plays a biracial Ivy League university student, Sam White, host of a popular, albeit controversial, campus radio show titled, Dear White People. Her character's radio show within a television show is a platform for Sam's grievances, her bottomless questions, and the racial and cultural issues that continue to surface on ethnically diverse college campuses around the world. It also serves as the show's anchor point, introducing each episode's message and plotline. And if you think the first season was binge-worthy, you haven't seen anything yet!
We discuss the second season of Dear White People, streaming May 4th on Netflix, we segue from her thoughts on acting and developing the character of Sam to social and political activism, the emotional triggers behind race and color, and some of the most pressing issues that our younger generations face in the age of social media and our relentless news cycle.
It becomes clear half way through our conversation that actress Logan Browning shares the values and concerns of her television alter ego, Sam White, but with a graceful confidence and ease of spirit that continues to allude Sam in the show's second season.
AK: What are your personal rules about dating your co-stars? Yay or nay?
Logan Browning: Naaayyy (laughs)! Number one, I'm more attracted to the opposite of myself. I'm attracted to more of an engineering mind. When you're on a set, you're falling for someone else's character sometimes. I think [actors] forget that you're in hair and makeup all day and you're seeing people in their most glorified state, so it's very easy to fall in love with anyone you're around. I would never.
AK: I found an older quote from you that reads, "I don't want people to know how I'm feeling, because it makes you more vulnerable."  Are you still that way?
Logan Browning: That was a part of something else I was saying, but I think that comes and goes with me. I know when it comes to being in a public space, I actually do like being really open with people. I feel like it's my motive to educate the world that the people they see in the public eye are just like them, and they have issues just like them. I'm always trying to take celebrity off its pedestal. Even though there is power in it, I sometimes find myself trying to knock myself off any kind of pedestal I would ever be put on, because I don't feel that way. So, in that way I do make myself open and vulnerable, and I feel like it does connect me to other people. I'm way more open publicly than I am if someone is trying to get to know me. I put my guard up and guard my heart. But there are certain personal things I can be vulnerable with. I don't mind telling the world I get depressed sometimes. I don't mind telling the world that I don't live in a huge house. I don't mind telling the world things that make me relatable. But there is a whole other part of Logan that I keep to myself, and that's just because I want to be safe.
AK: After the Parkland, Florida school shooting, some of the more outspoken students commented that the news media did not cover the diversity that exists at Stoneman Douglas High School. They focused their cameras on white students and white parents. What are your thoughts about this obvious exclusion?
Logan Browning: Every single act of gun violence is absolutely terrible, but it's just so interesting that these young people's voices are finally being heard now. It's like, really? Now? In 2018? I'm not bitter at all about the fact that this movement is happening now because any kind of talk is good, and any type of move towards progress I'm on board with. But it is one of those obvious things where images that are more palatable are the things that people want to talk about. I think that's why a show like Dear White People is so important. It puts these colored faces on the screen and forces the audience to begin to relate to these characters who possibly don't look like them.
AK: What do you hope Dear White People does for 18 – 21 year olds who are watching you from their college dorm rooms?
Logan Browning: I hope that the show is comforting for that specific age group. I hope that it's a love letter for them, so that they feel like their voices are heard and time-capsuled and represented. We're not re-inventing the wheel. These kids already exist on college campuses, and they are being super active in terms of being activists. I hope they feel seen and it further encourages them to do the great work that they already plan to do. I really hope and pray that older people will watch as well so they can understand what 18 to 21 year olds are experiencing, and what their world is now. It's reminiscent of what their world might have been when they were younger, when the civil rights movement was happening.
AK: This new generation is experiencing everything on steroids because of our 24- hour news cycle. I think that is something the older generation needs to fully understand, if they don't already. 
Logan Browning: We all are experiencing so much trauma and it's not being addressed in terms of our mental health, especially kids. When I was in middle school, I would learn about what was going on if I came home and my parents happened to have the news on, or maybe if they were talking about it at school. But I didn't have a device that was constantly telling me about every shitty thing happening in the world, 24/7.
AK: I came of age in the nineties, which has been called our "break from history," because tragedies seemed to be far and few between in mainstream America. However, they were not a rare occurrence in many urban communities.  Looking back as a mature adult, I remember that acts of gun violence were happening on a regular basis in our urban communities. In my suburban community and in my own circles, I felt safe. So who really got that break from history?
Logan Browning: That's a good observation. 
AK: Now that acts of gun violence are happening in the "good neighborhoods," suddenly it's everybody's problem. Connecting those dots is humbling.
Logan Browning: It's along the same vein as the Parkland activists. It's great that everyone's aware of it now, but what about all those people we've forgotten for so long?
AK: Why do you think black men in our society are both feared and fetishized, simultaneously? This is a dynamic that's depicted on your show, Dear White People.
Logan Browning: Slavery. That sounds like something Sam would say, but it's our history. You take any people out of their homeland and you make them a hot commodity… you're selling them up on how strong they are, how big they are, how hard they work. America created this. They created that dichotomy of what they imagine a black man to be.
AK: What storyline are you most excited for audiences to see in the second season?
Logan Browning: Oh man, in a general sense, I love all of the characters' stories and all of the individual storylines because you are really getting to know these people. I do love Coco's storyline. I think it's a great conversation starter. Every episode in the second season is a conversation starter, which is more what I look forward to than any one storyline. I just know I'm excited about the issues that are covered this season.
AK: Finish this sentence: "Dear White People…"
Logan Browning: It's so funny, the other day Justin [Simien, Creator of Dear White People] said, "Dear White People, You're Welcome." (Laughs). I think it's "Dear White People… whiteness, blackness; all of it is a creation. It's a human device that we've created, and one that white people in history created and it's malarkey." It's a factory now, one that we all have to mill about in, but it's a complete fabrication. We have different experiences, yes, but we are all the same. In order to get to the point where we all see each other as the same, we would have to first go back and dissect every life experience we've each had before we can wipe the slate clean and say, "Yup. We're all the same. Back to square one." Whiteness and blackness are malarkey, but to get to that place we would have to better understand each other.
---
Season two of "Dear White People" is available on Netflix now.