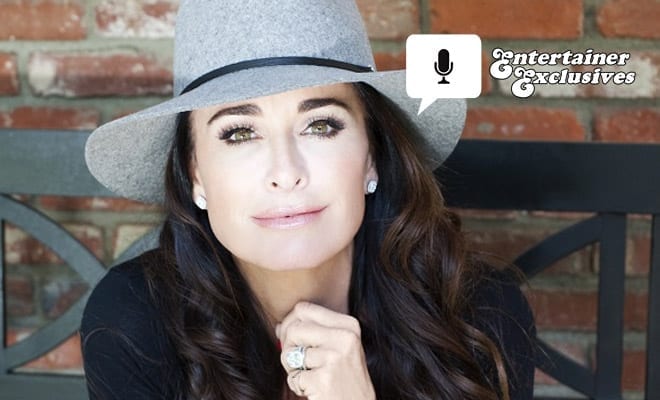 Paramount Pictures
TV
Entertainer Exclusive: Kyle Richards' Hollywood Upbringing and Producing American Woman
By
|
Real Housewife of Beverly Hills, Paris Hilton and Nicky Hilton Rothschild's aunt; Kyle Richards has emerged as a Hollywood force as Executive Producer of the new hit television series, American Woman, loosely based on the colorful life of her late mother, Kathleen Richards.
Kyle Richards, along with her sisters, Kathy Hilton and fellow Real Housewife Kim Richards, was raised in Bel Air, California, by Kathleen Richards. Kathleen was a headstrong, ambitious divorcee who didn't quite fit with her times. In the 1970s Kathleen found herself having to support her three girls and their upper-crust West Los Angeles lifestyle. She began managing her daughters, ushering all three into modeling and acting careers, as Kyle puts it, "before I could even read."
From vintage movie and television credits including Little House on the Prairie, Nanny and the Professor, Escape to Witch Mountain, Fantasy Island and Police Story, the girls were very much the working Hollywood family, and mom Kathleen was the original Hollywood "Momager," a title now associated with Keeping Up with the Kardashians matriarch, Kris Jenner.
Cut to 2018, with the family's pop culture rise, Kyle Richards was primed and ready to tell the story of her unconventional upbringing and the unwavering faith and determination of her late mother, Kathleen Richards.
The new hit television series, American Woman, created and co-executive produced by Kyle, is inspired by her mom Kathleen's journey from the quintessential kept 1970s Bel Air housewife who couldn't balance a checkbook, to single mom crushing it at a time when women had to fight to be heard and taken seriously.
American Woman, starring Alicia Silverstone, Mena Suvari, and Jennifer Bartels, offers a bold and layered glimpse into the glamour and social volatility of post-hippie, 1970s Los Angeles when the women's liberation movement was just taking root.
SD Entertainer's exclusive reporter sat down with Kyle Richards to discuss her childhood, the greatest lessons she learned from her mom, how she's raising her four daughters and this new chapter in her life as a creator and co-executive producer of one of the most talked about new series on television.
AK: Your new television show, American Woman, is inspired by your mom's life. What is the greatest lesson your mom taught you?
KR: She would always tell me, "If you want something, put it out there and you'll make it happen." She would tell me that you have to plant the seeds. When you're a kid you don't really understand what that means. Now I realize that everything I was doing my whole life was planting the seeds for what I'm doing now. She told me I could do anything I wanted to if I set my mind to it, and to never take my eye off the ball.
AK: She could have been in The Secret. She was ahead of her time.
KR: (Laughs) Exactly! That's very true. I studied Kabbalah which teaches similar [tenets], and I was like, "That's what my mom was talking about!"
AK: If she were still here, what do you think she would have to say about your new show, American Woman, and how she's portrayed?
KR: I think she would be very excited and proud, because she knew this was something I wanted to do, and I made it happen. She would be so proud to see her daughter doing well and fulfilling her dreams.
AK: If you could go back in time, would you choose to be a child actor again?
KR: Absolutely. I had a very positive experience as a child actor. I worked with incredible people. A lot of the things I did were in a very family-friendly environment. I got to travel and do exciting things I never would have been able to do if I were a regular child (laughs) living a normal life. I grew up in Bel Air, but obviously, my friends weren't actors. They went to school every day, they went to camp and did all of those normal things. I didn't get to do those things, but I was doing other interesting things and traveling. When we filmed Little House on the Prairie, we were filming out in Simi Valley and riding horses and playing in the streams and catching ducks. It was just like going to camp sometimes.
AK: How did you and your sisters, Kathy [Hilton] and Kim [Richards], all become working child actors?
KR: My mom studied at the American Academy of Dramatic Arts in New York and always wanted to be an actress, but she got married and had her kids young. My sister Kathy was a really beautiful baby, and my mom would get stopped on the streets of New York and asked for her daughter to model. Kathy started doing these modeling things and then it turned into commercials. Then Kim was born, and she started doing commercials. In Kim's first commercial, she was six months old doing a carpet commercial, crawling around on the carpet. When my dad moved to Los Angeles for business, they were in Hollywood, so they continued on that path. Then when I was born, it was during the time when Kim was on Nanny and the Professor.
AK: Did you want to follow in your sisters' footsteps?
KR: I was actually very, very shy. My mom told me at the time, that it was to help me get rid of my shyness. But she also felt that since her other two other daughters were doing this, she didn't want me to feel left out. I was scared when I was little because I was really painfully shy. At my first audition, the guy had on a white jacket, so at the time I thought I was going to a doctor (laughs) and I was so little, so I would get really scared. I am glad she did that because it did help me overcome my shyness. I still do have that side to me that people don't know about.
AK: You had an unconventional upbringing, as is reflected on this show. What kind of impact did your childhood experience have on what you looked for in a husband and family as an adult?
KR: I grew up in a house filled with women. My mom, my grandmother, my sisters, my mom's friends… and my sister Kathy had these two best friends that basically lived at our house. It was like a big sorority house. There was a lot of fun in our house, but then I would go to my friends' houses and I would see the dad coming home from work and the mom making dinner in the kitchen. I thought, "Oh, those are like the people on TV. Those are fake people."
But I always really admired that, and it was something that I always wanted to have. I didn't know if I would be able to have that because my mom had been divorced a number of times.
AK: Is that why you chose to marry so young with your first marriage?
KR: Yes. Having that was very important to me and so I got married very young (to first husband, Guraish Aldjufrie). Being a mom came very naturally to me, but being a wife is very hard when you're that young. I know a lot of people would say that being a mom is hard too, but being a mom was very easy for me. It was the wife part that wasn't so easy. Then when I met Mauricio (Umansky, Richards' husband of twenty-two years) I was fortunate enough to find someone that I felt was my soulmate. I've always made our relationship and our marriage a priority because it's so important to me to have what I didn't have growing up, and for my children to have what I didn't have growing up.
AK: Did you have input into the casting of Alicia Silverstone, who plays the character inspired by your mom?
KR: Absolutely. I was involved with every aspect of the show. When I originally met with Alicia, my thought was that the actress we cast had to be a natural redhead. My mom was a redhead and it was a big part of her personality. Alicia loved the script and I thought, "Okay, we'll have a meeting," because I love Alicia Silverstone! Who doesn't love Alicia Silverstone? The second I met her, and I saw how inspired she was to dive into this role, or as Alicia describes it, "this juicy part," I really felt she was the person to take on the challenge of portraying my mom.
AK: What was your motivation for signing onto The Real Housewives of Beverly Hills in 2010? What did you hope would come from it?
KR: [American Woman] was not the goal (laughs). I didn't realize what the Housewives [franchise] really was when I started doing it. I didn't understand the opportunities that would come my way. I was acting my whole life, and then I had pretty much stepped aside from that to raise my children. When The Real Housewives of Beverly Hills came up, I looked at it as just another gig. I didn't know what it was like to do a reality television show, other than seeing my niece Paris [Hilton] do it. I thought, "This is great because it's reality and my kids can be with me." I had no game plan at all. In the first few seasons I wasn't selling anything; I had no business. I was a stay at home mom, and I loved being a stay at home mom. I always had that feeling of wanting to do other things at some point, but it's a lot when you have four kids. People would ask me, "What are you going to do?" And I would be like, "What do you mean, what am I going to do?!" My goal in life is to stay at home and bake cookies (laughs).
AK: (Laughs) You'd been working in television since childhood, so it made sense to go back to what you knew.
KR: I've been doing television since before I could even read. The way American Woman happened was through a fan. My friend came to me and said, "I have these fans of yours who would love to meet you. Would you mind doing lunch?" I agreed because he's a very close friend of mine. They happened to be the producers of Shameless (Showtime). I watched Shameless before we went to lunch, and at lunch, they started asking me what my plans were for after Housewives. It wasn't supposed to be a pitch meeting, but I told them I like to write, particularly about having an unconventional upbringing, and I began sharing some stories with them. Then I got a phone call that John Wells (American Woman's Executive Producer) wanted to make my mom's story into a television show.
AK: And then you had to pitch it to the network…
KR: Right. Once I had my production company, which is the best of the best, we had to go in and pitch the network. I had no idea how pitching works. I didn't know if I was supposed to bring my own music and act things out (laughs). Next thing you know we're making a TV show.
AK: What parts of Alicia Silverstone's portrayal of your mom are accurate and which parts did they take some creative license?
KR: In American Woman, they show her working at The May Company, and with that part, the writers took creative license. My mom was our manager growing up because we were all acting on television. She was a single mom raising us. All of a sudden, she found herself in this big house with no husband. Even though we had this nice house in Bel Air, my mom was very strict. We had to make our own beds; when we got cars we were not allowed to go to the car wash, we each had to wash our own car. My kids now go and get their nails done. I wasn't allowed to get my nails done. I did my own nails.
AK: I think that part is a generational thing because I didn't get my first manicure and pedicure until I was in college.
KR: Me either. A massage? Are you kidding me? I never had a massage until I was married.
AK: Now everyone's taking their kids for mani-pedis.
KR: I know! It's so funny. We were raised differently. I don't really talk about that with my sisters so much, but I do tell my kids all the time because I just don't want that to be lost. It's a constant conversation in our house.
AK: Do you find it a challenge to keep your kids grounded?
KR: It is a challenge, and the way I deal with that is through having open conversations. I don't want to be a broken record with my kids because then they'll stop listening, but I kind of am sometimes. My husband and I always talk about this. When we were first married we were in a very different position. My oldest would say, "When are we going to get a house?" because we were in a condo. I would explain that we have to make money and save up, and we have to have an extra cushion in the bank. So she would say, "How many cushions do we need?"
AK: Enough to cover an entire sectional sofa, kid (laughs).
KR: Haha! Yeah, how many more cushions do we need before we can get a house? We were in a two-bedroom condo with three kids. Each of our children had a very different experience. I worry about Portia (Kyle's youngest of her four daughters) sometimes, so I always talk about these things with her because I want her to appreciate what she has. I went to go see the American Woman billboard on Sunset Blvd. (in Los Angeles), and I took Portia with me. I drove up to it and I just started to cry. She said, "Why are you crying, mom?" And I said, "You don't understand. I worked my whole life, and this is a dream of mine. To see this up here is so surreal." And she said, "I'm so proud of you mom. You worked so hard." We have these long conversations about how if you want something in life you have to focus on it and put it out there, like my mom used to teach me. Portia is very wise and she'll say things to me that are well beyond her years, and sometimes I'll think, "Is that my mother reincarnated?"
AK: I often see the same thing in my son, where I'll think it's either my grandfather or that my grandfather's spirit is somehow influencing my son's character because they are so much alike.
KR: I'm glad I'm not the only one who believes that! There are so many signs all the time. I went to a psychic who said to me, "Your mother wants you to know she really loves the drapes you put in the baby's room," and I had just put drapes in Portia's room. I have signs all the time. Whether it's Portia saying something to me or other signs that come to me, I know my mother is watching.
AK: The backdrop of American Woman is interesting because it takes place in the 1970s, just as the seeds of feminism were starting to take root. It seems that your mom was ahead of her time, in terms of being a feminist more than forty years ago.
KR: It's funny you should say that because my mom did not like the word "feminist." It had such a negative connotation at the time. Back then women weren't supposed to be strong and outspoken. If you were strong and outspoken and had an opinion and a voice, you were a pushy broad. Nowadays it's somewhat celebrated as empowering for women to be strong. Back then, it just wasn't like that. She really was a feminist in her own way, but she just didn't like the word. She was also old-fashioned in the sense that she would say that when your husband comes home you want the house to look beautiful, cook dinner and all that. She wanted us to be independent and not need a man. She didn't like the fact that her generation supposedly needed a man. I hope younger women, including my daughters, who watch this show, will see how far we have come and appreciate who they are and the power they have. In my mother's generation, that was lost. More importantly, it's okay to be strong, but it's also okay to be vulnerable.
---
American Woman, co-executive produced by Kyle Richards.