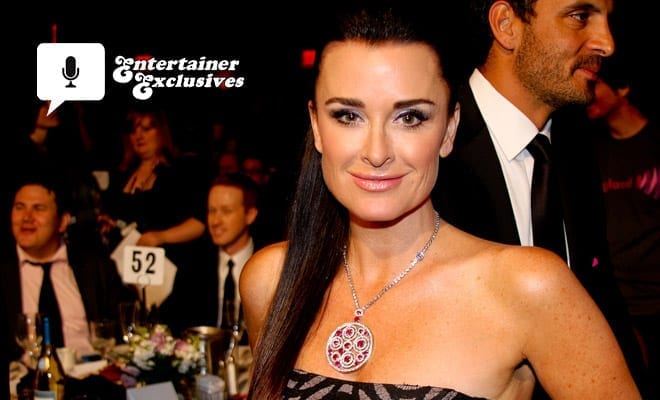 GLAAD Awards 2012-27 by dvsross via CC 2.0
TV
Entertainer Exclusive Part 2: Kyle Richards' Hollywood Upbringing and Producing American Woman
By
|
Read Part 1 of our exclusive interview with Kyle Richards HERE
Real Housewife of Beverly Hills, Paris Hilton and Nicky Hilton Rothschild's aunt; Kyle Richards has emerged as a Hollywood force as Executive Producer of the new hit television series, American Woman, loosely based on the colorful life of her late mother, Kathleen Richards.
Kyle Richards, along with her sisters, Kathy Hilton and fellow Real Housewife Kim Richards, was raised in Bel Air, California, by Kathleen Richards. Kathleen was a headstrong, ambitious divorcee who didn't quite fit with her times. In the 1970s Kathleen found herself having to support her three girls and their upper-crust West Los Angeles lifestyle. She began managing her daughters, ushering all three into modeling and acting careers, as Kyle puts it, "before I could even read."
From vintage movie and television credits including Little House on the Prairie, Nanny and the Professor, Escape to Witch Mountain, Fantasy Island and Police Story, the girls were very much the working Hollywood family, and mom Kathleen was the original Hollywood "Momager," a title now associated with Keeping Up with the Kardashians matriarch, Kris Jenner.
Cut to 2018, with the family's pop culture rise, Kyle Richards was primed and ready to tell the story of her unconventional upbringing and the unwavering faith and determination of her late mother, Kathleen Richards.
The new hit television series, American Woman, created and co-executive produced by Kyle, is inspired by her mom Kathleen's journey from the quintessential kept 1970s Bel Air housewife who couldn't balance a checkbook, to single mom crushing it at a time when women had to fight to be heard and taken seriously.
American Woman, starring Alicia Silverstone, Mena Suvari, and Jennifer Bartels, offers a bold and layered glimpse into the glamour and social volatility of post-hippie, 1970s Los Angeles when the women's liberation movement was just taking root.
SD Entertainer's exclusive reporter sat down with Kyle Richards to discuss her childhood, the greatest lessons she learned from her mom, how she's raising her four daughters and this new chapter in her life as creator and co-executive producer of one of the most talked about new series on television.
AK: What parts of Alicia Silverstone's portrayal of your mom are accurate and which parts did they take some creative license?
KR: In American Woman, they show her working at The May Company, and with that part, the writers took creative license. My mom was our manager growing up because we were all acting on television. She was a single mom raising us. All of a sudden, she found herself in this big house with no husband. Even though we had this nice house in Bel Air, my mom was very strict. We had to make our own beds; when we got cars we were not allowed to go to the car wash, we each had to wash our own car. My kids now go and get their nails done. I wasn't allowed to get my nails done. I did my own nails.
AK: I think that part is a generational thing because I didn't get my first manicure and pedicure until I was in college.
KR: Me either. A massage? Are you kidding me? I never had a massage until I was married.
AK: Now everyone's taking their kids for mani-pedis.
KR: I know! It's so funny. We were raised differently. I don't really talk about that with my sisters so much, but I do tell my kids all the time because I just don't want that to be lost. It's a constant conversation in our house.
AK: Do you find it a challenge to keep your kids grounded?
KR: It is a challenge, and the way I deal with that is through having open conversations. I don't want to be a broken record with my kids because then they'll stop listening, but I kind of am sometimes. My husband and I always talk about this. When we were first married we were in a very different position. My oldest would say, "When are we going to get a house?" because we were in a condo. I would explain that we have to make money and save up, and we have to have an extra cushion in the bank. So she would say, "How many cushions do we need?"
AK: Enough to cover an entire sectional sofa, kid (laughs).
KR: Haha! Yeah, how many more cushions do we need before we can get a house? We were in a two-bedroom condo with three kids. Each of our children had a very different experience. I worry about Portia (Kyle's youngest of her four daughters) sometimes, so I always talk about these things with her because I want her to appreciate what she has. I went to go see the American Woman billboard on Sunset Blvd. (in Los Angeles), and I took Portia with me. I drove up to it and I just started to cry. She said, "Why are you crying, mom?" And I said, "You don't understand. I worked my whole life, and this is a dream of mine. To see this up here is so surreal." And she said, "I'm so proud of you mom. You worked so hard." We have these long conversations about how if you want something in life you have to focus on it and put it out there, like my mom used to teach me. Portia is very wise and she'll say things to me that are well beyond her years, and sometimes I'll think, "Is that my mother reincarnated?"
AK: I often see the same thing in my son, where I'll think it's either my grandfather or that my grandfather's spirit is somehow influencing my son's character because they are so much alike.
KR: I'm glad I'm not the only one who believes that! There are so many signs all the time. I went to a psychic who said to me, "Your mother wants you to know she really loves the drapes you put in the baby's room," and I had just put drapes in Portia's room. I have signs all the time. Whether it's Portia saying something to me or other signs that come to me, I know my mother is watching.
AK: The backdrop of American Woman is interesting because it takes place in the 1970s, just as the seeds of feminism were starting to take root. It seems that your mom was ahead of her time, in terms of being a feminist more than forty years ago.
KR: It's funny you should say that because my mom did not like the word "feminist." It had such a negative connotation at the time. Back then women weren't supposed to be strong and outspoken. If you were strong and outspoken and had an opinion and a voice, you were a pushy broad. Nowadays it's somewhat celebrated as empowering for women to be strong. Back then, it just wasn't like that. She really was a feminist in her own way, but she just didn't like the word. She was also old-fashioned in the sense that she would say that when your husband comes home you want the house to look beautiful, cook dinner and all that. She wanted us to be independent and not need a man. She didn't like the fact that her generation supposedly needed a man. I hope younger women, including my daughters, who watch this show, will see how far we have come and appreciate who they are and the power they have. In my mother's generation, that was lost. More importantly, it's okay to be strong, but it's also okay to be vulnerable.
---
American Woman, co-executive produced by Kyle Richards, airs Thursdays 10pm EST on Paramount Network.