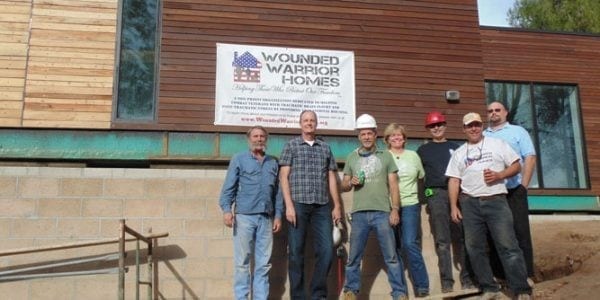 News
Wounded Warrior Homes Chosen as California Nonprofit of the Year
By
|
San Diego non-profit Wounded Warrior Homes has been selected as a 2018 California Nonprofit of the Year. They were nominated by Senator Joel Anderson for their outstanding work supporting veterans. Wounded Warrior Homes is a grassroots charitable non-profit chartered to provide transitional housing to single post-9/11 veterans with Traumatic Brain Injury (TBI) and Post-Traumatic Stress (PTS).
The City and County of San Diego has not only one of the highest population of veterans, but also one of the highest number of homeless veterans. Wounded Warrior Homes aims to alleviate the growing stress of unsheltered vets in California by providing transitional housing to those with Post Traumatic Stress and Traumatic Brain Injury.
Service Members returning from combat or exercises experience stress in many forms. These stresses can later translate into PTSD. Post Traumatic Stress can result from discharging weapons, being shot at, from attacks or ambushes, seeing dead bodies, receiving incoming fire, or from knowing someone injured or killed in combat. While on the front lines or in training, service members can experience many forms of physical disorientation. Traumatic Brain Injury can result from being hit in the head, the head striking an object, from the head being affected by a nearby blast, or even a major force to the body or spinal column.
Some veterans may find it difficult switching back to a "civilian" mindset when they return. After prolonged exposure to a war zone and the dangers of combat, adjusting to life at home can be a challenge. For service members experiencing PTS or TBI the battle isn't completely over. The effects of stress and pain from combat can contribute to anxieties that can cause a range of effects on daily life. Some service members will turn to alcohol or drug abuse to cope with the effects of combat. With this resulted addiction, it can cause their life to become imbalanced, create distance between themselves and family members, and ultimately lead to financial instability and eventual homelessness.
Wounded Warrior Homes was established to serve our heroes and provide them with a safe environment of support and supplemental services to aid them in transitioning back from the front lines to the homefront. Homeless veterans experiencing the effects of Post Traumatic Stress or Traumatic Brain Injury are handled with care and respect as they are taken from the streets and given the opportunity to flourish in a positive environment that not only contributes to the treatment of their injuries sustained, but also points them on a path to success in their new civilian life. Case workers help them make decisions about advancing their education, finding jobs, and even providing resources in financial planning so as to ensure a successful transition.