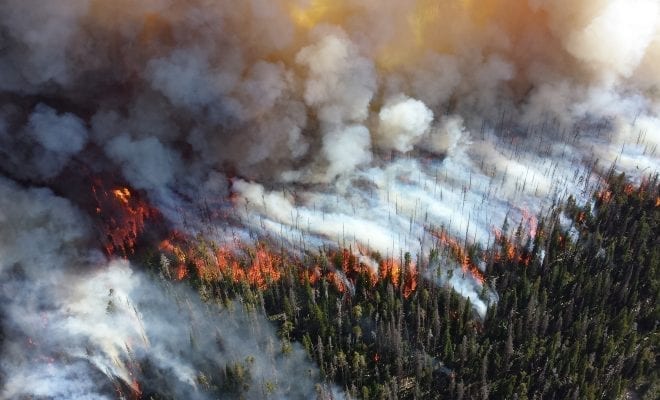 News
Thousands Flee Their Homes as Wildfires Rage Across California
By
|
California's wildfire season has arrived with a fierceness that has led to hundreds of thousands of residents abandoning their homes as fires close in. In Southern California, the Getty Fire threatens residents near the Los Angeles area, while the Kincade Fire continues to burn through Northern California.
The Getty Fire started near the 405 freeway early Monday morning, initially threatening only 50 acres. Firefighters report that the fire has grown to eight times its initial size, as hot, dry winds continue to push the fire further west. 
Two structures have caught on fire, as confirmed by the Los Angeles Fire Department, while 3,300 homes are under mandatory evacuation orders in West LA, with that number expected to increase. A red flag warning is in place in Los Angeles, with the National Weather Service warning of winds potentially reaching 40-50 mph and even higher gusts taking place in the mountains. 
Northern California's Diablo Winds, which are equivalent to the Santa Ana Winds, reached 70 mph over the weekend, toppling power lines and causing existing wildfires to spiral out of control. As a result, the Kincade Fire doubled in size over the weekend and stands at only 5% contained. It has burned through 54,000 acres so far and has forced the evacuation of 200,000+ residents, making it the largest evacuation order to ever take place in Sonoma County. 
On Sunday, Governor Gavin Newsom declared a state of emergency, stating officials were deploying "every resource available" in response to the wildfires. As emergency personnel fight to stop the spread of fires, Pacific Gas & Electric shut off power to 2.3 million people across 36 counties, starting Sunday evening. The utility company is hoping the planned blackouts will prevent its power lines from being toppled by strong winds, an occurrence that has greatly contributed to wildfires in the past.