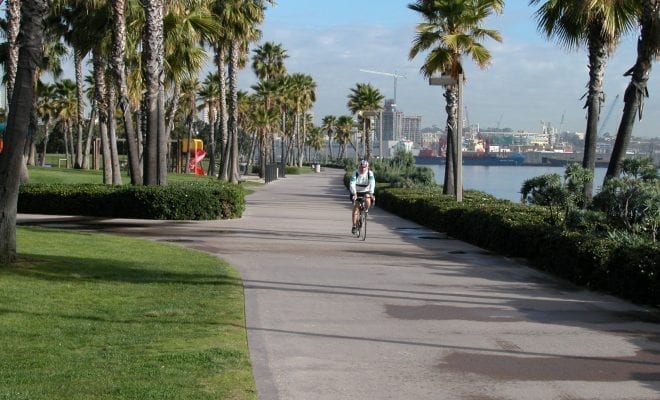 News
San Diego Ranked Among Top Ten Cities for Bicycling
By
|
San Diego Bike Coalition applauds progress toward safer bicycling in the region. For almost 40 years, they have been actively pushing for safer conditions for bikers across the city. In a recently released comprehensive ranking of the best cities for bicycling by PeopleForBikes, San Diego was ranked ninth overall behind major cities such as Fort Collins, Colodaro, Wausau, Wisconsin and Boulder, Colorado. The nonprofit PeopleForBikes' City Ratings system is a data-driven, comprehensive approach to identifying the best U.S. cities for bicycling. To determine its ranking system, the organization uses a combination of cyclist feedback, maps and data with five key factors: ridership, safety, network, reach, and acceleration. You can find the full list of best cities to bike here. Below is San Diego's Score.
San Diego: 3.2
Ridership (2.0): Estimates how many and how often people are riding bikes.
Safety (2.9): Includes injuries and fatalities from vehicular crashes to people biking, walking, and driving.
Network (2.2): Rates how many people are connected to their destinations using comfortable bike routes.
Reach (2.3): Measures how consistently a community's bike network serves everyone in the community.
Acceleration (4.1): Indicates how quickly a community is improving its biking infrastructure and getting people riding.
According to San Diego Bike Coalition Executive Director Andy Hanshaw, San Diego's ranking is reflective of the many efforts made to improve bicycling in the city.
"We've made great strides toward safer and more accessible biking over the years, but our work is far from over," said Hanshaw. "By accelerating infrastructure and connecting bike networks with plans like the Downtown Mobility Plan and the Regional Bike Plan, we can ensure San Diego climbs to the top of this list in the next ten years."
The Downtown Mobility Plan aimed to address rapid downtown growth by implementing a cohesive network of bicycle and pedestrian infrastructure to connect downtown San Diego with its surrounding neighborhoods and encourage more biking and walking in place of driving cars. Other organizations like the Climate Action Campaign were also big proponents of the plan. The plan, passed in 2016 aimed to transform many vehicle lanes and some on-street parking into miles of protected cycling lanes and pedestrian promenades by the end of next year. However, budgeting issues have recently brought delays to the completion of the Downtown Mobility Plan.
San Diego Bike Coalition is a nonprofit organization that advocates for and protects the rights of all people who ride bicycles. They promote bicycling as a mainstream, safe and enjoyable form of transportation and recreation. Since 1987, they have acted as voice for bicyclists in the region and have advocated for safer streets and hundreds of miles of bike paths, lanes and trails all across the San Diego region. They also conduct educational programs that teach bikers how to ride safely around town and in traffic. They review infrastructure improvements and implement Pedal Campaigns that push for bike safe infrastructure all across San Diego. Additionally, they promote awareness of bicyclists and bicycling issues, and act as a voice for bicyclists to elected officials and decision makers all over San Diego County. Their mantra from their website states: "We believe bicycling is a healthy, affordable, and environmentally friendly form of transportation and recreation that should be safe and attractive to everyone who wants to ride, wherever their destination and whatever their purpose. Bicycling is good for our communities and for the people who ride, and so we work to increase the number of people who ride bikes as a regular part of their lives."
For more information about the San Diego Bike Coalition, click here.