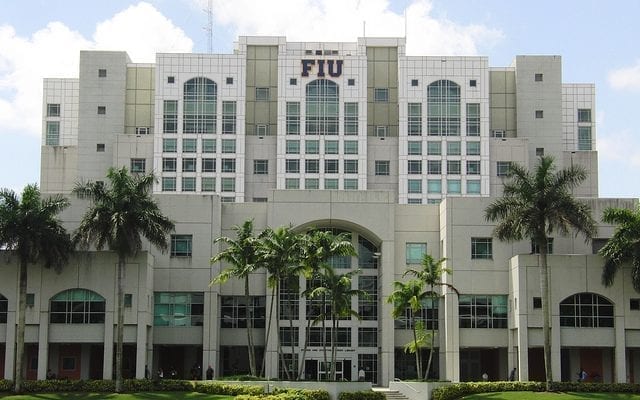 FIU, West End Gem by Andres Limones Cruz via Flickr CC 2.0
News
6 dead after Florida International University bridge collapses
By
|
Yesterday, a bridge in Florida still undergoing construction collapsed, buryng cars and pedestrians. The death toll has since climbed to six, with more people still stuck underneath the rubble. The process of rescuing those trapped became a slow process, due to rescue crews having to break apart the rubble into smaller pieces for removal, while being careful not to cause further collapse. Juan Perez, director of the Miami-Dade Police Department said last night in a statement "Our first priority is getting to those victims." However, by Friday morning, Miami-Dade Fire Chief Dave Downey said "we've determined that there's no longer any survivors."
The foot bridge was constructed to connect the city of Sweetwater, Florida with the immense campus of Florida International University. Thursday afternoon, the bridge collapsed as construction crews were tightening the suspension cables. Sweetwater Mayor Orlando Lopez has confirmed that one of the victims in the collapse was a student of FIU, though the identity of the student has not been released as of yet. FIU President Mark. B. Rosenberg told a Fox Affiliate network that identities of the victims will not be released until the rescue process has been completed.
Deputy Mayor Maurice Kemp said "The investigation is vital, because we want to ensure that this type of accident doesn't happen again locally, or anywhere in this country." Several agencies have begun the investigation into the failure of the bridge, including The National Transportation Safety Board, the Occupational Safety and Health Administration, and the Federal Highway Administration.
The pedestrian bridge was previously praised for the innovative construction methods. At around 1:30 p.m., vehicles were stopped at a red light when the bridge collapsed. The bridge was not yet open to pedestrians at the time. 
Florida Senator Marco Rubio stated "It was going to be a significant project. To see it on the ground and underneath it those who died and who were injured is a tragedy." Rubio promised a thorough investigation, "The victims and their families deserve to know what went wrong. There will be an extraordinary review into what the errors were and what led to this catastrophic collapse."
The bridge collapsed during Florida International's spring break, so many students were not on campus at the time. Ivy Polanco told The Washington Post "It's very lucky that we are on spring break and that this didn't happen during rush hour, it could have been much worse."
Munilla Construction Management is the main builder of the bridge, and in a statement on its Facebook page, they said "Our family's thoughts and prayers go out to everyone affected by this terrible tragedy. The new University City Bridge, which was under construction, experienced a catastrophic collapse causing injuries and loss of life. MCM is a family business and we are all devastated and doing everything we can to assist. We will conduct a full investigation to determine exactly what went wrong and will cooperate with investigators on scene in every way."