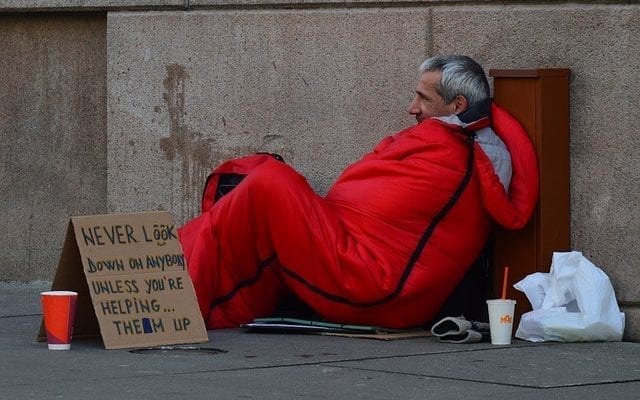 News
12 charged after feeding homeless in El Cajon park
By
|
Officials in El Cajon have brought charges against 12 people who acted against a ban on feeding homeless people at a neighborhood park. This ban was implemented by city officials with the goal of reigning in the deadly outbreak of hepatitis A, which has been affecting the city of San Diego since mid last year. The virus is spread through person-to-person contact, which is the reason a ban on feeding the homeless in a public place was implemented. Despite this, activists have declared this to be an oppressive and unfair measure put into place to criminalize homeless residents of the city.
On Sunday in El Cajon, a volunteer organization named Break the Ban set up tables and offered breakfast bars and fresh fruits, as well as hygiene supplies and socks to homeless people. Within an hour of setting up, local police showed up, issuing threats to arrest any who were actively trying to defy the ban. Volunteers got angry, shouting at the police, which resulted in officers issuing misdemeanors to citizens.
Leslie Gollub, one of the event organizers, stated, "If you are having a birthday party here that's perfectly legal you may feed anyone you wish at a birthday party. Your soccer team, they win, they come here let's have a pizza party, no problem that's completely legal. The only people not allowed to be served in this park and all of El Cajon are the homeless."
Others argue that the ban on feeding the homeless is completely redundant in stopping the spread of hepatitis A. The disease is spread through human feces and not washing your hands after using the restroom. The city of El Cajon has closed many public restrooms and cut off the water supply, giving the homeless no way to practice safe, personal hygiene in the first place. Ironically, theres also large amounts of trash that have been contaminated with human feces, which is a large contributing factor to the spread of the disease, yet the city has yet to do anything about it.
Scott Dreher, an attorney for the organizers who issued misdemeanors, said the city ordinance is an obstruction of their free-speech rights. "It prevents me from exercising my right to share food with those people in need, which is an expression of speech by action. There are other, non-first-amendment-restrictive, ways to accomplish the city's stated goal of preventing the spread of hep A, namely, by cleaning up the parks and providing and encouraging use of public restrooms and hand-washing".
Advocates for programs helping the less fortunate have said this situation reflects a degradation in trust between local residents and their elected representatives. San Diego has struggled with rising homeless populations for some time now, with the city having the 4th highest homeless population in the country. In 2017, the city saw that figure go up 5% from its previous amount of homeless people in 2016. Jen Loving, a humanitarian activist, said, "This points to a much bigger issue all around the country. All communities are starved for long-term solutions for decreasing homelessness."
A spokesperson for El Cajon defended the city ordinance, stating "It's not a feeding ban," said El Cajon spokesperson Monica Zech. "We want to protect the homeless by feeding them in a clean and safe environment. A park isn't a clean environment." While the hepatitis A outbreak has since been winding down, there are still health concerns for the people of San Diego.