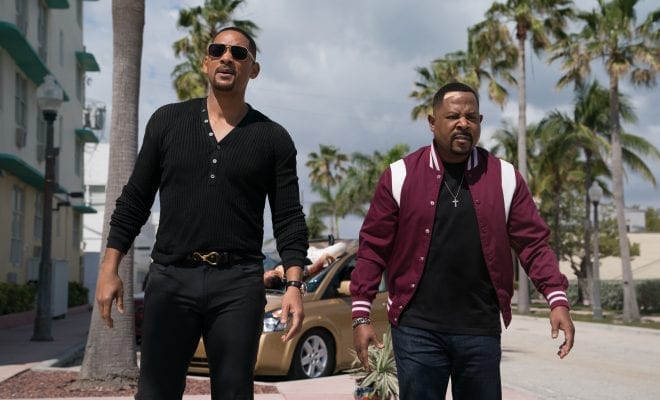 Movies
Movie Review: Bad Boys for Life
By
|
Will Smith and Martin Lawrence return for another adventure in Bad Boys For Life, now playing.
Old-school cops Mike Lowery (Will Smith) and Marcus Burnett (Martin Lawrence) team up to take down the vicious leader of a Miami drug cartel. Newly created elite team AMMO of the Miami police department along with Mike and Marcus go up against the ruthless Armando Armas.
Bad Boys For Life is something that audiences are used to seeing right now: a sequel to an old franchise that is probably just a cash-heap with star power to keep it alive, but this film doesn't play like one. Will Smith and Martin Lawrence bring their A-game and never miss a beat, hitting their marks with style and fury.
Its been 17 years since Bad Boys 2 was released, so what is the point of reuniting Smith and Lawrence as middle-age cops, with over 25 years of history between them, in Bad Boys For Life? Just in its opening sequence, the film experiences a little throwback to the 90s. Detectives Mike Lawery and Marcus Burnett are seen racing around in Mike's shiny blue Porsche (well, Mike is racing, Marcus is about to throw up), with lots of fun bad-boy banter. (Marcus says to a crowd of people on a beach, "We're not just black! We're cops too! We'll pull ourselves over later!") 
Bad Boys For Life is a pretty standard cop movie but with plenty of balanced comedy due to the amazing chemistry of its two lead actors. It's a Mexican-drug-cartel thriller like the Sicario films, with a personal twist to keep things interesting. Add in some over-the-top high-speed chases and gigantic explosions and you have some old-fashioned entertainment. 
Will Smith and Martin Lawrence easily slid back into their roles. Smith has his usual charm, but he plays Mike rougher and edgier (almost scarier) than before, and that is what gives the film its emotional stake. At first, Lawrence may look like he lost his groove, but he is just stalling. As the film goes on, Marcus comes out to play and it's brilliant. 
Bad Boys For Life should easily find its audience because it builds on the previous films while adding some new tricks, to become an engaging and entertaining movie for audiences new and old.
Critic Rating: 4.5/5 stars
What did you think of the film? sound off in the comments.