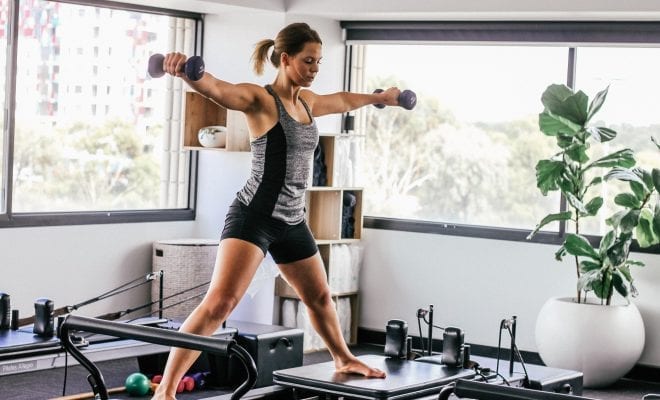 Lifestyle
San Diego's Top Pilates Studios
By
|
Pilates classes are a unique way to improve your strength, balance, and mobility all with the underlying goal of challenging your physical capabilities to become the best you possible. Pilates has become quite popular in one of the fittest cities in the nation, so if you're interested in trying it out, here are the top studios in San Diego.
For those looking to get an intense workout in, this studio does a spectacular job of matching each individual with the right class to maximize your physical activity. Every trainer focuses on providing individualized feedback and assistance to each student, whether it's private or group sessions. With energizing music and dedicated professionals to match, you know you're in for an intense session. 
Focusing on serving students with a fully holistic approach to Pilates, this studio provides sessions ranging from beginner instruction to physical therapy. Private sessions are available for those who want to receive individualized training, but classes are also offered in duets, trios, and team settings. They have been serving San Diego County for more than a decade, and each instructor brings with them a wealth of knowledge and experience in ensuring each student gets a quality session. 
This studio strives to provide a second home for all of your fitness needs, serving as a unique place where you can enjoy Pilates, yoga, or barre. They understand that everybody is unique, which is why they take pride in developing safe, effective, and personalized exercise sequences to accommodate your needs. They back this up with supplementary nutrition and wellness advice that will help guide you on your journey to find strength, balance, and harmony with your body.
This studio offers a unique blend of Pilates, cardio, and circuit training, providing a high-intensity, low-impact training session that will quickly sharpen and tone your body. Each movement is done with a deliberate motion to ensure that every muscle in your body is being activated without putting unnecessary strain on joints. Classes are suited for beginners and advanced levels alike, so all you need is to prepare yourself for sweat, muscle burn, and a rush of endorphins. 
There's no such thing as an unproductive workout at Propel Pilates. Every training session is built on the philosophy of maximizing productivity to ensure you get a top-notch workout every time. The studio offers personal training, weight loss programs, private, and small-group sessions. It also offers professional training programs for those who are looking to join the ranks of elite Pilates instructors.
This small boutique studio sports a cozy yet elegant atmosphere where students are encouraged to explore the physical limits of their bodies in a safe and professional environment. Each class is limited to eight people, allowing for an intimate setting and unprecedented individual instruction when compared to other studios. They offer classes for beginners, advanced athletes, and even those who are actively recovering from an injury.
This studio placed an emphasis on incorporating strengthening and toning workouts in each Pilates session. Classes include Lagree Fitness, an innovative and aggressive approach to full body conditioning. Workouts include key elements of resistance and counter-resistance culminating in a wholly unique approach to fitness. Class options include beginner instruction, advanced learners, private sessions, and budget-friendly rates.