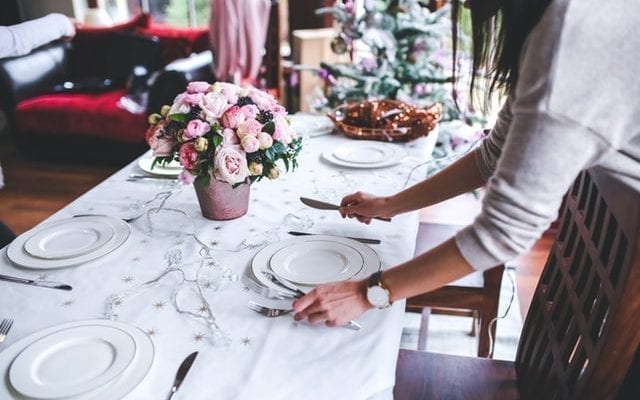 Lifestyle
How To Host An Amazing Holiday Party
By
|
Hosting a holiday party can be a daunting task, especially if it's something you've never done before. However, with the right know-how, you can make hosting a holiday party something fun and memorable for all of your guests. Once all of your invites have been sent out, it's time to get down to business setting up for your party. Here are some tips for hosting a great holiday party.
Being in line with the holidays, it's important to be festive with the decorations at your party. Utilizing seasonal elements with your decorations can look amazing. For your table setting, maybe use pine cones or holly for a centerpiece as opposed to a vase of flowers. Another fun idea you can use to spruce up your party decorations is to use mason jars filled with festive objects like cranberries, tinsel, or candles.
Putting place cards at your table is also a fun way to make your party seem a bit more official and fancy. By setting a seating chart, you can make it so you can intentionally place people so that your guests are most comfortable with whom they're sitting next to, and allows the conversation to flow better. It also helps you avoid sitting strangers next to each other, while having those who know each other are sitting together.
If this is your first holiday party you've hosted, you might want to start small. While having a big party might sound fun, it is quite the responsibility, and you might want to start small so you can make sure your party is at its best for your guests. With a small guest list, you can cook more home style meals that will be a hit with everyone. It's also a great chance to enjoy your company with a more intimate setting.
If you have an exciting menu you've prepared for your guests, then why not show it off to create some excitement? One fun way you can do this is by drawing it on a chalkboard and hanging it up so everyone can see it. Another fun way is to hand write then and place little cards on everyone place setting. You can even get creative with it and draw little food symbols instead of words, and make it a visual menu.
Once your guests arrive, you'll want to make sure the mood is set just right. Have some holiday music softly playing in the background, and maybe have some christmas candles lit throughout the home.
With all this party planning, you'll want to have some great food available for your party guests. Before your guests sit down for the main dinner course, having a good selection of appetizers is key to having your guests happy in the meantime. Some good options include making a home cooked artichoke dip and sliced dipping bread, or even a smoked salmon tartare that would go well with a few bottles of wine. Whatever you end up making, be sure to keep it simple, and remember that you're supposed to have fun just like your guests. That's what parties are for, right?