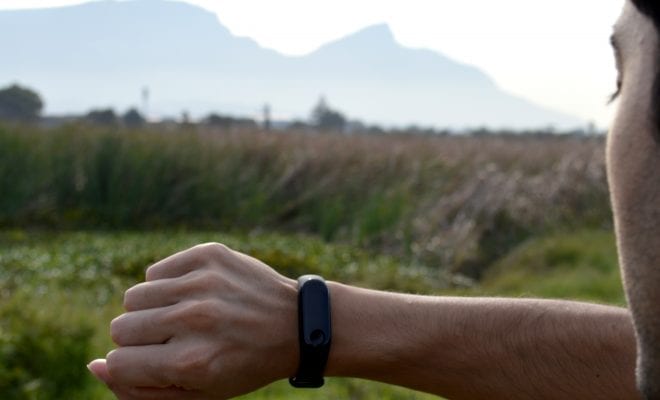 Lifestyle
Gadgets for the Fitness-Minded Individual
By
|
Fitness and technology have increasingly become intertwined throughout the years, with countless gadgets and devices coming out that promise to track and elevate your physical training experience. Here are the top fitness and health-related gadgets you should keep your eye on. 
Percussion massage is one of the best things you can do to combat muscle soreness, and now, you can utilize it in the comfort of your own home. The Hypervolt is a hand-held percussion massage device with three levels of force capable of helping you loosen tight muscles, leading to a quicker and more effective recovery. It also comes with five different attachments specialized for various muscles.
This connected device adds a whole lot of functionality to a scale, giving you powerful data tracking abilities. In addition to your weight, The Aria 2 can track your body fat percentage and BMI. It wirelessly syncs with your smartphone too, which can be used to track trends, see goal progress, and providing an overall clearer view of your overall health. 
Let's face it, we all could use a bit of work on our posture. Having poor posture is often associated with weak core muscles, but with the UpRight Go, you can dramatically improve your posture. Attaching the device to your back, the UpRight Go provides real-time posture feedback, serving as a constant reminder to be mindful of your posture throughout the day.
Wearable fitness trackers are some of the greatest ways to get all-day feedback on your overall physical performance and health. The FitBit Charge 3 is a dependable and effective wearable that comes equipped with sleep tracking, heart monitoring, goal-based exercises, and a battery that lasts all week. 
Okay, this isn't quite a device, but the technology behind it is so cool, we feel like it's a good addition to this list. Like other DNA testing sites, Fitness Genes uses a sample of your DNA to build you a customized workout and nutrition plan based on your unique genetic markers and lifestyle. 
Staying hydrated is an absolute necessity when staying fit, but if you have a hard time remembering to get your daily water intake, this bottle is for you. This water bottle measures your liquid intake and uses calculations based on personal data to determine how much water you should be consuming every day. 
Foam rollers are a great way to decompress and stretch out your muscles after a hard workout, but regular foam rollers are so last year. Vibrating foam rollers are the next innovation in post-workout recovery, giving you a more effective method of decompressing muscle tension. With 3-speeds, the NextRoller could be a great tool to keep you going strong and feeling loose.