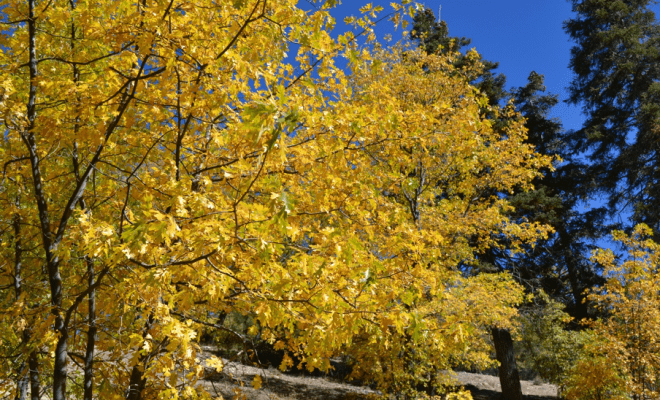 Lifestyle
Finding Fall In Big Bear
By
|
San Diego natives know that San Diego isn't necessarily the place to experience fall. Luckily, we are fortunate enough to be able to travel a few hours north to the mountains to experience a traditional fall or winter season. Big Bear, located in the San Bernardino mountains, offers spectacular "jaw-dropping" views, that will give you the perfect fall season satisfaction. Experience the fresh smell of mountain air and beautiful fall colors in Big Bear. We have put together a list of fun fall activities during your visit to Big Bear.
Big Bear Lake Oktoberfest – Sept. 7 – Nov. 2
The 49th Annual Big Bear Lake Oktoberfest will take place at the Convention Center, from September 7th through November 2nd. This traditional fest is known to have amazing German entertainment, authentic Brats, and the same beer poured from Munich's Oktoberfest. Several activities will take place during this event including; stein holding contests (Saturdays and Sundays), beer pong contests (Saturday at 8 pm, and children's contests (Sundays at 3 pm). There will also be exhibitors and vendors on Saturdays from 12 pm-9 pm and Sundays from 12 pm-5: 30 pm. Location: Big Bear Convention Center, 42900 Big Bear Boulevard in Big Bear Lake.
Fall Fun at the Farm – September 27-October 26
Located at Bear Valley Farms off of Big Bear Blvd, the Scare Valley farm will have a ton of activities for the family to enjoy. Every Saturday at the farm, there will be a pumpkin patch, games, hayrides, a petting zoo, and a scarecrow parade. The time of the event will be from 10 am to 2 pm and will cost $15 a person, including a pumpkin. Beginning on September 27th, there will be a spooky haunted house from 8 – 11 pm for $15 a person.
Alpine Slide
Known for bobsledding, Alpine Slide is the perfect place to enjoy some outdoor fun. During the fall months, Alpine Slide is open Monday-Friday from 10 am-4 pm and Saturday and Sunday 10 am-6 pm. This outdoor recreation area features go-karts and mini-golf course as well. A single go-kart is $6 and mini-golfing is $5 for adults and $4 for children.
For those adventure seekers, hiking in big bear during the fall offers stunning views and scenery. It is suggested to go hiking between May-October as the most trail will be closed during the winter months. While hiking during the fall months, hikers will be able to view a forest covered in yellow and rust-colored ferns. Castle Rock Trail is a moderate to difficult hike that is about 2.4 miles round trip. This trail begins on the east side of the dam on Highway 18, with parking available along the street. This hike is very steep, as it shows a beautiful view of the lake at the top of this hike. Please note, that as the trail starts to end you will face several boulders that you will have to climb through. There is a rope available to help guide you up the trail as it becomes very steep. The Nature Discovery Trail is an easier trail that is about 2.5 miles one way. Seasonal parking is available at Juniper Picnic Area that includes an Adventure Pass. This trail leads to the north shore of Big Bear Lake to the Solar Observatory and Serrano Campground. The Cougar Crest Trail is a moderate to difficult trail that is around 2 miles one way.
Experience the thrill of zip-lining through the national forest. This course consists of 9 zip lines, a suspension bridge, and off-roading vehicles. Zip-lining is offered year-round, 7 days a week, that lasts typically for 3 hours. The zip-line adventure will take you through the Johnson Valley, which is the highest peak in southern California, residing at 8,400 feet. Photo packages are available to make sure your fun-filled adventure is captured.