Lifestyle
Congress Legalizes Hemp With the U.S. Farm Bill
By
|
The U.S. Farm Bill passed through the House yesterday with a 369 to 47 vote, legalizing hemp and allowing American farmers to begin planting and harvesting it. The bill also passed through the Senate with an 87 to 13 vote, and has even garnered the support of President Trump.
Hemp, a strain of the plant from which marijuana originates, has long been classified as a controlled substance among the likes of marijuana, despite it not containing any THC, marijuana's psychoactive component. The new bill exempts hemp from this classification and defines it as an agricultural product. This allows farmers and researchers of hemp to reap the benefits of other crops, including the ability to apply for federal research grants and insurance.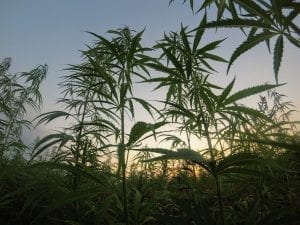 Hemp's legalization will likely spur on a booming $1 billion industry centered around a highly beneficial compound found in the plant: CBD. While CBD can come from both hemp and marijuana, CBD derived from hemp will now be legal at the federal level, allowing for an unprecedented wave of growth and research into this seemingly wondrous compound.
The new bill will give federally insured banks the green light to work with industrial hemp producers for the first time, a move that will no doubt bring forth great economic opportunity. Senate Majority Leader Mitch McConnell spearheaded the passing of the bill, citing his hopes of hemp becoming a new, key cash crop to replace tobacco in his home state of Kentucky.
Already, CBD derived from hemp has made a resounding entrance into the multi-billion dollar health and wellness industry. You can find CBD in just about anything, from infused soaps and coffee to oil tinctures and gummies. Josh Hendrix, director of domestic product development for cannabis company CV Sciences told Business Insider "The passing of the farm bill will most certainly open up the marketplace for hemp products, specifically hemp extracts that are high in CBD."
While the benefits of CBD still lack concrete scientific evidence backed by a study, millions of users have reported massive success in utilizing the product. It has been used to reduce inflammation, anxiety, pain, and even help people sleep better. In 2017, the world's first CBD-based medication received approval by the FDA. Called Epidiolex, the drug is used to treat several rare forms of childhood epilepsy.
Expect to see more expansion and investment into CBD-based products in stores in the coming months. If you're looking for the best CBD products out right now, head over here to get started.