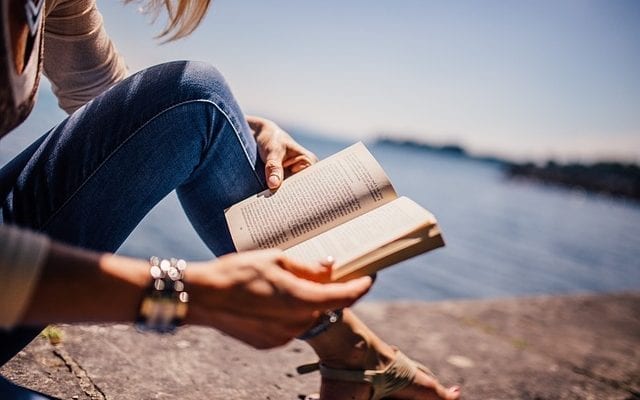 Lifestyle
7 Awesome New Reads for the Fiction Lover
By
|
Sometimes all you need is to curl up with some comfy clothes and a good book to read. I, for one, am a sucker for a novel that pulls you in and immerses you into a brand new world, making you the director of a movie inside your own mind. If you're in need of a new book to escape into, here are some great new fiction reads to add to your list.

Leave No Trace – Mindy Mejia
This riveting and suspenseful thriller is about the disappearance of a boy in an area of Minnesota called the Boundary Waters. 10 years ago, the boy and his father vanished, with evidence of a bear attack as the main culprit. However, 10 years later, the boy mysteriously reappears, a violent, non-communicative husk of his former self. It is up to Maya Stark, an assistant language therapist at a psychiatric facility to determine what really happened to him.
The Dinner List – Rebecca Serle
This novel plays off the trope of if you could have dinner with anyone, living or dead, who would it be? A classic ice-breaker question, this time, it becomes real life for a woman named Sabrina. Upon arriving at her 30th birthday party, she finds herself sharing a dinner table with three significant people from her past, and, of all people, Audrey Hepburn. As the wine flows and dinner progresses, it becomes clear this group of people have been brought here for a reason.
I'm Fine and Neither Are You – Camille Pagan
Penelope Ruiz-Kar can't help but compare her chaotic exhausting life to that of her friend Jenny Sweet, Jenny appears to have it all – a wonderful marriage, stunning house, and a life of happiness. However, a shocking revelation reveals just how wrong Penelope was. To cope, she comes up with a plan to deal with the issues in her relationship with her husband, Sanjay. Together, the couple agrees to write a list of changes they want each other to make, then commit to achieving them with totally honesty. Exploring the boundaries of friendship and marriage, this novel is packed with intricate characters and amazing insight.
Where the Forest Meets the Stars – Glendy Vanderah
In her stunning debut, you will follow a mysterious yet captivating child that teaches two strangers how to love and trust again. When this child shows up at the door of Joanna Teale's cabin, she is forced to uncover the strange past of the girl called Ursula. Enlisting the help of her neighbor Gabriel, the pair begin to form an incredible bond and are forced to make some difficult choices that can forever change their lives.
The Killer Collective – Barry Eisler
After a joint FBI-Seattle Police unit closes in on an international sex crimes organization, powerful figures involved come together to detective Livia Lone from getting any closer. After a failed assassination attempt, she forms a group to eliminate the threat once and for all. Moving all around the globe the group fights to stop an intricate web of conspiracy edging closer to some of the highest levels of the US government. The Killer Collective is a non-stop thriller packed with intricate plot twists and enough action for the even the most season thriller veteran.
The Victory Garden – Rhys Bowen
Determined to contribute to the war effort, Emily Bryce does what she can to help out during the First World War. After meeting an Australian pilot, she falls in love and accept his hand in marriage. After his departure back to the front lines, Emily throws herself into volunteering, eventually discovering the journals of a former herbal medicinal doctor. After receiving devastating news, Emily begins to immerse herself in learning the power of healing with herbs, opening up her life to her true destiny. The Victory Garden is a stunning piece of historical fiction that will grab you from the first page.
The Perfect Child – Lucinda Berry
When a successful young couple have everything except a child in their lives, they turn to adoption. Upon meeting an abandoned six-year old at a local hospital, an connection is instantly formed and they take her home as their own. However, the little girl is unlike most children, quickly acting out in disturbing ways that eventually risks tearing the family apart. This intense read will quickly pull you in and take you on a crazy haunting ride.