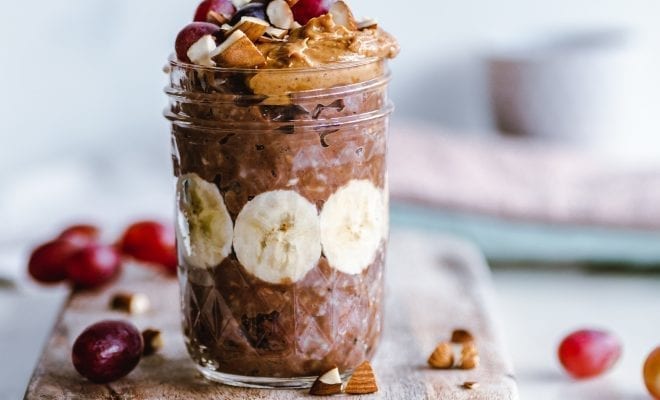 Lifestyle
3 Tasty On-the-Go Breakfast Recipes You Have to Try
By
|
Breakfast is the most important meal of the day, but it is often overlooked thanks to our busy lives. With a constant on-the-go mentality, it can cause us to make unhealthy decisions for breakfast, or simply skip the meal altogether. Despite this, eating a nutritious breakfast can go a long way in getting you charged up and ready to take on your day. Try out these easy to make on-the-go breakfast recipes to start your morning off right.
Overnight Maple Oatmeal
This super simple recipes puts a new spin on a traditional breakfast food, and is perfect for grabbing on-the-go with very little prep.
Ingredients
2 cups old-fashioned oats
1 cup fat-free milk
1/4 cup maple syrup
2 teaspoons vanilla extract
1 cup vanilla yogurt
1/2 cup chopped walnuts, toasted
Assorted fresh fruit
Directions
Combine oats, milk, syrup, and vanilla into a large bowl, and stir gently. Leave the mixture overnight in the refrigerator.
Chop up some fresh fruit of your choosing, and mix in with yogurt and walnuts.
Combine oats mixture with fruit, walnuts, and yogurt, then sprinkle chopped walnuts on top.
Italian Sausage Breakfast Wraps
This hearty breakfast recipe is perfect for those who want to get some solid protein in a nice portable package.
Ingredients
3/4 pound Italian turkey sausage links, casings removed
1 small green pepper, finely chopped
1 small onion, finely chopped
1 medium tomato, chopped
4 large eggs
6 large egg whites
1 cup chopped fresh spinach
6 whole wheat tortillas (8 inches)
1 cup shredded reduced-fat cheddar cheese
Directions
Cook sausage, pepper, onion, and tomato in a large skillet over medium heat. Cook until meat is no longer pink and the veggies are tender. Drain any remaining fat from the pan
Whisk eggs and egg whites into small bowl, then add mixture to the sausage. Cook until eggs have thickened, then add spinach/
Spoon ¾ cup egg mixture across each tortilla, and add cheese. Fold up tortillas and place in refrigerator until ready to heat up in the morning.
Garlic-Herb Mini Quiches
The dainty quiches may be small, but they pack a major punch of flavor. Plus, they're super easy to bring along for a quick on-the-go breakfast.
Ingredients
1 package (6-1/2 ounces) reduced-fat garlic-herb spreadable cheese
1/4 cup fat-free milk
2 large eggs
3 packages (1.9 ounces each) frozen miniature phyllo tart shells
2 tablespoons minced fresh parsley
Pepper
Minced chives, optional
Directions
Combined spreadable cheese, milk, and eggs into small bowl. Preheat oven to 350 degrees, and place tart shells on an un-greased baking sheet
Fill each tart with 2 tablespoons of mixture, then sprinkle lightly with parsley and pepper.
Bake for 10-12 minutes until filling is set and shells are golden brown.