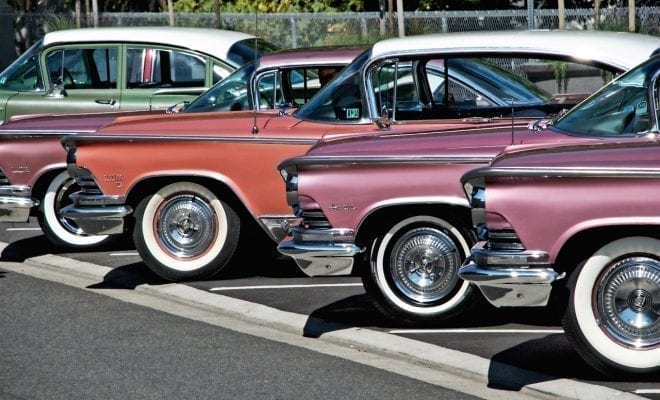 Entertainment & Events
This Weekend in San Diego 6/15-6/17
By
|
Father's Day weekend is approaching quickly, still haven't made dinner plans yet? Click here & here for the best Father's Day dining specials going on this weekend. And when you're not playing golf or fishing with dad, we found the coolest events you don't want to miss, and there is something for everyone. We've got 2 car shows, InterGalactiCon, Taste of Gaslamp, Wonderspaces – so many options, how on Earth do you choose?
Friday, June 15
San Diego International Beer Festival
The June 15-17 Beer Festival will allow attendees unlimited 1-oz. samplings of over hundreds of beers and admission to the San Diego County Fair. This fair will feature nearly 200 breweries from around the world. Guests can purchase a $60 General Admission ticket to one of five four-hour sessions throughout the weekend. A VIP ticket for $110 gets all this, plus an extra 30 minutes of tasting, access to a VIP lounge area, and food stations hand-picked to match brews from the festival. Get your tickets here.
Little Big Town at the San Diego County Fair
Since 1998, Little Big Town's founding four members have been sharing stages nationwide performing hits like "Boondocks," "I'm With the Band" and "Pontoon." This popular country band has a unique music style that relies heavily on four-part vocal harmonies, with all four members alternating as lead vocalists. Check them out this Friday when they will be playing at the Corona Grandstand Stage at 7:30 pm.
Whitney Cummings at the American Comedy Club
This Los Angeles-based comedian, actor, writer, producer and director is coming to San Diego's American Comedy Club located in the Gaslamp District. Best known for creating and starring in the NBC series "Whitney," she also co-created and co-wrote (with Michael Patrick King) the Emmy-nominated CBS comedy series "2 Broke Girls." This October, Whitney debuted her novel "I'm Fine…And Other Lies," which details her brutal anxiety and codependency disorder, written with her trademark entertaining wit, humor, and honesty. Check out her live performance on both Friday and Saturday at 7:30pm & 9:30pm.
Broadway/San Diego hosts a touring production of the School of Rock musical at the San Diego Civic Theatre. Based on the hit film, this hilarious new musical follows Dewey Finn, a wannabe rock star posing as a substitute teacher who turns a class of straight-A students into a guitar-shredding, bass-slapping, mind-blowing rock band. This high-octane smash features 14 new songs from Andrew Lloyd Weber, all the original songs from the movie and musical theater's first-ever kids rock band playing their instruments live on stage. Check out this great show before it closes on June 17.
Kick off your summer weekends in style every Friday evening at Balboa Park's hottest after-hours event from 4-8:30 pm., visitors of all ages can enjoy live entertainment and activities for kids while eating gourmet dishes from a rotating selection of more than a dozen popular food trucks parked on the Plaza de Panama and El Prado walkway. Throughout the summer, Food Truck Fridays will present different musical performers or DJs each night in the Plaza de Panama.
Wonderspaces returns to San Diego this summer with fifteen new works of extraordinary art after the 2017 debut drew over sixty-six thousand visitors. The new show, titled With Creative License, will be open on Friday from 12-10:30pm. Tickets for Wonderspaces will be available on a monthly, space available basis and range from $14 to $24.
Saturday, June 16
Father's Day is just around the corner. Doesn't dad deserve something more than a new tie and golf balls this year? Luckily, you can never go wrong with… FOOD. Gather your father, friends, family and fellow foodies because this is one delicious opportunity you won't want to miss. Kick off Father's Day weekend on Saturday, June 16th, 2018 with the Taste of Gaslamp presented by Karl Strauss, as the historic Gaslamp Quarter celebrates 24 years of their exquisite dining options available throughout the vibrant downtown district. What better way to celebrate than with a self-guided tasting tour? From 1:00 pm to 4:00 pm, guests can enjoy savory bites from 24 participating restaurants.
Fabulous Hillcrest, MO's Universe and Great Autos of Yesteryear present the Hillcrest Classic Car Show. Great Autos of Yesteryear is the largest LGBT car club on the West Coast with almost 1,000 members. The Hillcrest Classic Car Show takes place from 1pm-4pm at Pride Plaza on Normal Street. This event will feature at least twenty car collectors for a "tire-kicking" good time – allowing members to share their love of cars with the public and other members.  And when it's time to dine, enjoy one of the many restaurants and bars in Fabulous Hillcrest. So roll down your windows, crank up the tunes and cruise on down for this fabulous new monthly event.
G-SHOCK x Zumiez Best Foot Forward
The 12th annual Zumiez Best Foot Forward contest series is heading to San Diego. G-SHOCK returns as the official timekeeper and will also be included in the winning gift bags. Zumiez Best Foot Forward is an Am SKATE contest series started in 2007 to give back to the skateboarding community on a local level, while providing the country's best amateur skateboarders exposure on a global level. Unlike most contests, Zumiez Best Foot Forward comes to you, and it is always FREE to enter. Participants have gone on to become some of the largest names in skateboarding. The contest will be held on Saturday, June 16th at Linda Vista Skatepark at 3pm.
Antiques, Bottles, and Collectibles Show
Courtyard Mariott at Liberty Station will be hosting this one of a kind event where antiques, bottles & collectibles of all type will be on sale. Don't miss out on the many educational & historic displays. There will also be raffles. Free admission from 9 am to 3 pm.
Calling all gamers, geeks, streamers, cosplayers, trekkies and larpers! The first-ever InterGalactiCon is coming to a galaxy near you. InterGalactiCon is a new San Diego comic convention made by the fans, for the fans. Come Free Your Fandom™ at a con where you can relax, interact, and participate without the stress of larger shows. You'll have the opportunity to geek out on the coolest stuff from every known universe. InterGalactiCon will be held at the Town and Country Hotel & Convention Center at 10am.
Barks & Brews Fest
Head to the Embarcadero Marina Park North for the Barks & Brews event featuring a day filled with beer tastings of over 40+ craft beers from dozens of breweries, great food and furry friends with the vibrant surroundings of the San Diego bay. This event will feature a variety of vendors including those dedicated to the needs of our furry friends as well as a BEST dressed and Doggie Talent contest. Event is from noon – 6pm.
Get your tickets here
.
Sunday, June 17
The San Diego Zoo is open until 8pm during the summer, and the park gets wild. Prepare for fun for the whole family, as the zoo plays upbeat music throughout the park and entertainers, like twirling acrobats and stilt-walkers, will hold special evening performances for Nighttime Zoo. Keepers will share stories about the animals they care for and there will be special animal encounters for guests. Nighttime Zoo is included with general admission tickets.
Gary Sinise is bringing the Lt. Dan Band, named after the actor's character in the Oscar-winning film "Forest Gump," to Coronado for a special Father's Day celebration in support of military servicemembers and veterans on Coronado. Guests can enjoy BBQ and the beach before the main event begins at 5 p.m. with a spectacular skydiving show. Then, guests can listen to Gary Sinise & the Lt. Dan Band perform hits from Bruno Mars, The Police, Bruce Springsteen, Kelly Clarkson and more. Anyone can attend the event for $75, but military personnel and veterans can get up to two tickets for $35 with military identification. Part of the proceeds benefit the Gary Sinise Foundation.
The Music Box in Little Italy is hosting a free viewing party for the highly anticipated World Cup. Watch Mexico v. Germany and Brazil v. Switzerland.
Father's Day Fest & Car Show at Belmont Park
Treat dad to a special day at the beach and cruise on down to Belmont Park for their FREE annual Car Show from 10am-3pm located in the North Parking Lot at 3146 Ocean Front Walk. Get your fix of classic cars and more at this event before cruising over to Draft or Beach House with the family. There will be nearly 100 cars including a selection of restored classic cars to enjoy. While you're enjoying the Park, drop into the Food Court to enjoy a complimentary Stone Brewery beer tasting from 12pm-3pm paired with live music from the Sea Monks. Plus, the kids can enjoy free crafts under the Giant Dipper Roller Coaster from 12pm-3pm.
LE Parties First event of the Summer is happening this Sunday from 12-5. Get ready to lounge, relax, and rejuvenate at the DoubleTree Mission Valley Pool with three local DJ's: DJ 4 Tony, Jirafa, and Headliner dirtyKURTY! Sip on a signature cocktail and get some free swag from Impulse SD. Get your tickets here.
The Squirrels at the La Jolla Playhouse
La Jolla Playhouse kicks off its 2018/2019 season with the world premiere of The Squirrels, a twisted new comedy by Tony Award nominee Robert Askins (Hand to God), directed by 2017 Tony Award winner and La Jolla Playhouse Artistic Director Christopher Ashley. Check them out this Sunday at 2:00 pm or 7:00 pm. The play runs June 5 – July 8 in the Playhouse's Mandell Weiss Forum. Get your tickets here.